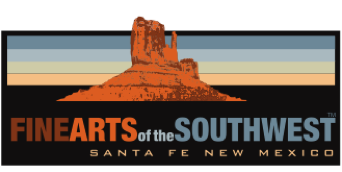 © 2010-2021 by Fine Arts of the Southwest, Inc. All rights reserved.
Unauthorized reproduction or use is strictly prohibited by law.

An original historic photograph of well-known New Mexico
woodcarver and Santero, George Lopez, c.1930's-40's
This is an original, period 10" by 8" black-and-white photographic print, unsigned and unmarked, which, judging from the age of the subject and the wood carvings in the photograph, appears to date from the very late 1930's to the very early 1940's. 
The subject of this photograph is the renowned northern New Mexico woodcarver and Santero, George Lopez (1900-1993), who lived and worked in the tiny 16th century village of Cordova in the Sangre de Cristo mountains north of Santa Fe. From the artistically done composition and technical quality of the photograph itself and the time frame during which it was taken, the photographer might possibly have been the well-known historic Santa Fe photographer, T. Harmon Parkhurst (1883-1952) who worked extensively in Northern New Mexico during this time period and photographed many notable artists and architecture and events of the time, including a very well-known photo he took of the great woodcarver, Jose Dolores Lopez (1868-1937), who was George Lopez's father and mentor.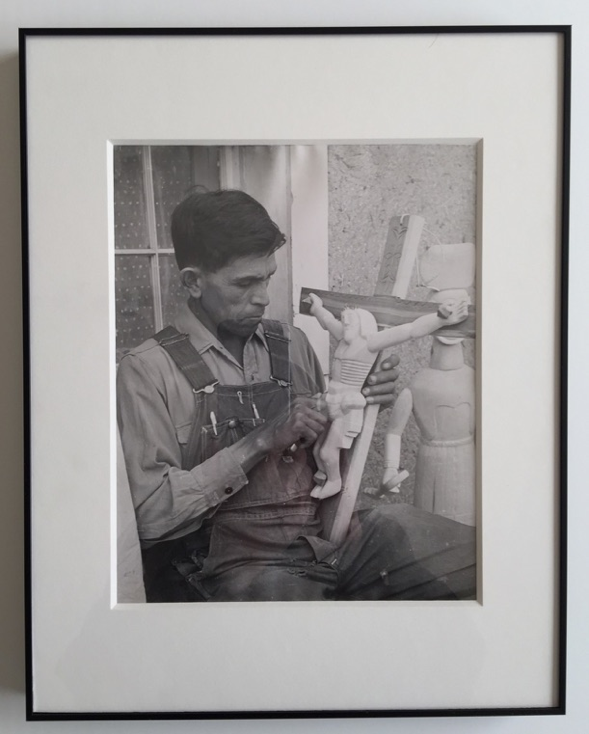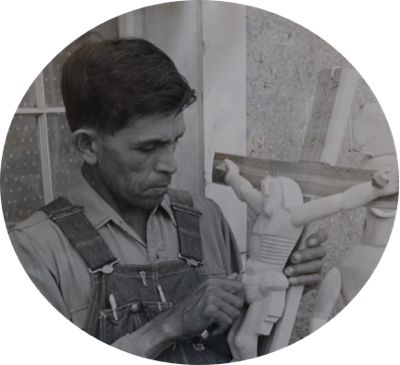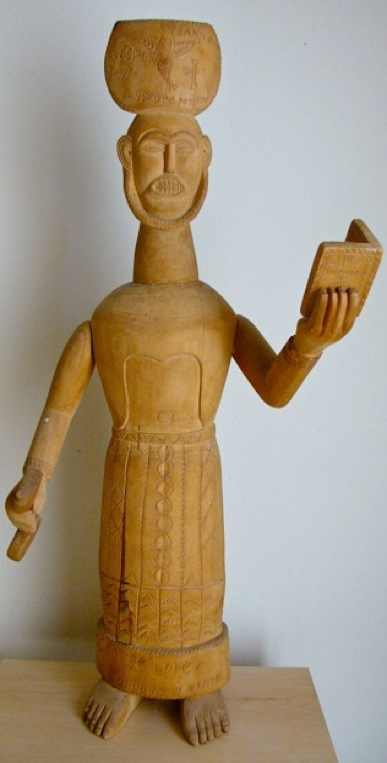 At left is the large Santo of Saint Peter seen behind George Lopez in unfinished condition at the right side of the photograph.
Another possibility is another notable Southwestern photographer, Laura Gilpin (1891-1979). The photograph is in very good original condition with the various age-appropriate wrinkles, abrasion and warping one would expect to find in a 70-80 year old vintage photograph, but, as one can see, it displays quite well.
The photo is archivally matted and framed in a Nelson-Bainbridge "Artcare" anodized black metal frame. The framed dimensions are 14" by 11". As an interesting side note, we have previously owned and sold both of the beautiful George Lopez woodcarvings pictured in this historic photo, the larger of which is pictured below.
George Lopez is an extremely important figure in the history of Southwestern and American Folk Art.
His achievements were recognized by the National Endowment of the Arts in 1982 when he was awarded an NEA National Heritage Fellowship. This beautiful period photograph is a fitting documentation of this significant artistic and historic figure.
Price $850