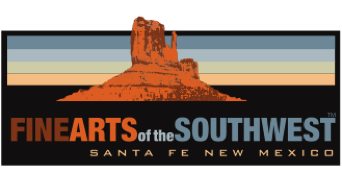 © 2010-2021 by Fine Arts of the Southwest, Inc. All rights reserved.
Unauthorized reproduction or use is strictly prohibited by law.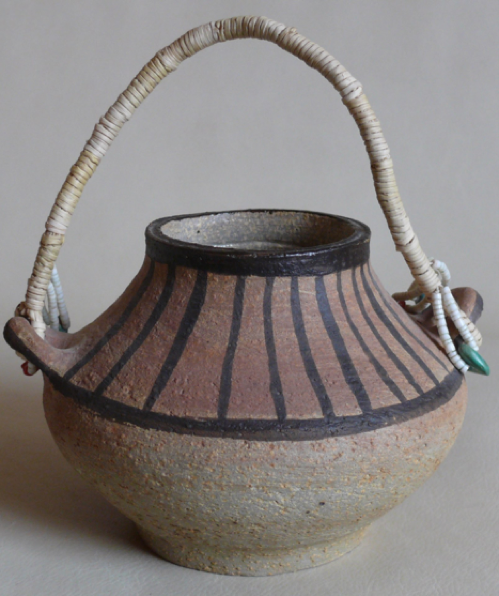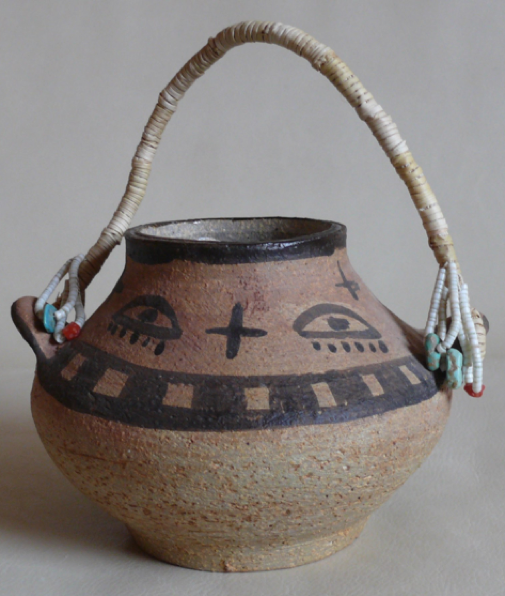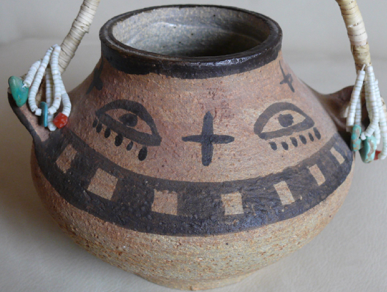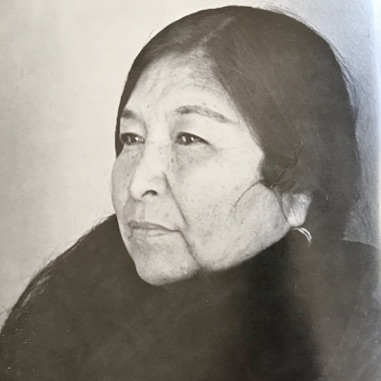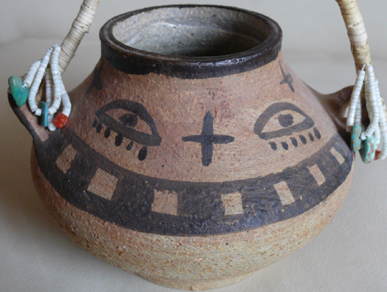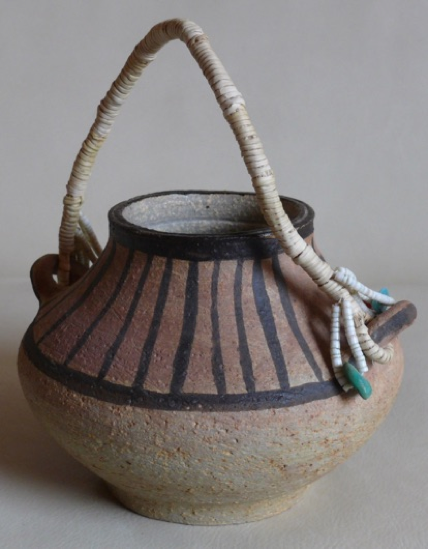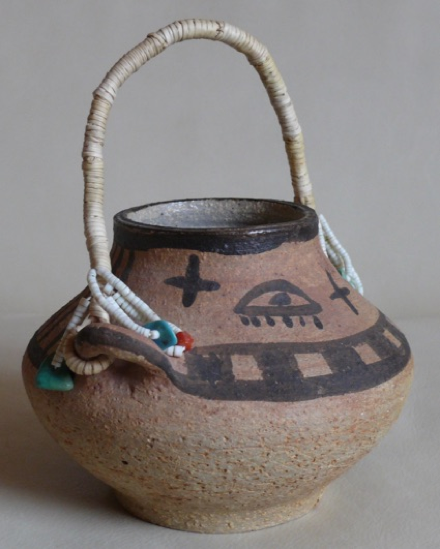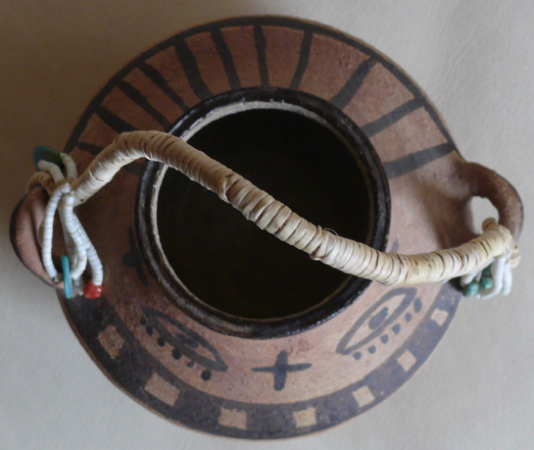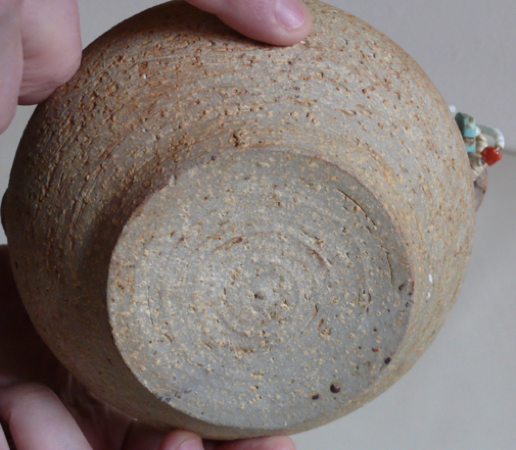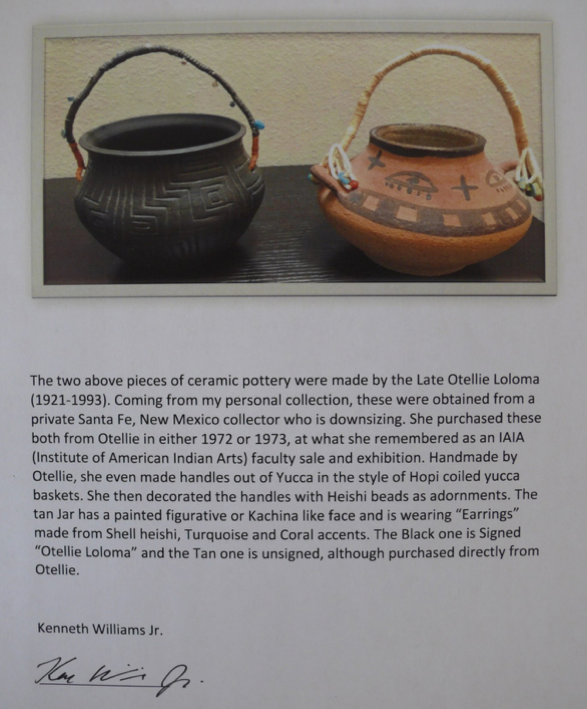 A painted stoneware ceramic jar with a handle made of coiled yucca plant fiber by Otellie Pasiyeva Loloma, c.1972-73
Otellie Pasiyeva Loloma (1921-1993) is the "other" Loloma; an extraordinarily accomplished artist in her own right and later an important educator who was also Charles Loloma's first wife and partner. In the 1940's, Otellie and Charles studied ceramics together at Alfred University in New York and in the 1950's they launched their own ceramics company in Scottsdale, Arizona making pottery which they referred to as "Lolomaware". While Charles increasingly moved into making jewelry exclusively in the late 1950's and early 1960's, Otellie continued making ceramics until her death in 1993.
Otellie's ceramics are unique and immediately recognizable in a number of ways; for her formidable command of an entire encyclopedia of ceramic techniques including the use of various clays and glazing techniques and skillful incising and painting and most of all for her distinctive stylized Hopi-influenced style, exploring shapes and designs and forms reminiscent of historic Hopi pottery, interpreting them in her own unique way through the mind and eye of a sensitive, skilled Modern native artist. Otellie's ceramic work are very highly regarded and quite difficult to come by, this is only the fifth or sixth piece of hers we have had in the past 30 years. Otellie's pieces are held in many important collections, including several in The Smithsonian Institution's National Museum of the American Indian in Washington D.C.
"When I teach which is so important to me and my own clay work, I try to instill belief in my students whether Indian or non-Indian. When that belief is alive, their work is alive. This belief and aliveness gives the student their strength in what they do in any art form or life work. This belief and aliveness is what makes me the artist I am...it is what I am all about".
-Otellie Loloma interview with James
McGrath for The Santa Fe Reporter, 1991
This particular vessel is a perfect demonstration of all of this; and is instantly identifiable as an Otellie piece.
The vessel's body is 4 1/2" in height and 6 1/2" in diameter. The height of the yucca handle rises a further 3" above the top of the vessel for a total height of approximately 7 1/2". This jar is painted as a stylized kachina face representation and it is further decorated on both sides of the "face" with three sets of handmade white shell, turquoise and red coral "jacla" style earrings. The use of the coiled and dyed yucca fiber handle is yet another manifestation of Otellie's interpreting old Hopi traditions in her own unique modern way; yucca fiber baskets, decorated placques and trays are common utilitarian and art forms in the Hopi villages, particularly on Second Mesa, Otellie's original home. The piece is in excellent original condition. This particular piece is unsigned, but its provenance is immaculate. It was originally purchased directly from Otellie Loloma at an Institute of American Indian Arts faculty exhibition and sale in 1972-73. The jar comes with a certificate of authenticity and provenance from its second owner, Kenneth Williams, Jr., Director of The Case Trading Post at The Wheelwright Museum of the American Indian in Santa Fe.
This small jar is a unique and wonderful piece from an outstanding Native American artist
and it would be a credit to any collection, anywhere.
Price $2,750