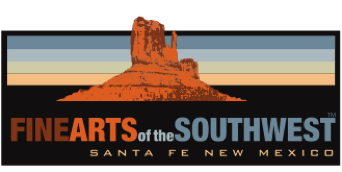 © 2010-2021 by Fine Arts of the Southwest, Inc. All rights reserved.
Unauthorized reproduction or use is strictly prohibited by law.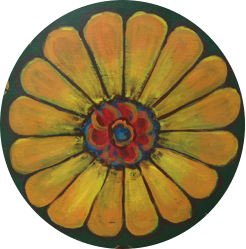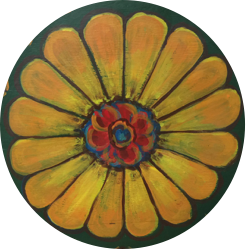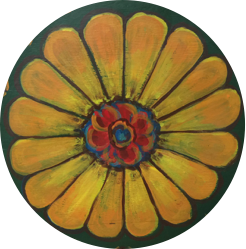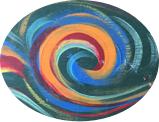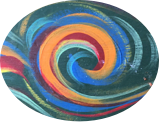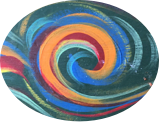 A matched pair of elaborately hand-carved and hand-painted
wooden buffet sideboards, circa 1930, designed by and made for
Mary E. J. Colter for The Santa Fe Railway & Fred Harvey Company's
La Fonda Hotel, Santa Fe, New Mexico
An extraordinary marriage of Southwestern art and history, these fantastic sideboards fully embody all the splendid originality and tradition that the great Fred Harvey Company and Santa Fe Railroad architect and interior designer, Mary E. J. Colter's finest architectural creations were always imbued with; a marvelous and unerring sense of place, of time, of custom and historic beauty. These sideboards were built to Colter's design and order using classic early 20th Century New Mexican furniture-making techniques, fashioned of thick, wide slabs of wood using entirely traditional wood-pegged construction. The extensive hand-wrought chip-carving and other fine wood detailing is very beautifully and precisely done and the delightful hand-painted designs are most beautifully-executed; rich, profuse, colorful, exuberant and fanciful, distilling and elaborating upon New Mexican, Spanish and old Mexican folk art traditions.
These large sideboards were conceived and created for, and used over decades in, the wonderful public spaces of one of the greatest and most significant historic landmarks of the American Southwest, The Fred Harvey Company's famed La Fonda Hotel on the centuries-old historic, downtown Santa Fe Plaza at the very end of the 900-mile-long Santa Fe Trail. The La Fonda Hotel was originally designed and built by the esteemed architectural firm of Rapp, Rapp and Hendrickson in 1922. In 1925, the hotel was purchased by The Santa Fe Railway, who, along with their hospitality partners, the renowned Fred Harvey Company, commissioned a sizable expansion and exterior and interior remodeling by noted Santa Fe architect, John Gaw Meem, working closely in conjunction with The Harvey Company's own architect and interior designer, Mary E. J. Colter.
By this time, Colter had already completed a number of important hotel and interior designs for the Santa
Fe Railway and The Harvey Company, including Hopi House at the Grand Canyon and the El Navajo Hotel in Gallup, New Mexico and she was already hard at work on the plans for their next ambitious project,
La Posada in Winslow, Arizona. When the expanded and remodeled La Fonda Hotel re-opened for business in 1929, Colter's wonderful interior, with its unique handmade and painted furniture, distinctive wrought-iron fixtures, painted glass, exposed ceiling beams, rustic tile and flagstone floors was an immediate sensation, setting a new and never since equalled by anyone other than her standard of Southwestern Native and Spanish-themed aesthetics, decor and hospitality with her unique vision.
We believe that these sideboards were originally installed in La Fonda's "Courier Lounge" where guests preparing to embark on the the Indian Detours excursions were briefed in the evenings on the details of their upcoming journey for the next day. Around the 1950's, the Courier's Lounge was renamed "The Santa Fe Room". We have discovered some circa 1970's color photos of these sideboards "in situ" in the Santa Fe Room and one of these photos is reproduced below.
Mary E.J. Colter, c. 1930's
Photo © by and courtesy of The National Park Service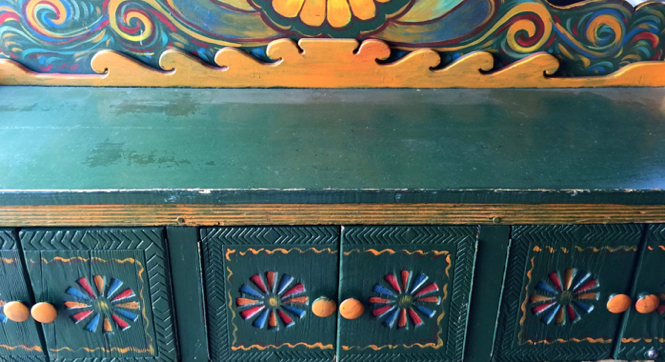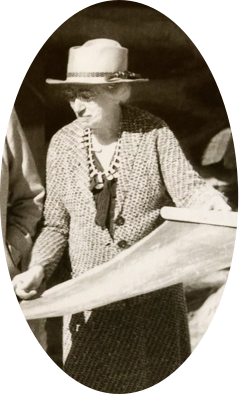 The sideboards measure 78" in width and 24 1/2" in depth. They have a surface counter height of 37", and
the maximum height of the lunette is 61". They are in generally very good original condition especially considering their decades of wear and use. One sideboard has somewhat more paint abrasion to its top surface than the other, but this can be easily remedied, if desired. Both pieces would benefit from a light cleaning and touch-up which could be readily accomplished.
"We have tried to give the hotel a true New Mexican
and Spanish atmosphere" - Mary Colter
In our opinion, these lovely and important historic pieces will immediately become the admired centerpieces of whatever Southwestern or other style home, restaurant, office, hotel, bed and breakfast or Museum that their extremely fortunate next owner decides to place them in.
Price available on request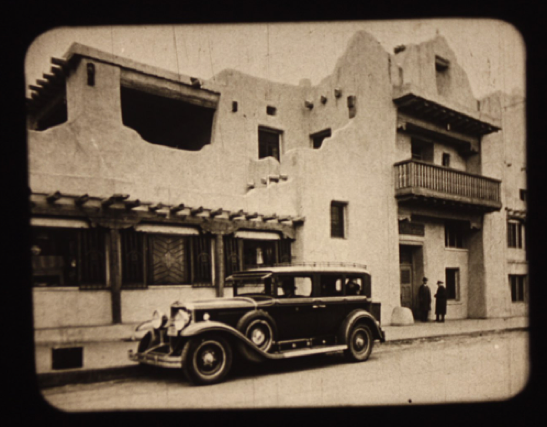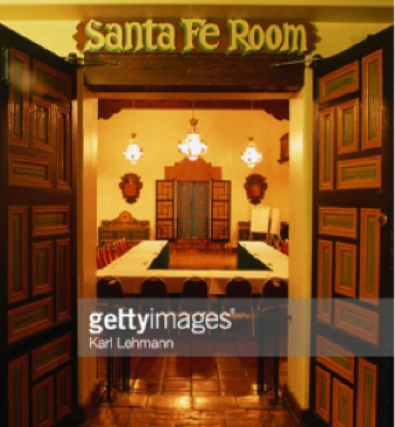 La Fonda Hotel, Santa Fe, circa 1930
The "Santa Fe Room" in La Fonda with sideboards
visible against the rear wall circa 1970's.
Photo courtesy of and © by Getty Images