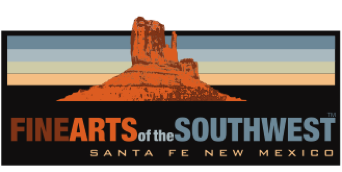 © 2010-2021 by Fine Arts of the Southwest, Inc. All rights reserved.
Unauthorized reproduction or use is strictly prohibited by law.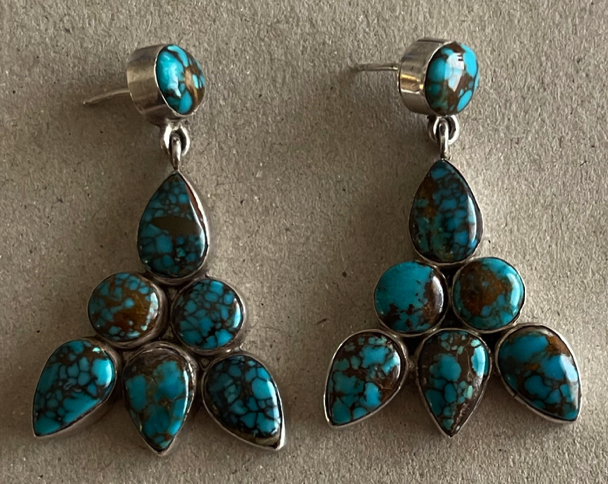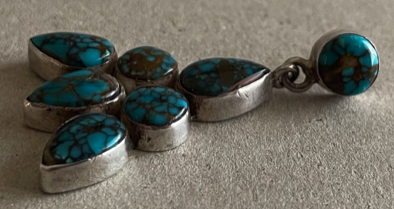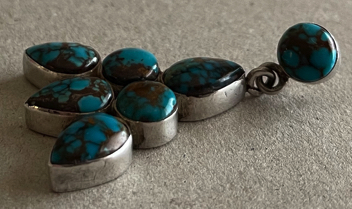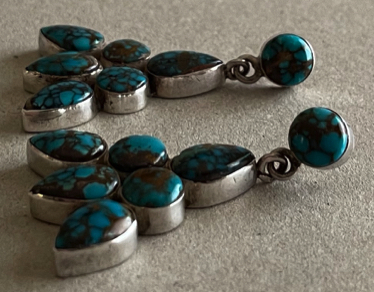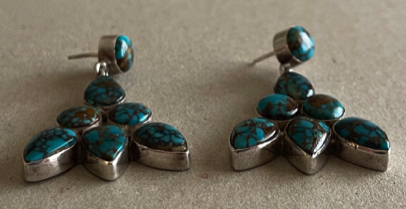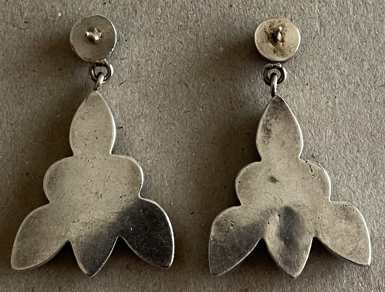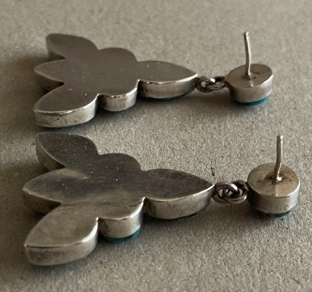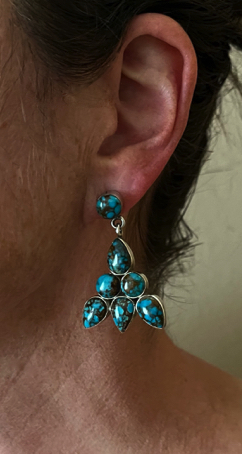 A stunning pair of vintage Navajo or Zuni Pueblo silver and Nevada spiderweb turquoise cluster earrings, c.1940's-50's
These earrings are just fantastic looking and they each feature seven beautiful high-grade Nevada spiderweb turquoise stones set in individual deep old-style plain silver bezels and arranged together in a triangular hanging "chandelier" style pattern. The stones appear to be either Nevada Blue or Red Mountain spiderweb, which are both wonderful, renowned and very highly sought after Nevada turquoise varieties.
The stones are perfectly matched and are hand-cut in both round and teardrop shapes. The earrings are mounted on silver posts and they measure 1 7⁄8" in height from the top of the posts to the bottom of the earrings and they are
1 1⁄8" in width at their widest points. The earrings are 1⁄4" in depth. They weigh an extremely comfortable 9 grams or 3⁄8 ounce each and they are in excellent original vintage condition. A couple of the turquoise stones are slightly cracked, but they are completely secure and the silver posts are very slightly bent but this is of no consequence at all.
These earrings could easily be Navajo made but could just as easily be Zuni Pueblo made, possibly created
at a premier trading post like the famed Indian trader C.G. Wallace's famous historic post at Zuni Pueblo, New Mexico.
These earrings are completely suitable for anything from everyday casual wear to the Hollywood red carpet runway. They are extremely historic and very striking and beautiful statement pieces indeed, a perfect mixture of the authenticity and integrity of the past and the flashy razzle dazzle of today.
Price $1,750