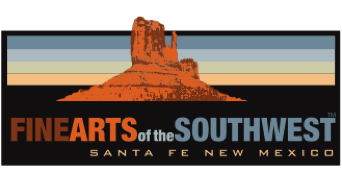 © 2010-2023 by Fine Arts of the Southwest, Inc. All rights reserved.
Unauthorized reproduction or use is strictly prohibited by law.
The three most accomplished known Hopi potters of the early 20th Century were Nampeyo of Hano (1859-1942), Grace Chappella (1874-1980) and Paqua Naha (1890-1955), who is known as the "Original Frogwoman", "Paqua" being the Hopi word for "frog". These distinguished artists would soon be joined in turn by Nampeyo's four talented pottery-making daughters, Annie (1884-1968), Nellie (1896-1978), Fannie (1900-1981) and Daisy (1906-1994). And, in the same manner
as Nampeyo before her, Paqua Naha also initiated and established a distinguished family pottery-making dynasty that lives on today through her famous daughter, Helen Naha (a.k.a. "Featherwoman",1922-1993) Helen's sister-in-law, Joy Navasie (a.k.a. "Second Frog Woman",1919-2012), her three grand-daughters Sylvia, Rainy and Burel Naha and her great-grand-daughter, Tyra Naha.
Paqua Naha's early to mid-20th Century pottery pieces are similar in some ways and certainly equivalent in quality and beauty to the contemporary pottery of Nampeyo, but they are markedly different in certain other elements of design style and execution. Pacqua generally preferred thicker, bolder stylized Hopi design motifs rendered in deep, rich, strong black and red paints which literally pushed out the boundaries of the vessel walls. Her vessels are always possessed of a deep strength, vitality and intensity.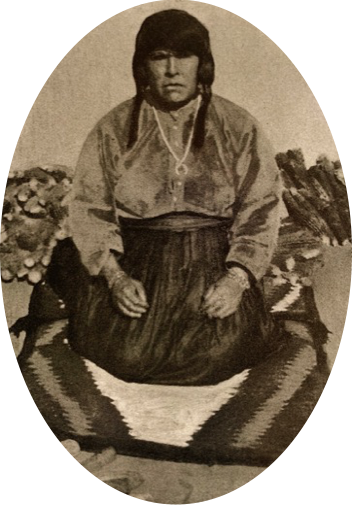 The old J.L. Hubbell Trading Post in Winslow, Arizona.
Photo source and © Wikipedia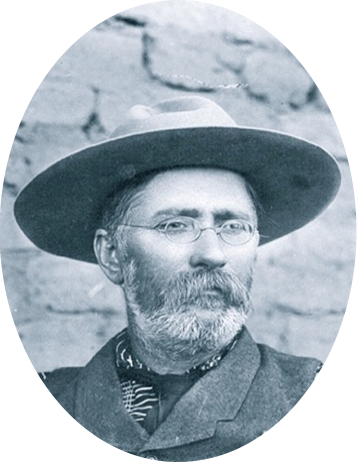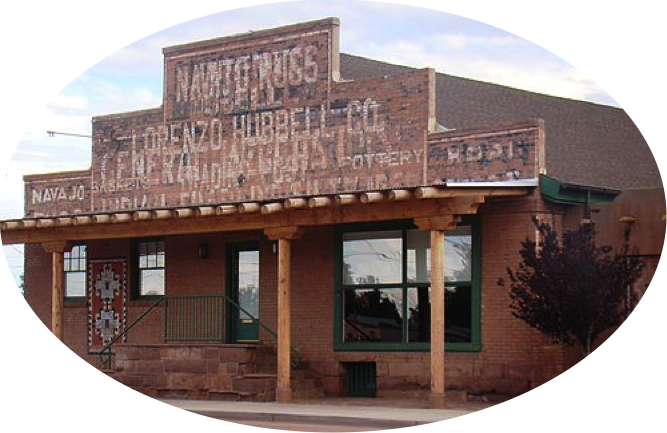 Juan Lorenzo (J.L.) Hubbell, c. 1900-1905
Photo source and © National Park Service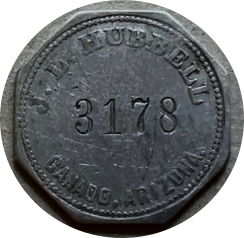 The particularly fine stone polishing and excellent high-temperature Lignite coal firing of which Paqua was a master, deserve a special mention. Too, the painted bird's figures are imbued with a wonderful, majestic "personality" and expressiveness, although it is very difficult to communicate such a creature's essential spirit and character in a static medium such as clay.
"Nampeyo's international fame as a ceramicist unfortunately has overshadowed the brilliance of a number of other early 20th Century Hopi potters and especially true of the equally talented Paqua Naha, Frog Woman (1890–1955)."
-Historic Hopi pottery scholar, Edwin L. Wade, Ph.D.
By the 20th Century, many ancient Sikytaki pottery designs were "revived" so to speak by Paqua, Nampeyo and other early 20th Century Hopi potters, painted on the forms of decorative objects, highly-attractive ornamental "souvenir" type pieces made for sale to local Indian traders or visiting tourists and this is indeed is the case here, This unique piece passed into the knowledgable hands of one of the most prominent and prestigious early Indian traders of the day in the local Hopi area of Northern Arizona, J.L. Hubbell (1853-1930) of Winslow and Ganado Arizona. The Hubbell Company specialized in finest quality historic Hopi pottery and regularly bought and sold pieces by Nampeyo, Paqua Naha, Grace Chappella and other early Hopi potters as well as many prominent later ones. The bowl was many years later acquired from the Hubbell Trading Post collection by a colleague of ours and subsequently acquired by us. An original period Hubbell Trading Post trade token, similar to the one pictured below, is included in the sale of the bowl as a small memento of this excellent provenance.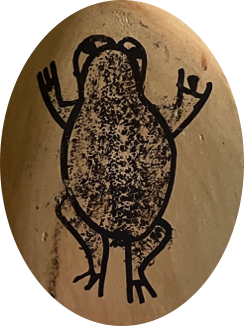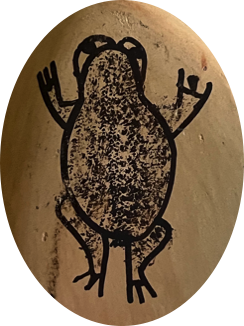 Paqua Naha, c. 1945?
 Photo source and © Rick Dillingham, "Fourteen Families inPueblo Pottery",  University of New Mexico Press, 1994, pp. 62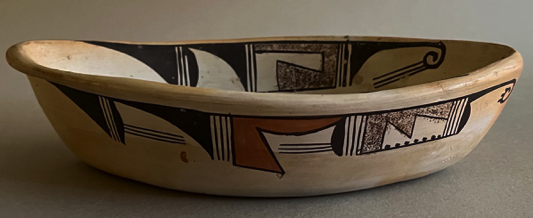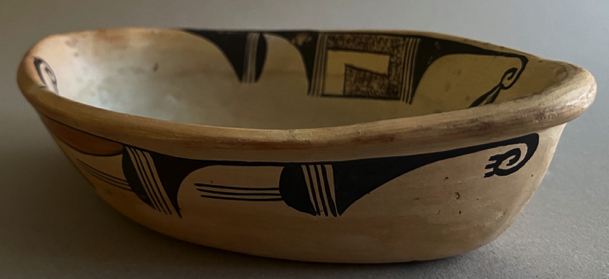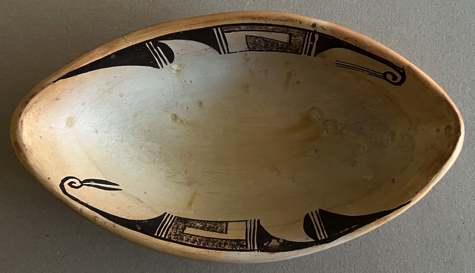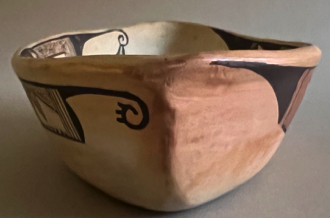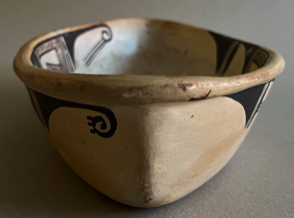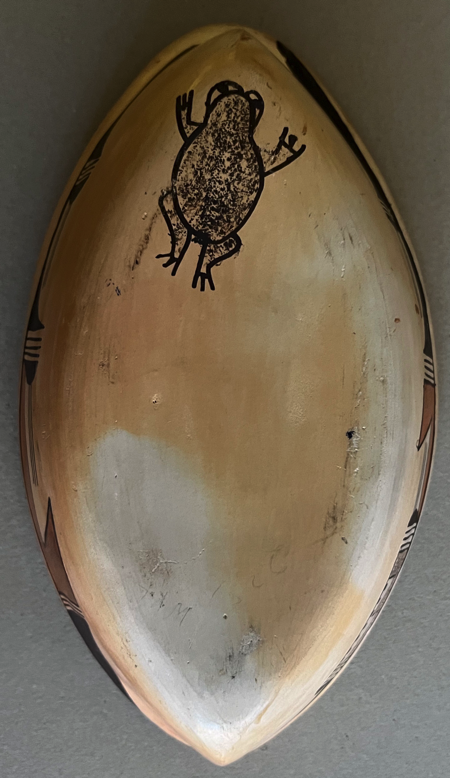 The bowl measures a good-sized 10" in length and it is 5 3/4" in width at its widest point and is 2 3/4" in height. It is in generally excellent original condition with several very small clay pop-outs on the interior which are very likely
original to the piece. A through examination of the vessel under Ultraviolet light reveals no evidence of restoration
or over-painting. The bowl is properly signed on the bottom with a particularly large and beautifully painted rendition
of Paqua Naha's famous original frog signature which she first developed in the 1930's using her personal frog insignia with its toes distinctively pointing upwards, variations of which her various descendants continue using to this day.
This bowl is an early, elegant and historic pottery vessel possessed of a clean, spare, visually-arresting design and a commanding presence which was made almost a century ago by an important and justly-celebrated Native American artist.
Price $1,350
A dramatic Hopi polychrome pottery oval-shaped low dish
or bowl painted with stylized "Sikyatki-Revival" style bird designs by Paqua Naha, "Original Frogwoman", c.1930's
Ex: J.L. Hubbell Trading Post, Winslow, AZ