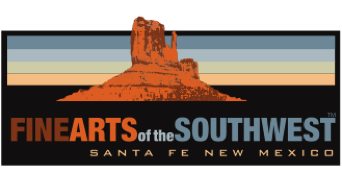 © 2010-2021 by Fine Arts of the Southwest, Inc. All rights reserved.
Unauthorized reproduction or use is strictly prohibited by law.

A contemporary Northwest Coast Kwakiutl
silver pendant in the form of a salmon inlaid
with green abalone shell by Patty Fawn
The outstanding contemporary Kwakiutl artist Patty Fawn specializes in hand-carved silver and copper jewelry and small sculpture. The salmon is a magnificent and extraordinary creature and it holds a special time-honored honored place in the mythology, culture and ritual practices of the Native American peoples of the Pacific Northwest roughly equivalent to the significance of the buffalo to Plains Indian Native tribes and Patty Fawn has honored its significance here with this magnificent pendant.
This beautiful silver salmon pendant is from an edition of 25 and measures 3" in length and is 1 1/2" in width at
its widest point. It is signed "Patty Fawn" and numbered "#1-25" on the reverse and is in excellent original condition.
It is inlaid with 7 round pieces of green abalone shell and strung on a beautiful, substantial handmade silver chain which measures 24" in circumference. The pendant and chain together weigh 64 grams or 2 1/4 ounces.
Patty Fawn
Patty Fawn has had an unusual and complex artistic trajectory in her life. Originally of Oklahoma Cherokee and Northwest Coast descent, she was born into a distinguished family of artists and performers. Her grandfather was a performer in Buffalo Bill's Wild West Show. Patty learned to carve at a young age from her older brother, Chief Don Lelooska, a renowned Northwest Coast carver who was her artistic mentor and inspiration.
Patty's family moved to the Northwest Coast in the 1960's and was adopted by the Kwakiutl Nation of British Columbia and Washington State so her work evolved inspired by the rich culture, symbolism and mythology of the Northwest Coast region, her pieces portray contemporary, mythological and traditional animals and figural images that symbolize and inspire those cultures. Patty works in a wide variety of materials including bone, shell, wood, ivory, silver and gold.
Patty Fawn's work has been exhibited at major museums around the country over the course of her career, including The Smithsonian National Museum of the American Indian, The Art Institute of Chicago, The Field Museum, The Brooklyn Museum, The Southwest Museum, Heard Museum, Eiteljorg Museum and others.
-Photo source and some biographical material, Hugh Cabot Galleries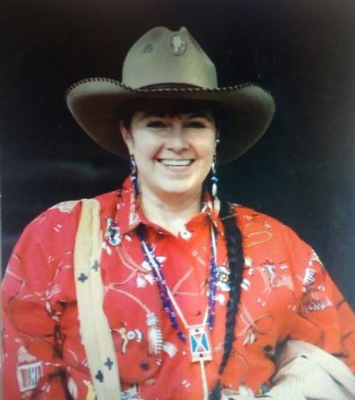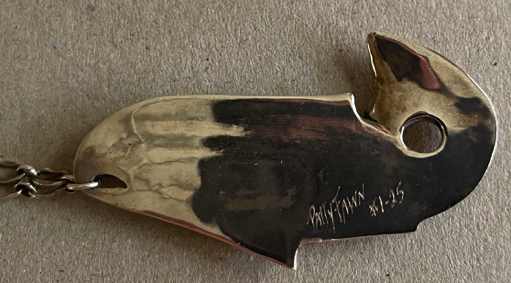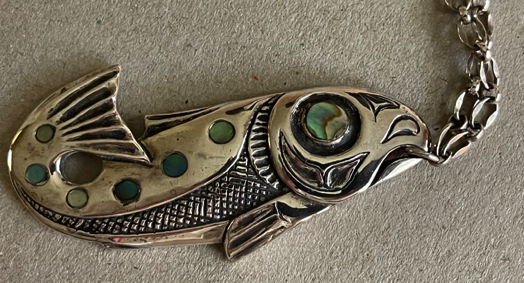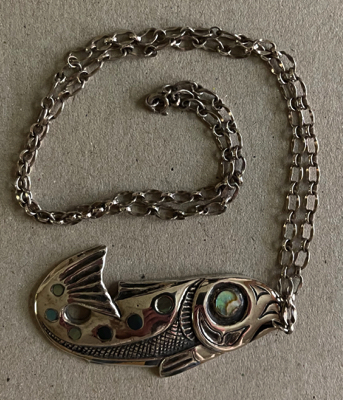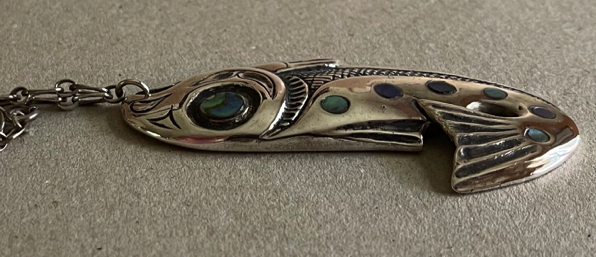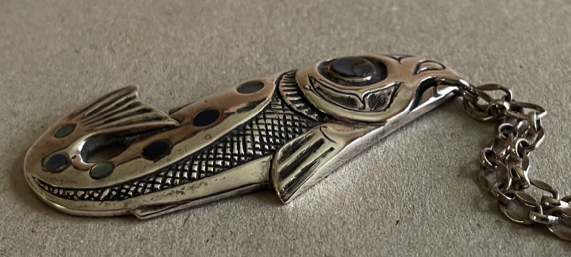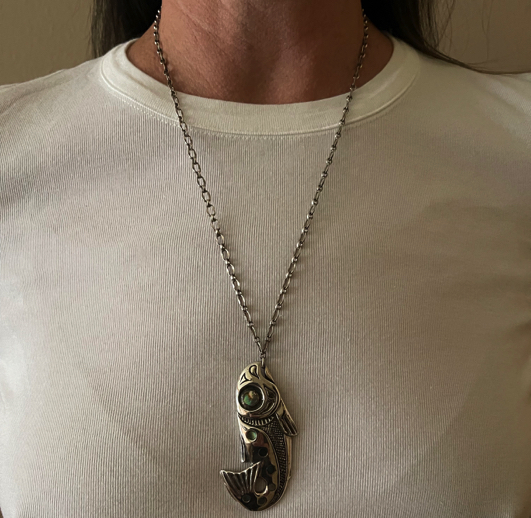 "Salmon are an extremely important animal to both the lifestyle and the spirituality of many Native American cultures, especially the tribes of the Northwest Coast and the Columbia River. Like buffalo, salmon willingly give themselves up as food for humans in many Northwest Native American myths, and therefore these fish hold a special position of honor and respect. In Native American artwork and literature, salmon are often used as a symbol of determination, renewal, and prosperity."
-Quotation source and © Native Languages
This is a lovely and precious piece. It has the look and feel of world-class fine jewelry yet it is packed with traditional Native American symbolism and knowledge. A simply wonderful piece to own, wear and display.
SOLD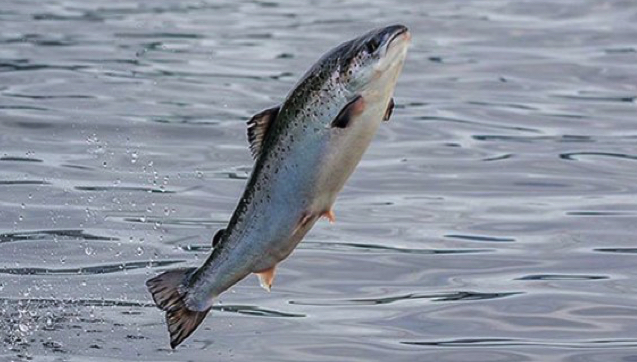 Photo source and © Faroe Islands Touris Authority