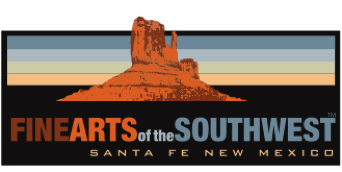 © 2010-2021 by Fine Arts of the Southwest, Inc. All rights reserved.
Unauthorized reproduction or use is strictly prohibited by law.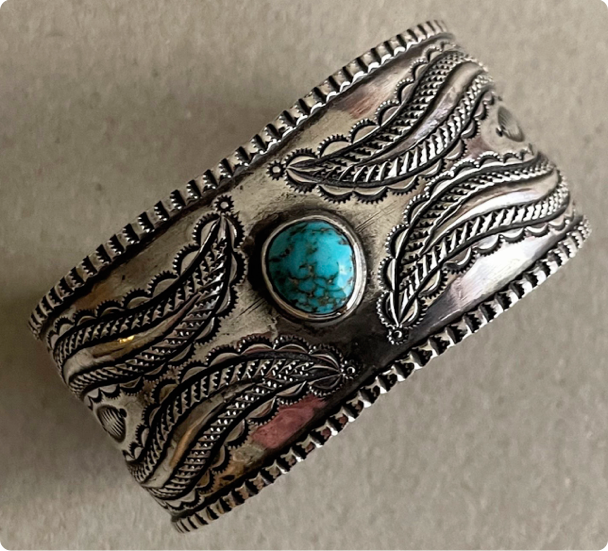 An outstanding contemporary Navajo coin-silver
and turquoise cuff bracelet by Perry Shorty
Perry Shorty (b.1965) stands fifty feet tall in the world of Navajo silver and this bracelet is one of his
biggest and best statements ever. This one is a virtual graduate seminar in inspired design and incredible technical virtuosity, a Navajo silversmithing masterpiece of the highest order.
Perry saves his best efforts for his remarkable "Coin-Silver" pieces such as this bracelet. The process of making them is long and laborious and physically demanding. First, he gathers up a quantity of historic American Barber-style dimes and quarters. (See photo below.) He then melts these coins down and casts the molten silver into an ingot-silver "slug" from which he begins to fashion the bracelet's shank, heating the silver slug again until red-hot and and then hammering and hammering and hammering the slug out to form the desired shape and size and thickness of the bracelet. Then the really painstaking work of applying the incredibly elaborate precisely-done stamp work, chisel work and repoussee work begins.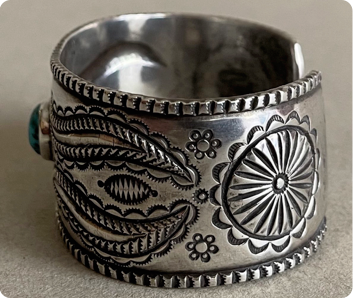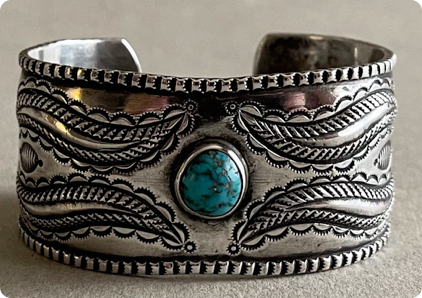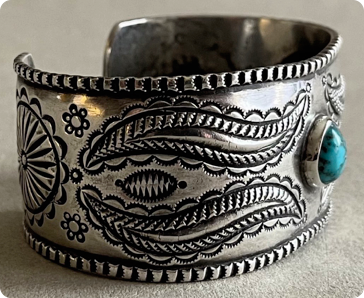 There are literally hundreds of individual stamp work strikes in this bracelet each one requiring extraordinary strength and perfect control to execute properly. This stamp work takes its rightful place in the distinguished history of Navajo silverwork alongside such greats as Austin Wilson, Mark Chee and McKee Platero in our view. There are also no fewer than four large repoousees medallions creating a lovely four-part raised pattern in the bracelet's center. And in the bracelet's VERY center is set a lovely round hand-carved, high-domed penetrating and powerful blue slightly-matrixed turquoise stone very possibly from Nevada's famed Lone Mountain mine, but it is difficult to be completely certain of this.
The stone is nicely set in an old-style plain silver "Foldover"-type bezel. All added up, the amount of decorative work, the combined beauty of it all and the incredible skill with which it was rendered add up to a staggering total of concentrated technical effort and truly stunning artistic achievement.
The bracelet measures 1 1/8" in continuous width all the way around with a very slight and subtly beautiful taper
in at the very center, of the shank, top and bottom. The inner circumference end-to-end is 5 9/16" and the gap between the terminals is 13/16" for a total interior circumference of 6 1/4". The bracelet weighs a substantial yet comfortable 75 grams or 2 5/8 ounces. The bracelet is in excellent original condition and it is properly signed
"P. Shorty" in Perry Shorty's customary cursive signature and it is also marked "Coin Silver" on the interior.
Perry Shorty is one of the all-time greats and this bracelet is one of HIS all-time greats. That's a pretty
attractive and compelling combination to contemplate. It will be a fortunate person indeed who gets this one.
Price $4,950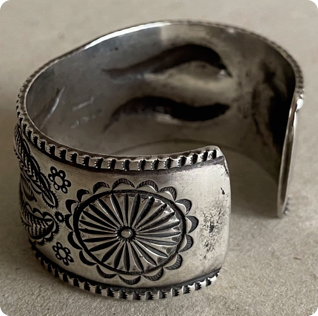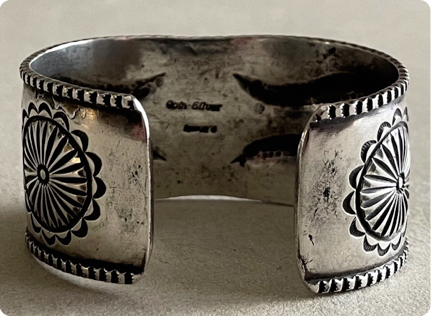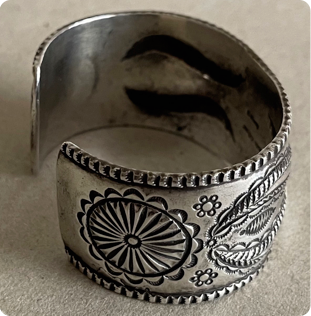 "I try to keep things simple. The old smiths didn't have a lot of tools
and materials to work with, and I like doing it their way."
-Perry Shorty
Perry Shorty giving a silversmithing demonstration at the Hopi Cultural Center, c. 1999.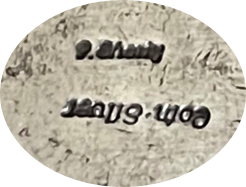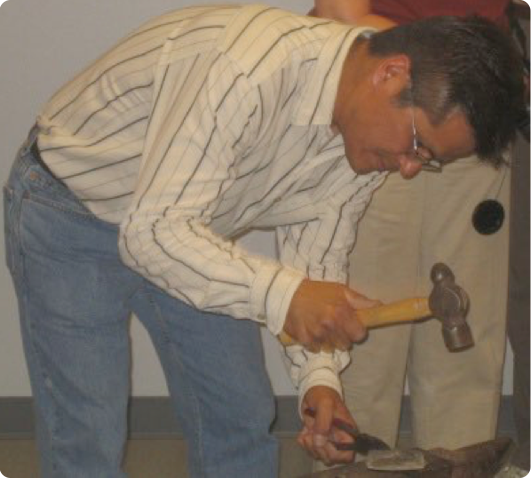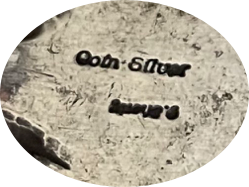 Some of the types of historic American silver coins which Perry Shorty melted down to make this ingot coin-silver bracelet.