© 2010-2022 by Fine Arts of the Southwest, Inc. All rights reserved.
Unauthorized reproduction or use is strictly prohibited by law.

A superb and unique Navajo "Coin-silver" terraced cuff bracelet by Perry Shorty, c. 2000
Ex: Martha H. Struever Collection, Santa Fe, NM
This piece is one of the finest and most striking Perry Shorty (b.1965) bracelets we have ever seen and that is saying quite a bit. We have never seen this design scheme before in a Perry piece; the silver shank of the bracelet is composed of a stacked set of repeating triangles or terraces on both sides of a central diamond shape. This design is seen in several iterations around the Southwest. It is reminiscent of some of the designs in Navajo sandpaintings made for The Great Shooting Way Chant. In that Chant there is a depiction known as "The Sun's House" which shows terraced Sun Face designs with repeating stacked triangular shapes very similar to that of this bracelet. It is also reminiscent of the repeating vertical triangular terrace designs seen on some Navajo Yei rugs and on historic Pueblo woven mantas and dance kilts.
The bracelet measures 1 1/8" at its widest center point and tapers down to just over 1/4" in width at the very terminal ends. The inner circumeference end-to-end is 5 5/8"and the gap between the terminals is 1" for a total interior circumference of 6 5/8". The bracelet weighs a substantial yet very comfortable 68 grams or 2 3/8 ounces and it is in excellent original condition with a slight amount of wear and is properly signed "P.Shorty" and marked "Coin Silver" on the interior.
The provenance of the bracelet is also completely excellent. It was purchased directly from Perry Shorty around 2000 by the late "Grande Dame" of the Santa Fe Indian Arts business, Martha Hopkins (Marti) Struever (1931-2017) who personally represented the work of a number of the finest Native American artists in the country, including Perry Shorty. After purchasing the bracelet from Perry, Marti subsequently sold it to one of her private clients. We acquired it recently from this collection through a representative.
If you are fortunate enough to be the next owner of this beauty rest assured you will receive a LOT of admiring glances and inquiries regarding whether or not you would like to sell it especially if you happen to be wearing it anywhere around the Southwest. This one is a true gem made by one of the finest Navajo silversmiths who ever swung a hammer.
SOLD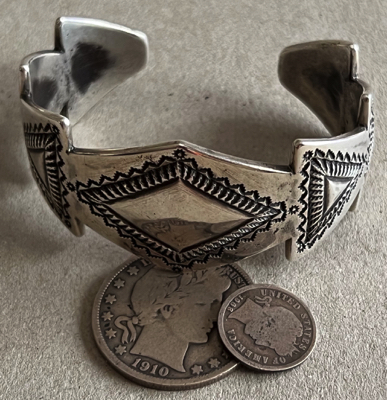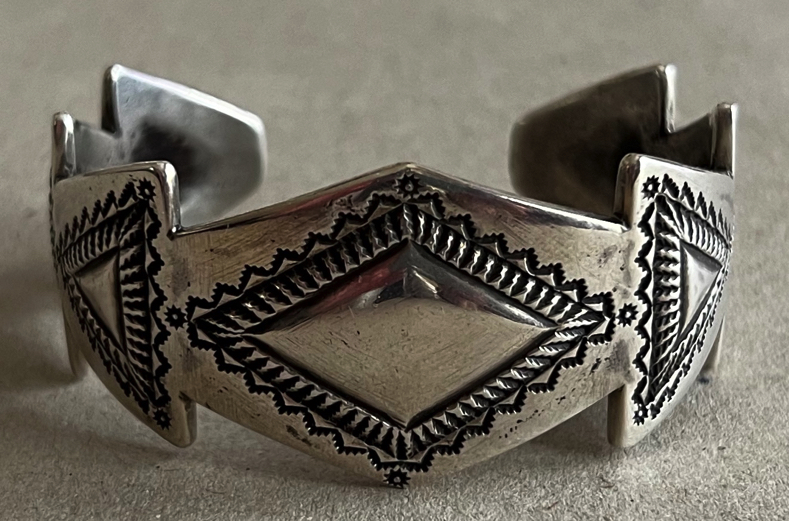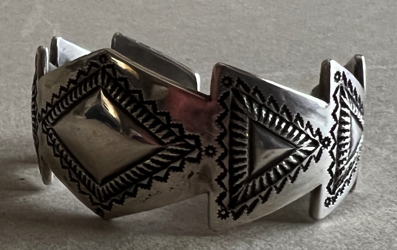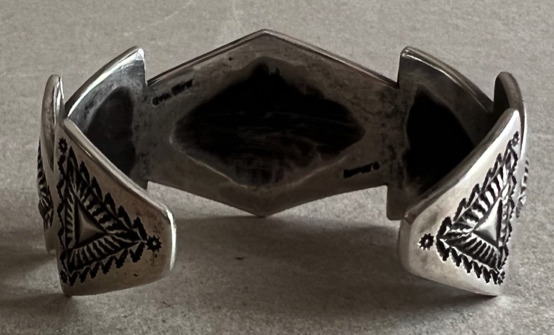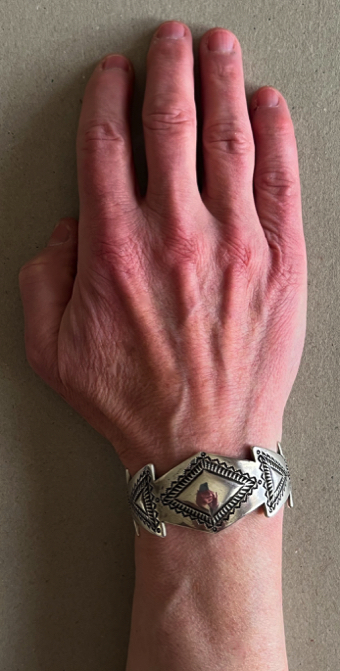 Wherever the inspiration came from the design of this bracelet is magnificent. Each of the six triangles and the center diamond form all have repousseed bump outs in their centers and are finely decorated all the way around with simply incredible stamp, file and chisel work. The bracelet is painstakingly and traditionally made from historic american silver coins, specifically Barber Style quarters, dimes and half dollars which Perry melts down and casts into an ingot silver slug which he then hammers out to form the body of the bracelet. This is the "old way" of doing this and Perry usually saves Coin silver for his finest and most ambitious pieces. Coin-silver is very slightly less pure (90%) than the more common Sterling silver (92.5%) but it has a slightly different, brighter more whitish color and patinas differently as well.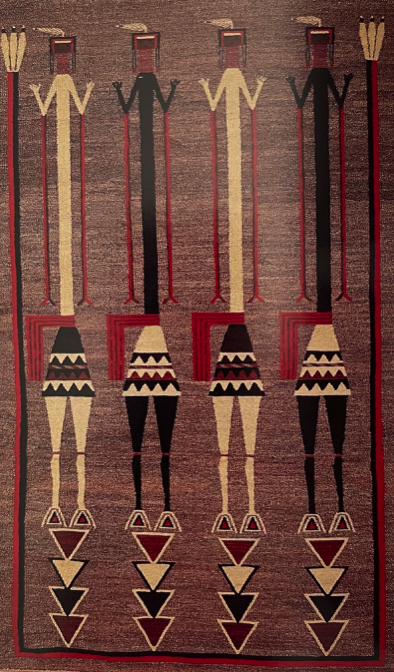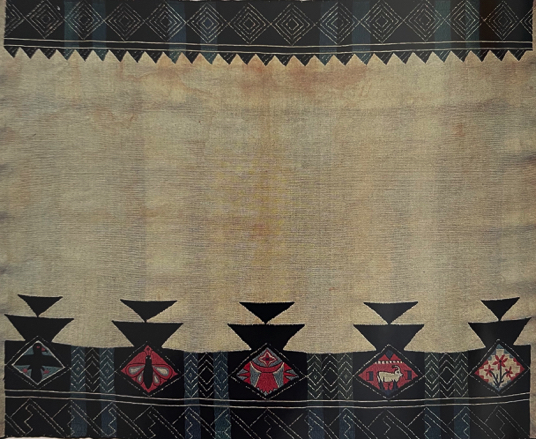 Use of stacked triangular-shaped designs in Navajo and Pueblo textiles. At left, a Navajo "Yei" weaving, c. 1930-40. At top right, detail of "The Sun's House" in a Navajo sandpainting muslin by Roger Hathaali, c. 1990. At bottom right, detail of a Hopi Pueblo embroidered manta, c. 1920-40.
Yei rug and Hopi photo source and © "Common Threads, Pueblo and Navajo Textiles in the Southwest Museum", 1998.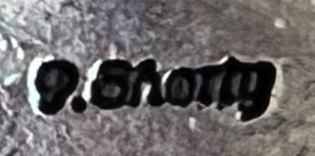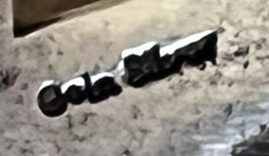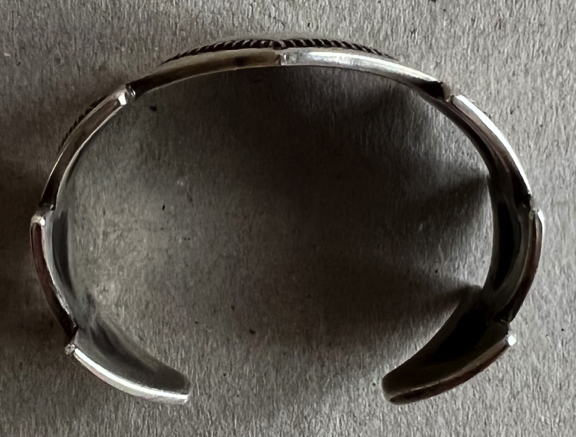 "I try to keep things simple. The old smiths didn't have a lot of
tools and materials to work with, and I like doing it their way."
-Perry Shorty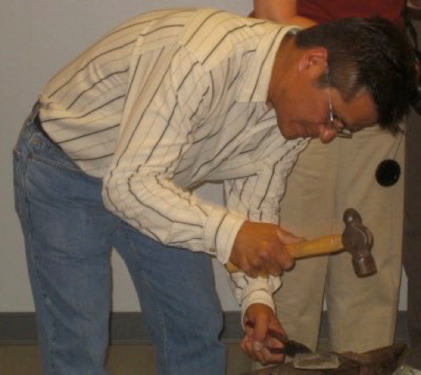 Perry Shorty demonstrating Navajo silversmithing at the Hopi Cultural Center, c. 1999.