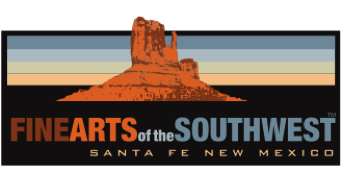 © 2010-2023 by Fine Arts of the Southwest, Inc. All rights reserved.
Unauthorized reproduction or use is strictly prohibited by law.
A particularly beautiful Navajo ingot "Coin-Silver" concho-style belt buckle by Perry Shorty, c.1990's
When Perry Shorty (B.1965) hits a grand-slam home run completely out of the ballpark as he did with this incredible coin-silver revival-style buckle, the results are sensational indeed! All of Perry's silverwork is beautifully and meticulously crafted, but he saves his very best and most interesting efforts for his old-style "Coin-Silver" pieces, such as this buckle. The process was long and laborious; it began by finding a quantity of old American turn-of-the-century silver coins such as "Barber"-style half dollars and quarters and then melting them down and casting them into an
ingot silver "slug" which was then patiently and repeatedly heated to red hot and hammered out into the desired domed
or reposed shape and specific size of the buckle after which the buckle was painstakingly decorated with precise, perfectly-executed chisel, file and stamp work, and, finally, everything was buffed and polished. The amount of concentrated effort and complete attention to detail all this intense work takes is nearly impossible to imagine.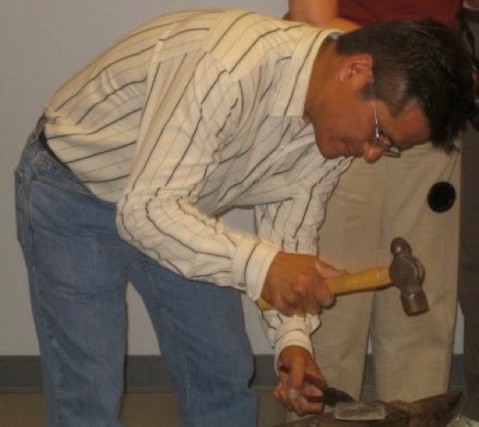 At center, Perry Shorty demonstrating Navajo silversmithing at the Hopi Cultural Center, c. 1999. At left and right, the types of historic American silver coins this buckle was made from.
"I try to keep things simple. The old smiths didn't have a lot of tools
and materials to work with, and I like doing it their way."
-Perry Shorty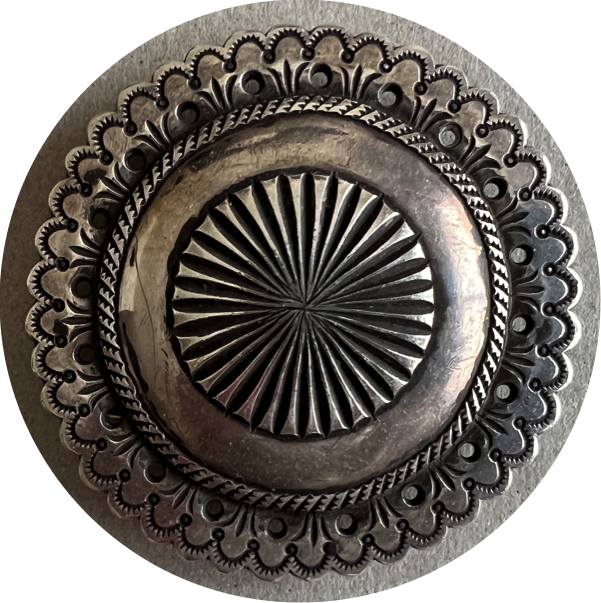 The design of this buckle is a somewhat stylized interpretation or "revival" version of the general appearance of
an 1890's period Navajo classic 2nd-Phase style concho with a repousseed sold center, a perforated border and
a scalloped outer edge. The 1890's 2nd-Phase conchos were oval-shaped instead of round but Perry is not doing
a reproduction, rather a modern-day artistic interpretation based on a historic period design. The buckle measures
a nicely-sized 2 3/4" diameter and it weighs 72 grams or 2 1/2 ounces. It will accept a belt strap of up to 1 1/4" in width. The buckle is in excellent original condition with a certain degree of age-appropriate wear. The buckle is properly signed "P. Shorty" on the back in Perry Shorty's customary cursive signature and it is also marked "Coin Silver".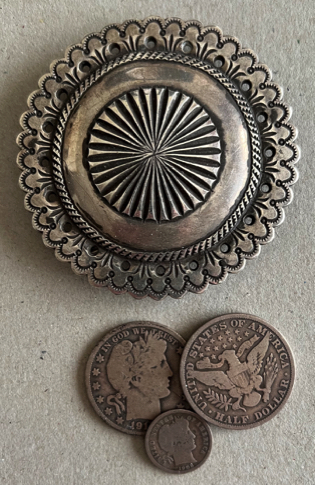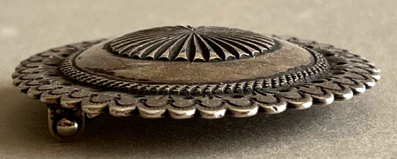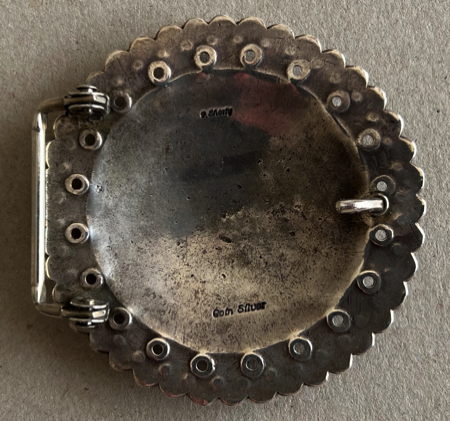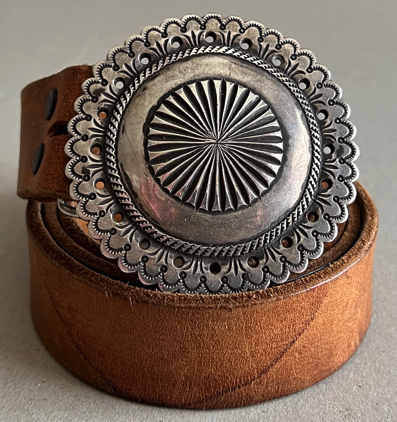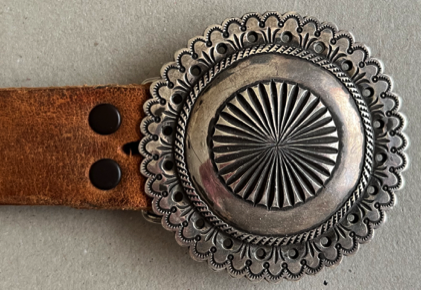 Over the past 25-30 years, the buckle has developed the classic and beautiful patination that Perry Shorty's "Coin-Silver" pieces always acquire in time, like the traditional, turn-of-the-century historic Navajo silver pieces that originally inspired them. Overall, there is a marvelous, almost hand-carved quality to this piece almost as if it were literally hewn from a solid block of silver. The slightly smaller size of the buckle is also noteworthy, it could just
as easily and comfortably be worn by either a man or woman as can be seen below.
So there you have it; this buckle is a classic, beautiful, timeless, easy-to-wear piece by one of the finest and
most skilled Native artists of our time or any other. You can't ask a buckle for much more than that.
Please note that the leather belt shown here is for photographic purposes only and is not included
in the sale of the buckle. If desired, we can recommend an excellent leather belt maker in Santa Fe.
Price $3,850
The buckle with the type of historic American silver coins it was made from, "Barber" style half dollars and dimes.