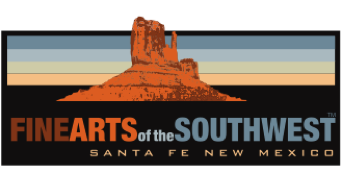 © 2010-2022 by Fine Arts of the Southwest, Inc. All rights reserved.
Unauthorized reproduction or use is strictly prohibited by law.
A beautiful Navajo ingot "Coin-Silver"
cuff bracelet with two large turquoise stones
by Perry Shorty, 2012
Ex: Martha H. Struever, Santa Fe, NM
When Perry Shorty (B. 1965) hits a grand-slam home run completely out of the ballpark as he did with this incredible coin-silver revival-style bracelet, the results are sensational indeed! All of Perry's silverwork is beautifully and meticulously crafted, but he saves his very best and most interesting efforts for his old-style "Coin-Silver" pieces, such as this bracelet. The process was long and laborious; it began by finding old American turn-of-the-century silver coins such as "Barber"-style half dollars and quarters and then melting them down and casting them into an ingot "slug" which was then patiently hammered out into the desired shape and size of the bracelet after which it was painstakingly decorated with precise, perfectly-executed chisel and stamp work, then
the bracelet was shaped, the bezels soldered on, the stones set and, finally, everything buffed and polished. The amount of concentrated effort and complete attention to detail all this takes is nearly impossible to imagine.
The two beautiful large turquoise cabochon stones Perry used in this bracelet are most likely from the Royston mining district in Nevada and they have a lovely clear blue color with a medium-brown matrix. The stones measure approximately 7/8" in length by 1/2" in width. The bracelet measures 1 1/4" in width at the widest center point and undulates very slightly in width towards both sides under the turquoise stones and then tapers slightly down to 1" in width at the terminals. The inner circumference end-to-end is 5 7/8" and the gap between the terminals is
1 3/16" for a total interior circumference of 7". The inside measurement is just shy of 2 1/2" across from side to side at the widest point. The bracelet weighs a hefty 106 grams or 3 3/4 ounces, but sits and wears comfortably.
The bracelet is properly signed "P. Shorty" on the interior in Perry's customary cursive signature and it is also marked "Coin Silver". The bracelet is in excellent original condition with some age-appropriate wear. There is a barely visible tiny crimp on one side of one of the silver bezels where Perry made the bezel conform to a slight irregularity in the side of one of the turquoise stones. The bracelet has already begun to develop the classic and beautiful patination that Perry's "Coin-Silver" pieces always acquire in time, like the traditional, turn-of-the-century historic Navajo silver pieces that originally inspired them.
The bracelet has an excellent proveneance. We originally purchased it from our close friend and colleague, the late Grande Dame of the Santa Fe Indian art business, Martha H. Struever (1931-2017). This bracelet was made in 2012, but in terms of its craftsmanship, methods and materials used it might just as easily have been made over a century ago, in 1912. As the Barber-style half dollar pictured here indicates, it was made from materials that old. Perry really channeled his Navajo ancestors with this piece--it is a complete triumph of old-fashioned artistry, craftsmanship and tradition in a modern time.
Price $4,850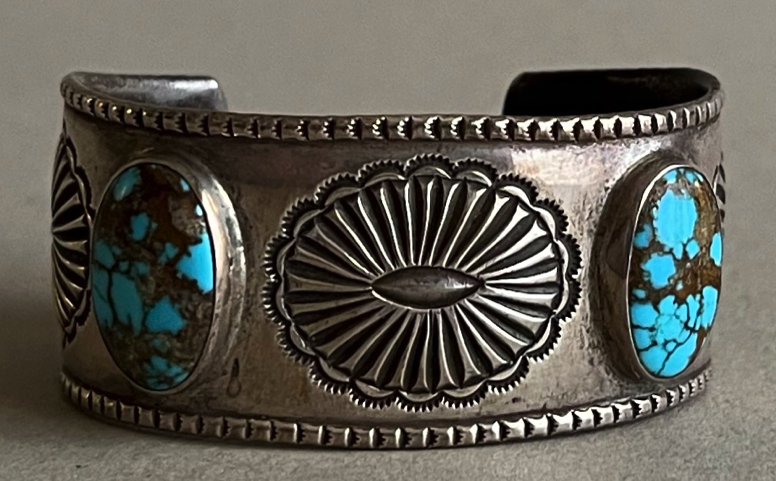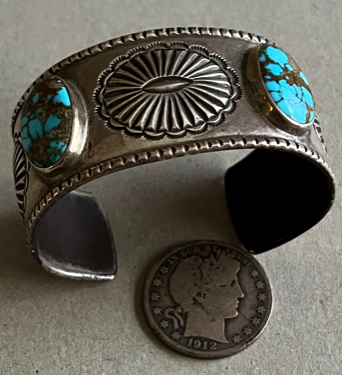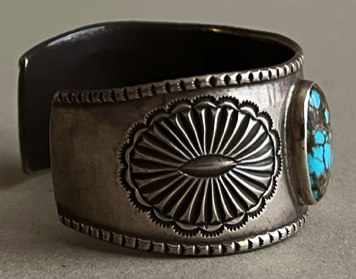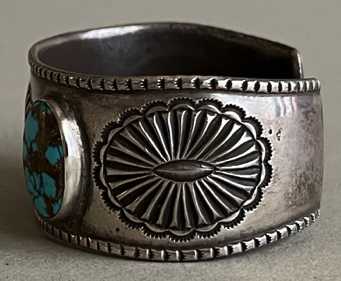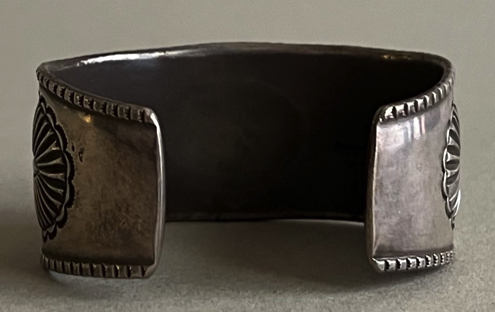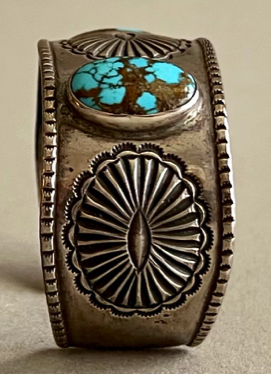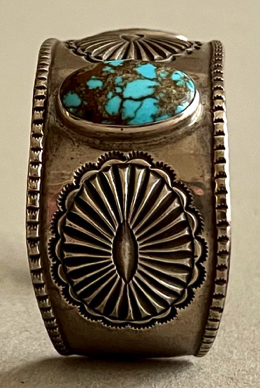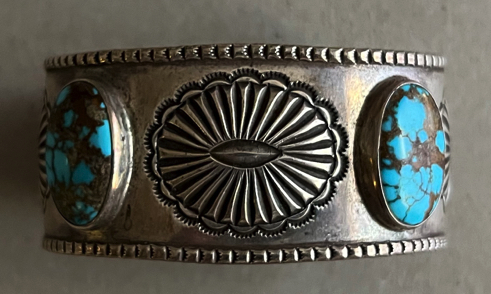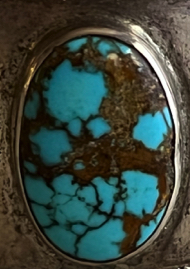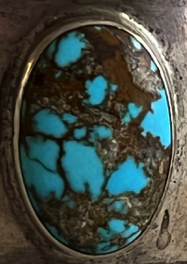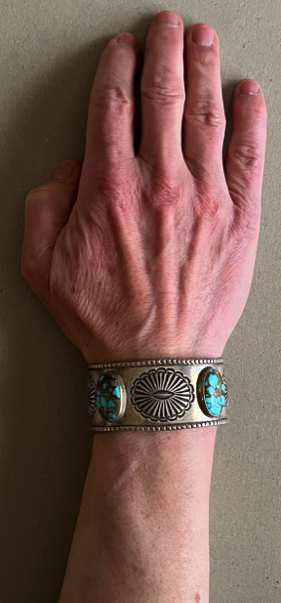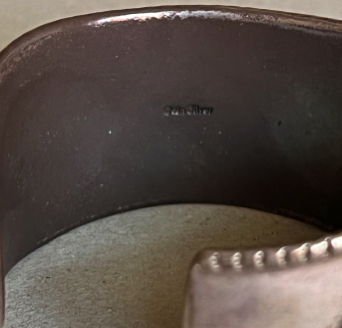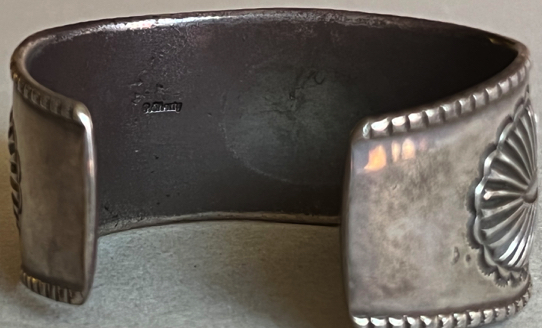 Perry Shorty giving a silversmithing demonstration at the Hopi Cultural Center, c. 1999.
"I try to keep things simple. The old smiths didn't have a lot of tools and materials to work with, and I like doing it their way."