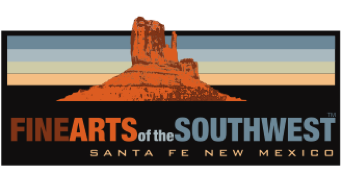 © 2010-2022 by Fine Arts of the Southwest, Inc. All rights reserved.
Unauthorized reproduction or use is strictly prohibited by law.

A beautiful Navajo silver ring set with a stunning high-grade Nevada Blue spiderweb turquoise stone by Perry Shorty, c. 2000's
Perry Shorty's (B.1964) extraordinary Navajo jewelry sells out in mere minutes at virtually every single show
he does and for very good reason; his designs and craftsmanship are simply superb, occupying the very pinnacle of the Native American art world and this ring is a marvelous examples of what he does so well.
First, the silverwork here is absolutely exquisite; beginning with a meticulously-detailed triple-split silver shank, topped with a beautiful rectangular silver bezel platform which perfectly frames the large splendid, gorgeous and rare Nevada Blue spiderweb turquoise stone. The high-grade rectangular cut stone is a rich blue color with
a medium grey-black matrix. Nevada Blue spiderweb is justly considered to be one of the world's finest turquoise varieties and is today one of the world's most coveted and expensive turquoises due to skyrocketing demand by knowledgable jewelers and collectors.
The remarkable stone is beautifully set in an old-style "fold-over" type silver bezel which is further accentuated on both sides by three very finely-applied small round silver "raindrops". The amount of concentrated skill and effort such high-level precisely detailed hand work requires is difficult to comprehend.
The ring measures a size 9 1/2-9 3/4 on a professional graduated ring sizer. The ring's face is 3/4" in height
and 1/2" in width at its widest point. It weighs a very comfortable 11 grams or 3/8 ounce. The ring is in excellent condition overall and is properly signed "P. Shorty" in Perry Shorty's characteristic cursive signature on the underside of the bezel platform.
This ring is an exceptionally attractive, well-made, elegant and easy to wear piece with a rare and beautiful turquoise stone; a lovely artistic expression from the fertile mind and talented hands of one of the finest, most in demand Navajo jewelers of his (or any other) era. It's a completely classic piece you can wear happily every day and that you can appreciate more and more with every passing year.
SOLD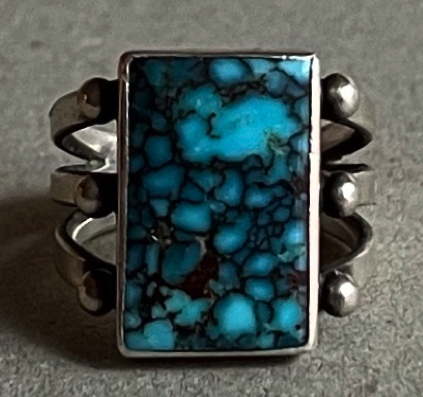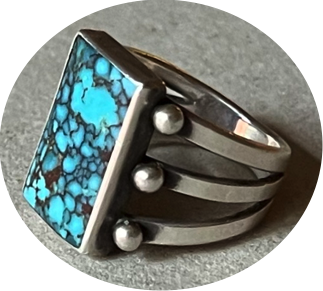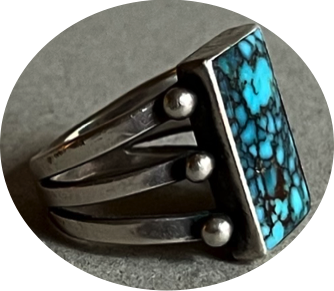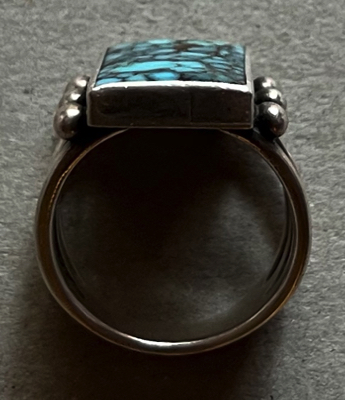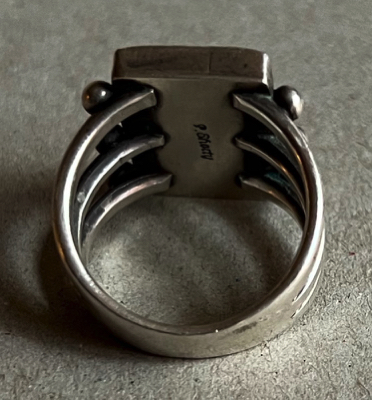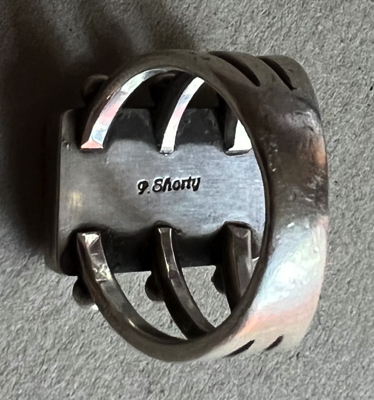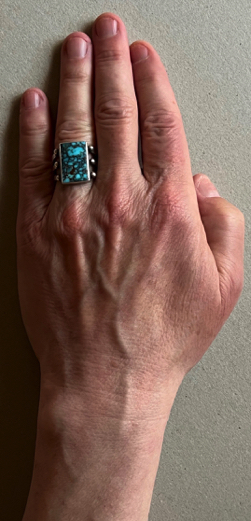 "Nevada Blue belongs with the finest turquoise to come out of Nevada."
-Turquoise authority and mine owner, Gene Waddell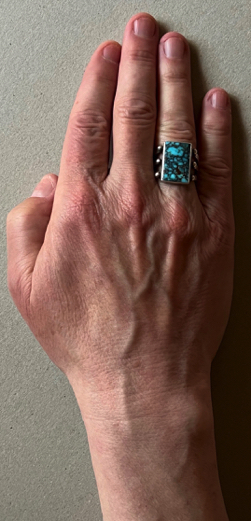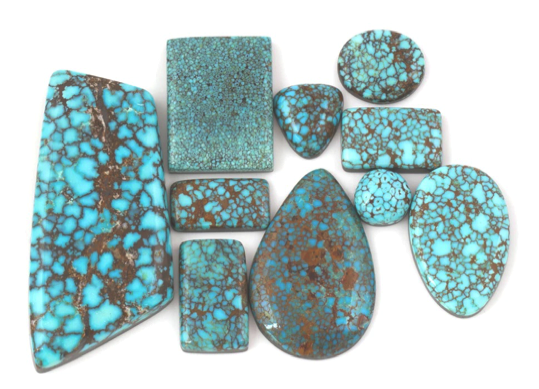 Nevada Blue Turquoise
Nevada Blue belongs with the finest turquoise to come out of Nevada. Once known as the Pinto or Watts mine, the Nevada Blue is near the crest of the Shoshone Range in Lander County, Nevada. The deposit was discovered by Jim Watts in 1901 and later sold. Access to this mine is extremely difficult. In its high-grade form the colors range from a medium to a dark blue with a black or brown spider webbing. Nevada Blue turquoise was well marketed in the 1970's and was used by many of the Southwest's greatest silversmiths. The April 1979 issue of 'Arizona Highways' magazine will attest to that fact with its pages filled with Nevada Blue turquoise in museum quality jewelry.
-Photo and text source and © Waddell Gallery, Scottsdale, Arizona