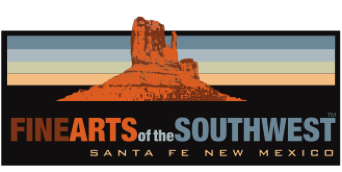 © 2010-2021 by Fine Arts of the Southwest, Inc. All rights reserved.
Unauthorized reproduction or use is strictly prohibited by law.

A magnificent Navajo silver and Pilot Mountain, Nevada spiderweb turquoise bracelet by Perry Shorty, c. 2015
This extraordinary, pristine piece was made by renowned Navajo silversmith, Perry Shorty (b.1964) as a special commission for a personal friend in 2015 and it has never before been offered publicly for sale and has almost never been worn. The former owner basically kept it in a drawer and took it out to admire from time to time until eventually selling it to us. Perry Shorty's jewelry is about as good as Navajo jewelry ever gets; each piece is completely painstakingly, meticulously hand-fashioned in a traditional old-style manner using a simple set of tools and stamps that Shorty mostly makes himself. His jewelry is prized all over the world and many Japanese and other overseas collectors make regular pilgrimages to the U.S. to have an opportunity to buy from him directly at the annual Santa Fe Indian Market and elsewhere.
"I try to keep things simple. The old smiths
didn't have a lot of tools and materials to work with,
and I like doing it their way."
-Perry Shorty*
And even by Perry Shorty's exalted standards this bracelet is a spectacular piece. The bracelet features three absolutely magnificent and beautifully-matched gem-quality Pilot Mountain, Nevada spiderweb turquoise stones which are somewhat triangular in shape. These striking stones are dramatically set in a row next to each other across the face of the bracelet in old-style "foldover" type silver bezels. Each individual bezel is surrounded by a finely-twisted silver wire border. The stones are all mounted on a heavy twisted silver wire shank composed of five thick 1/8" strands of twisted silver wire.
"This Nevada mine is one of the gem mines made famous for its extremely rare ability to form dendrites (manganese plant fossil replacements) in the turquoise. The Pilot Mountain mine also produces some very high grade spiderweb stones, with interesting web matrix patterns that include red, brown, and black colors. It is a hard stone and so it takes a good shine that retains color longer and is resistant to skin oils."
-Quotation source and © durangosilver.com
In a wonderful artistic touch, Shorty positioned the "twists' in the wire to run in opposite directions in alternating order. And, if that were not enough, the gem turquoise stones are further accentuated by four perfectly domed and fluted round silver buttons, about ¼" in diameter, two each at the top and bottom. In a final decorative flourish, emphasizing the triangular shape of the turquoise stones, Shorty fashioned two triangular-shaped silver plates, one on either side of the stones, accenting each with a finely-stamped perimeter. The attention to detail, skill and dedicated effort required to do all this extremely difficult work so incredibly well is difficult to imagine, but Perry Shorty is one of the finest Navajo silversmiths of his, or any other, era.
"Pilot Mountain turquoise is made up of a group of mines at the southern end of the Pilot Mountains in Mineral County, Nevada. Pilot Mountain turquoise was first mined around 1930 as a tunnel mine. While Pilot Mountain is considered an active mine, it is a very small operation. Pilot Mountain turquoise forms in thin seams, with some nugget formations. According to the current owner, the turquoise has formed in thin seams, is high grade with a variety of colors ranging from blue to green with dark brown, black, or reddish matrices. Some of the matrix in high-grade Pilot Mountain is beautiful spider web."
-Quotation source and © Waddell Trading Co.
The bracelet measures 1 5/8" in width at its widest center point and tapers down to 5/8" in width at the terminals. The inner circumference end-to-end is 6" and the gap between the terminals is 1" for a total interior circumference of 7". The bracelet weighs a substantial 128 grams or 4 5/8 ounces and it is in pristine original condition. The bracelet is properly signed "P. Shorty" in Perry Shorty's characteristic cursive signature on the interior. This bracelet is an exceptional and significant piece; a one-of-a-kind "trophy"-type artwork made by one of the all-time giants of Navajo silverwork. It is worthy of an esteemed place in any collection, anywhere.
SOLD
Perry Shorty working his magic*
*Photo of Perry Shorty and quotation source and © Garlandsjewelry.com