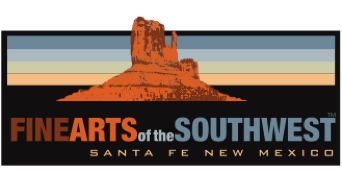 © 2010-2021 by Fine Arts of the Southwest, Inc. All rights reserved.
Unauthorized reproduction or use is strictly prohibited by law.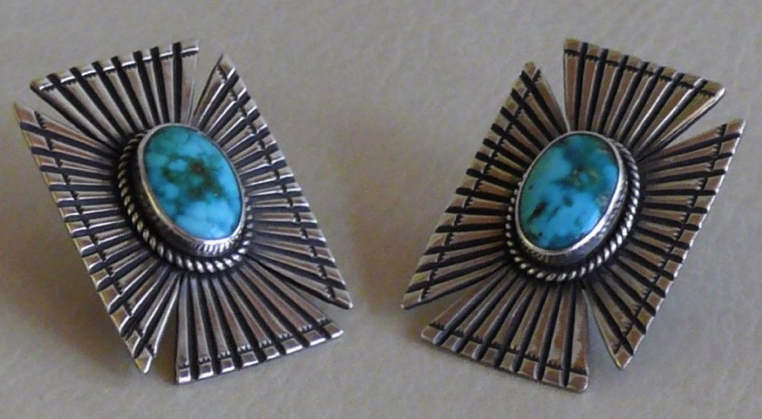 A beautifully-crafted pair of Navajo silver
and turquoise earrings by Perry Shorty
Ex: Martha H. Struever Collection, Santa Fe
Perry Shorty's jewelry sells out in mere minutes at virtually every single show he does and for good reason; his designs and craftsmanship are simply superb, occupying the very pinnacle of the Native American art world and these earrings are marvelous examples of what he does so well.
First, the silverwork is absolutely outstanding; complex, meticulously-detailed, traditional stamp, chisel and file work designs which perfectly accentuate the interesting shape of the earrings and perfectly frame the splendid, matched pair of gorgeous turquoise stones set into the earring's centers. The high-quality cabochon cut stones are a rich blue-green color with medium-brownish matrix and appear to be either Royston or Blue Gem, Nevada.
The stones are beautifully set in old-style "fold-over" type silver bezels which are very nicely accentuated by finely-twisted silver wire surrounds.
The earrings measure 1 1/4" in height and just slightly under 1" in maximum width and they weigh a very comfortable 9 grams or 3/8 ounce each. The earrings are in excellent condition overall. They are presently mounted on silver posts. There is a small spot of what appears to be silver solder residue on the bottom of each earring which leads us to believe that either Perry Shorty originally mounted the earrings on hooks and changed his mind or that the earrings were converted to posts at some point after that. In any case, it is of absolutely no consequence. Also, a post on one of the earrings is very slightly bent and this too is of no consequence. Both earrings are properly signed "P. Shorty" in Perry Shorty's characteristic cursive signature on the back.
The earrings have excellent provenance; we purchased them from the distinguished collection of the renowned Indian arts authority, Martha Hopkins Struever (1931-2017), of Santa Fe.
This is an exceptionally attractive, well-made, easy to wear pair of earrings from the hands of one of the finest, most in demand Navajo jewelers of his (or any other) era; classic pieces you can wear happily every day and that you can appreciate more and more with every passing year.
Price $2,600