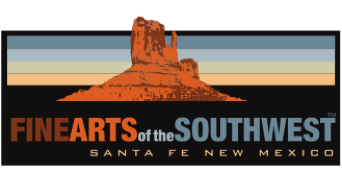 © 2010-2021 by Fine Arts of the Southwest, Inc. All rights reserved.
Unauthorized reproduction or use is strictly prohibited by law.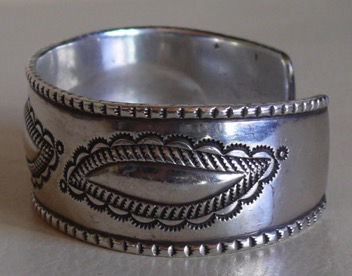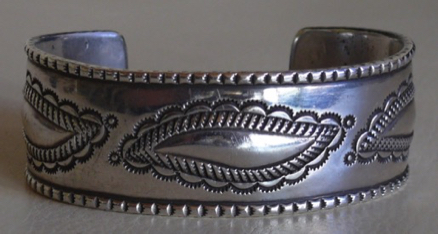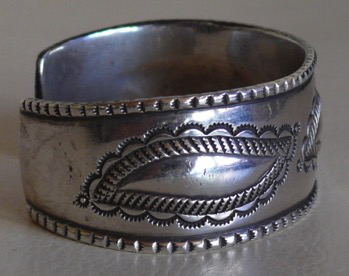 An outstanding repousseed and stamped contemporary
Navajo ingot "coin-silver" cuff bracelet by Perry Shorty
We are extremely fortunate to have acquired yet another absolutely gorgeous, painstakingly hand-crafted ingot coin-silver cuff bracelet by one of the very finest Navajo jewelers working today, the incomparable Perry Shorty (b.1964). This bracelet looks just fabulous; the bright, white "color" of the coin-silver shines like a beacon and the three large decorative repousseed lozenges and the surrounding stamp work are perfectly designed and flawlessly executed and the bracelet also feels especially marvelous in the hand with a lovely smoothness and a captivating soft "feel" to the silver.
The bracelet measures 7/8" in width at its widest center point and tapers down slightly to 11/16" in width at the terminals. The bracelet's inner circumference end-to-end is 5 3/8" with a 1 1/8" gap between the terminals for a total interior circumference of 6 1/2".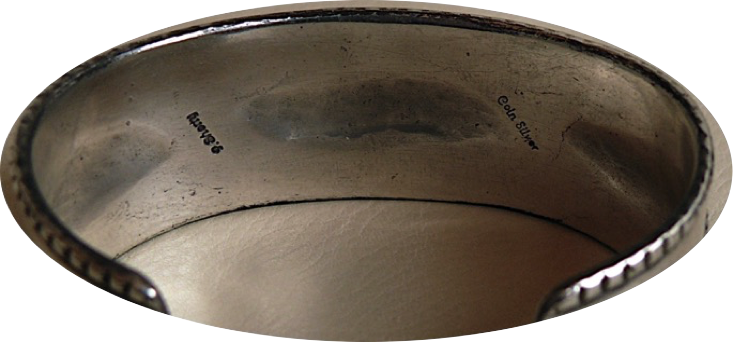 It weighs a substantial, yet extremely comfortable 58 grams or 2 ounces. The bracelet is properly signed "P. Shorty" in the artist's customary cursive signature and it is also stamped "Coin Silver" on the interior. The bracelet is in excellent original condition with a few slight scratches, nicks and overall evidence of normal use and wear.
There are certainly less expensive Navajo bracelets and there are certainly more expensive Navajo bracelets, but there are no more classic, no more traditionally-crafted and no more beautiful Navajo bracelets than this one from the hands of this extraordinary master silversmith.
Price $3,100