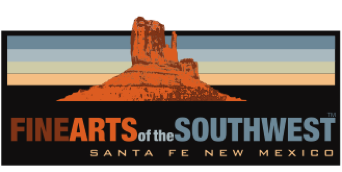 © 2010-2021 by Fine Arts of the Southwest, Inc. All rights reserved.
Unauthorized reproduction or use is strictly prohibited by law.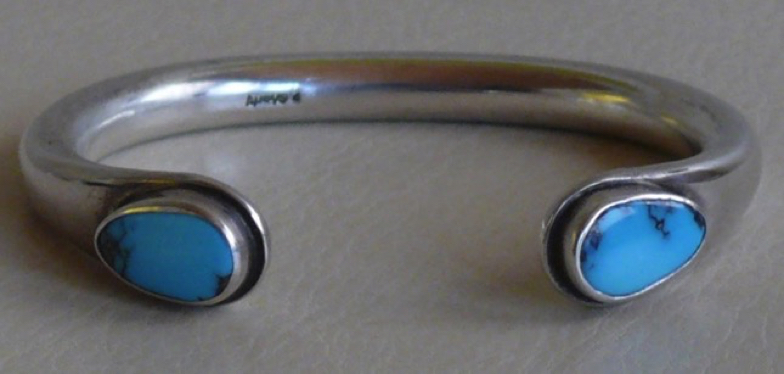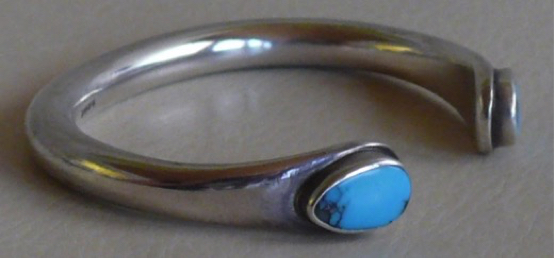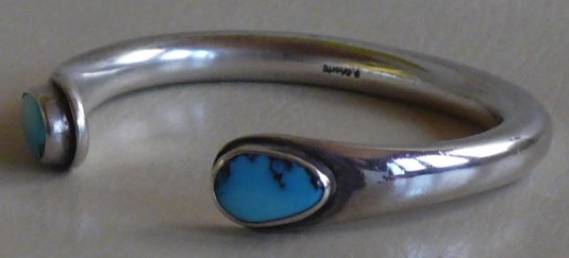 A unique contemporary Navajo silver and Morenci turquoise bangle bracelet by Perry Shorty
PERRY SHORTY is an ultra-traditional Navajo silversmith in the modern era. He hand makes all of his jewelry in a completely traditional and classic way using solely traditional materials, traditional methods and antique tools and the results are just sensational. In terms of the materials, methods and techniques used to make it, this gorgeous bangle could date from 1910, yet, as you can clearly see, it also looks like a streamlined piece of modern metal sculpture; pure, clean and elegant. It's a fabulous synthesis of the old ways with a modern viewpoint. Round-profile silver bangles such as these were made by Navajo silversmiths without stones from the 1870's onwards, and beginning around 1890 small turquoise, garnet or other stones were sometimes added.
Perry's somewhat modern twist on this particular piece was to flatten and flare the bracelet's terminals out slightly to give them a different profile and a more even and wider platform on which to set the good-sized stones. The two turquoises are beautiful, high-grade, gem-quality sky-blue stones from the famed Morenci mine in Arizona . We have had quite a number of Perry Shorty's wonderful bracelets over the years but we have never seen another one like this. It has an almost magical extra level of elegance, simplicity and refinement, making it a truly unique and singular piece in our estimation.
The bracelet is 1/4" in width most of the way around and it widens slightly to 3/8" in width at the flattened and flared-out terminals. The interior circumference is 5 3/8" and the gap between the terminals is 13/16" for a total interior circumference of 6 3/16". The bracelet weighs 50 grams or 1 3/4 ounces, which is a very good weight for such a slim piece, but it is supremely comfortable on the wrist with a nice, substantial feel. Due to the thickness of the silver shank, this bracelet would be difficult if not impossible to adjust and we would not advise this. Also, as can be seen, the bracelet's profile is quite round and thus would not well fit those with flatter-shaped wrists.
The bracelet is in excellent-plus original condition and it is properly signed on the interior with Perry Shorty's distinctive "P.Shorty" cursive signature. The bracelet is a classic, elegant and truly timeless piece from one
of the finest, most talented, in-demand Native American artists in the world.
Price $3,300