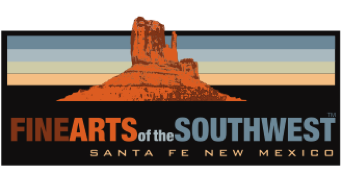 © 2010-2022 by Fine Arts of the Southwest, Inc. All rights reserved.
Unauthorized reproduction or use is strictly prohibited by law.

A beautifully-crafted contemporary Navajo cast-ingot "Coin-silver" Bangle-style bracelet
by Quaid Shorty
This exceptionally beautiful and well-crafted bracelet by young Quaid Shorty is old-style Navajo silver
goodness all the way. Quaid Shorty (b.1999) is a rapidly rising up and coming superstar of contemporary Navajo silversmithing, the highly-talented son of renowned Navajo silversmith, Perry Shorty (b.1965). This uniquely designed and finely-made bracelet is a completely and painstakingly hand-crafted updated modern-day "revival" of
an 1880's-1890's Classic-Period Navajo silver bangle style bracelet right down to using the exact century-old traditional Navajo silversmithing materials and methods.
The use of "Coin-silver" is a distinctly old-style Navajo silversmithing tradition which was basically revived by Quaid's Father, Perry Shorty in the 1990's. The earliest Navajo silver jewelry was made from old American and/or Mexican silver coins which were melted down and cast into into ingot-silver "slugs" from which the jewelry was then formed or in very rare cases, a jewelry piece was made directly from a hammered-out coin or coins. Quaid, like his father Perry, uses historic turn-of-the-century American "Barber" type coins, halves, quarters and dimes to make his "Coin-Silver" pieces. He melts them down and in the time honored manner casts the molten silver into an ingot silver "slug". When he is ready to start shaping the bracelet he heats the slug to red hot and begins the painstaking process of hammering, reheating, hammering again until he gets the desired size and shape of the bracelet's shank.
When the bracelet shank is the right size and shape the meticulous detailed work of applying the decorative elements begins which in this case are many and quite complex involving numerous elaborate chisel, file and stampworked elements. The face of the bracelet is interestingly divided into seven horizontally oriented diamond-shaped polished silver panels separated by chisel-worked sections. The end terminals are beautifully tapered and chamfered or beveled to continue the bracelet's diamond design motif. The top and bottom edges of
the bracelet as well as the entire interior of the silver shank are all elaborately decorated with repeating stampwork designs. The end result of all this difficult and dedicated effort is harmonic, rich and immensely satisfying to contemplate.
The bracelet measures 1/2" in width at its widest center point and tapers down to 3/8" in width at the terminal ends. The silver shank is slightly over 1/8" in thickness most of the way around. The inner circumference end-to-end is
5 1/2" and the gap between the terminals is 1 1/8" for a total interior circumference of around 6 5/8". The bracelet weighs a very substantial for its slim width 77 grams or 2 3/4 ounces yet it is extremely comfortable and easily wearable on the wrist. The bracelet is properly signed "Quaid" in Quaid Shorty's customary cursive signature and
is also marked "Coin-Silver" on the interior. In an interesting and unique decorative touch, Quaid beautifully integrated his signature and the words "Coin-silver" into the stampwork designs on the interior of the bracelet.
The bracelet is in new unworn condition and was acquired by us recently directly from Quaid Shorty.
Although essentially just recently made in 2022, for all intents and purposes the bracelet looks as if it might actually have been made in 1902. It's got all that great old authentic look and feel precisely because it's made from the exact same materials using the exact same techniques and basic design sensibilities as the 1902 model. You could say it's a bit like time travel.
This bracelet is a beautiful, extremely distinctive-looking and easy to wear piece from the inspired mind and skilled hands of one of the finest young Native American artists working today, this beautifully hand-crafted bracelet would be a most worthy addition to any collection, anywhere and a true joy to wear! This one could easily become your "go-to" wear it anytime (or all the time) piece.
Price $1,950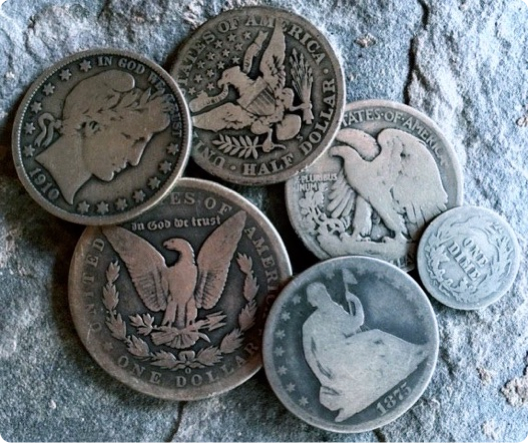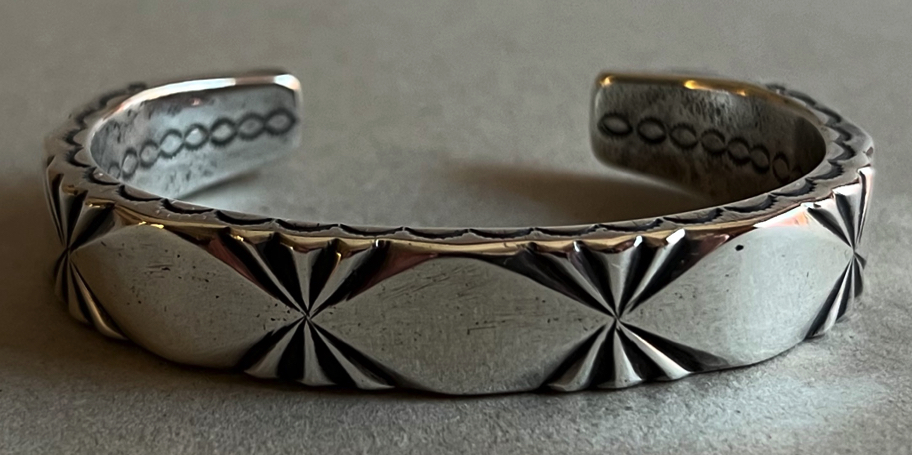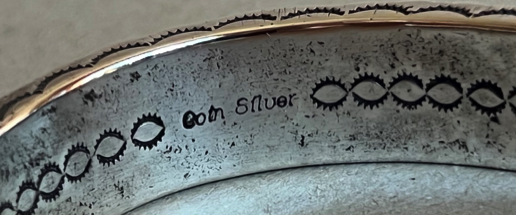 "It sure feel good when you wear hand-made jewelry."
-Ambrose Roanhorse , "Leading Silversmith of The Navajo Nation" and Founder of The Navajo Arts and Crafts Guild, 1936
-Quotation from Billie Hougart, "The Little Book of Marks on Southwestern Silver", TBR International, 2011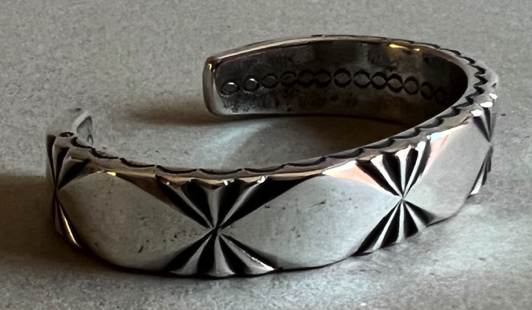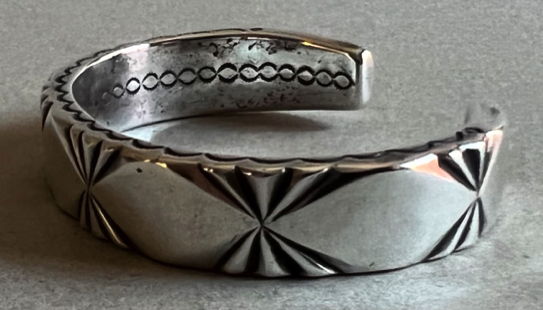 At left, some of the types of historic American silver coins Quaid Shorty used to make this bracelet.