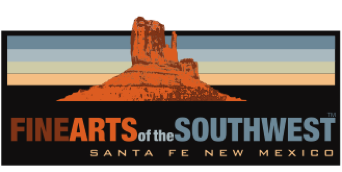 © 2010-2022 by Fine Arts of the Southwest, Inc. All rights reserved.
Unauthorized reproduction or use is strictly prohibited by law.

An exceptional contemporary Navajo ingot
coin-silver cuff bracelet by Quaid Shorty
We don't know a great deal about Quaid Shorty (b. 1999) other than the most important basics: first, he is renowned Navajo silversmith, Perry Shorty's son and second he is already one mighty talented silversmith in his own right as this bracelet so eloquently attests. This piece is every bit as beautiful and well made as anything Perry Shorty might have made as Perry himself would likely be quite proud to admit. Chips off the old block don't get much better than this prodigal son and apples don't fall much closer to the tree. Quaid has exhibited for the past few years at the annual August Santa Fe Indian Market with his Father and his work has been received there with great enthusiasm and all of our professional colleagues who have been fortunate enough to get pieces of Quaid's work think they are just terrific.
This exceptionally well-crafted bracelet is old-style all the way, a completely and painstakingly hand-crafted modern-day "Revival" of an 1880's-1890's Classic-Period Navajo silver cuff bracelet right down to using the exact century-old traditional Navajo silversmithing materials and methods. The use of "Coin-silver" is a distinctly old-style Navajo silversmithing tradition which was basically revived by Quaid's Father, Perry Shorty in the 1990's. The earliest Navajo silver jewelry was made from old American and/or Mexican silver coins which were melted down and cast into into ingot-silver "slugs" from which the jewelry was then formed or in very rare cases, a jewelry piece was made directly from a hammered-out coin or coins. Quaid, like Perry, uses historic turn-of-the-century American "Barber" type coins; halves, quarters and dimes to make his "Coin-Silver" pieces. He melts them down and casts the molten silver into an ingot silver "slug". Later, when he is ready to start shaping the bracelet he heats the slug back to red hot and begins the painstaking process of hammering, reheating, re-hammering again and again until he gets the desired size and shape of
the bracelet's shank.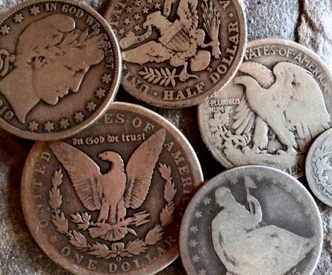 When the bracelet shank is the right size and shape the meticulously detailed work of applying the decorative elements begins which in this case are many and quite complex involving elaborate repousse, chisel, file and stampworked elements. The face of the bracelet is decorated in two rows of three lozenge-shaped repousses or bumped-out panels interspersed with various other designs. The repoussees are beautifully decorated all the way around with precisely executed stamp work designs. The panels are also interspersed with and nicely accentuated by several complex cross-shaped stampworked motifs. The overall presentation is complex, beautifully arranged and most artfully layered. The end result of all this difficult artistic and technical effort is immensely satisfying to contemplate. The amount of skill and concentration handwrought work like this takes to accomplish so precisely and so well is difficult to imagine, as is how someone so young could get so good at these extremely difficult demanding tasks so early in life, but then he did learn from one the finest practitioners of traditional Navajo silversmithing ever.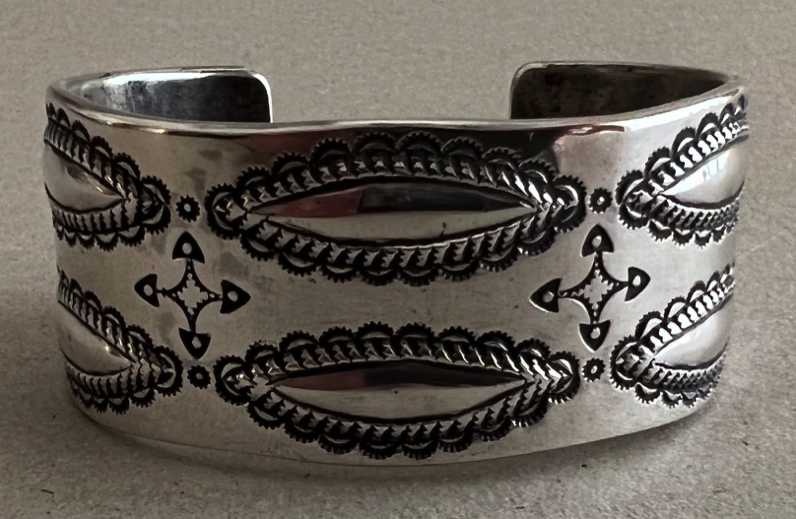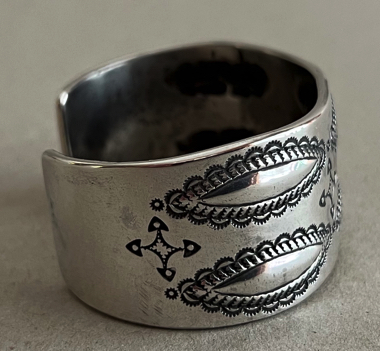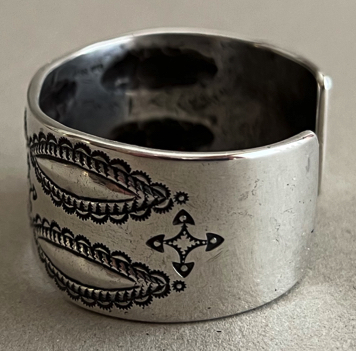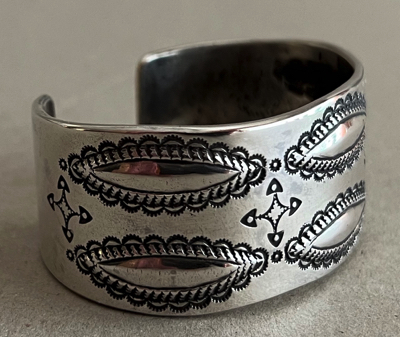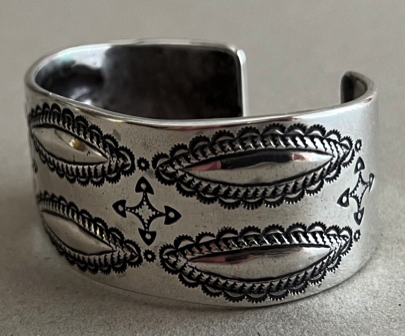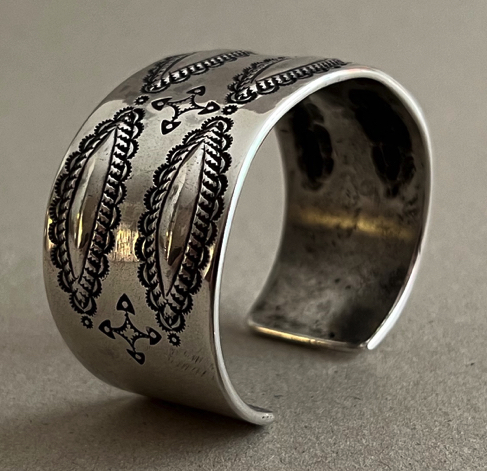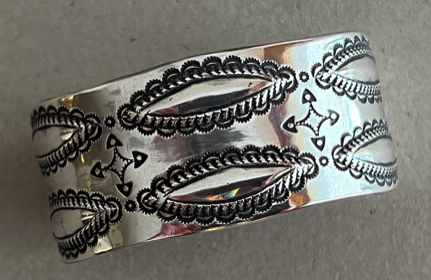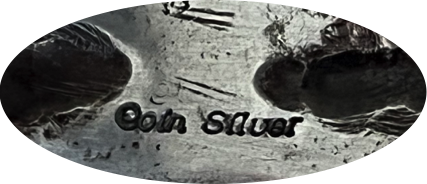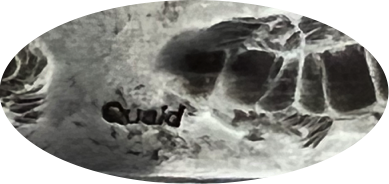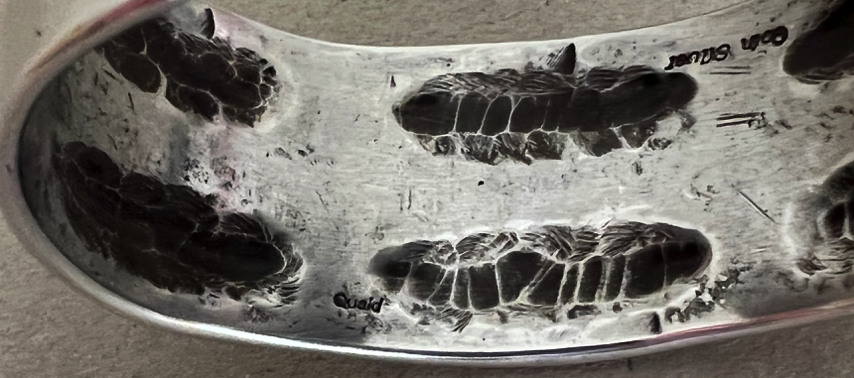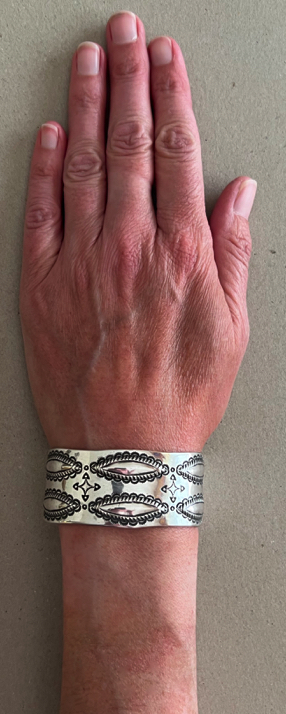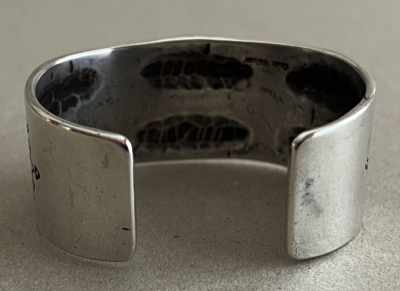 The bracelet measures1 1/8" in width at its widest center point and tapers slightly down to 7/8" in width at the terminals. The inner circumference end-to-end is 5 5/8" and the gap between the terminals is 1" for a total interior circumference of 6 5/8". The bracelet's silver shank is a sizeable 1/8" in thickness and the bracelet weighs a satisfying 87 grams or 3 ounces. It is in new, unworn original condition and it is signed "Quaid" on the interior in Quaid Shorty's cursive signature again in a similar vein to that of his Father and it is also marked "Coin-Silver." There are a number of tooling marks and slight dark fire-scale marks in evidence on the bracelet which Quaid chose to leave in place and not completely buff out. This adds to the completely handmade, old-style charm and authentic feel of the piece in our view.
All in all, this bracelet is a remarkably mature and accomplished piece from a remarkably talented young artist.
It conveys both a great strength and intensity and a certain delicacy and complexity and, as such, It would be equally attractive in our view when worn by either a man or a woman. It's strikingly modern, classic and elegant all at the same time and on top of everything else, the bracelet has absolutely perfect provenance, we recently purchased it directly from Quaid Shorty. This piece seriously makes you wonder if Quaid Shorty can make something this good already what will his work be like ten or fifteen years from now?
Price $1,950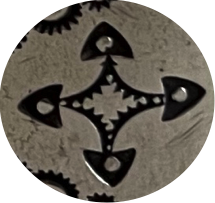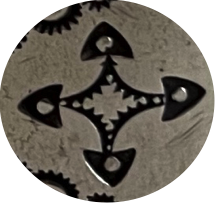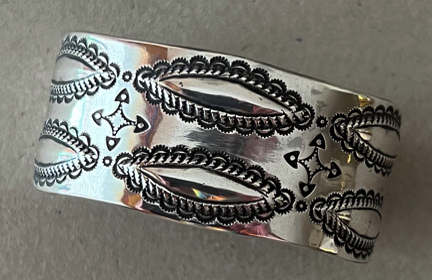 Some of the types of historic American silver coins Quaid Shorty used to make this bracelet.