© 2010-2022 by Fine Arts of the Southwest, Inc. All rights reserved.
Unauthorized reproduction or use is strictly prohibited by law.

A striking contemporary Navajo Sterling silver
twisted wire and #8 Nevada spiderweb turquoise "Bangle" style bracelet by Quaid Shorty
Another very lovely piece by this up and coming star of contemporary Navajo silversmithing, Quaid Shorty (b.1999), the highly-talented son of renowned Navajo silversmith, Perry Shorty (b.1965) this beautifully designed and finely-made bracelet has a fresh sleekly Modernist appearance yet it is completely hand-crafted using century-old traditional Navajo silversmithing methods. The bracelet shank is formed of three strands of beautifully-twisted silver wire. In a lovely and subtle touch the twist of the central wire strand run in the opposite direction of the twists of the two outer strands.
The twisted wire strands are nicely capped at the end terminals with silver plates and the terminals are further accented
by applied fluted silver medallions. The bracelet features three beautiful "Goldenweb" spiderweb turquoise stones from the famed #8 turquoise mine in Carlin, Nevada. #8 spiderweb is considered to be one of the world's finest and most desirable turquoise varieties and these stones deliver the goods with their clear sky blue color and lovely golden matrix. The stones are set in old style "foldover" type silver bezels and are accentuated on both sides by finely fluted applied half moon shaped silver plates. All in all, it's a lovely and subtle presentation, very artfully conceived and beautifully executed.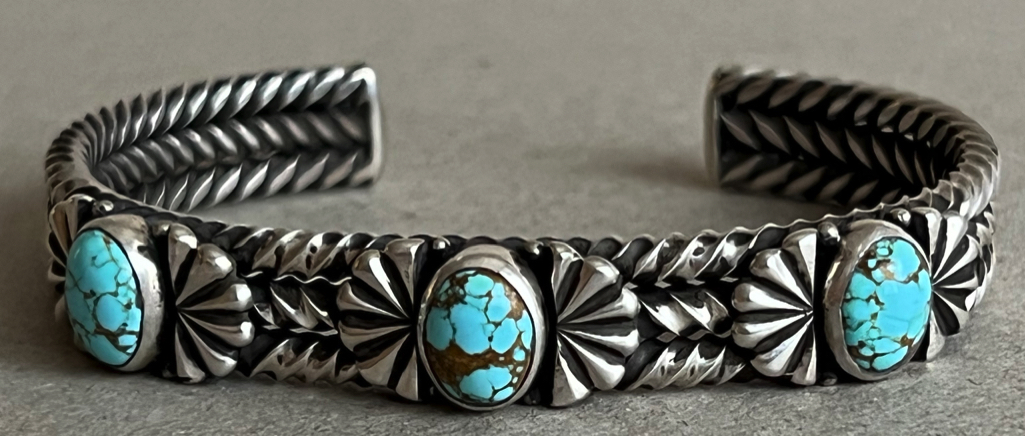 The bracelet measures 3/8" in continuous width all the way around. The inner circumference end-to-end is 5 3/8" and the gap between the terminals is 15/16" for a total interior circumference of 6 5/16". The bracelet weighs a very comfortable and easy to wear 37 grams or 1 1/4 ounces. The bracelet is properly signed "Quaid" in Quaid Shorty's customary cursive signature on a small applied silver-plate on the underside of the bracelet. The bracelet is in brand new unworn condition and was acquired by us recently directly from Quaid Shorty.
A beautiful, distinctive-looking and easy to wear piece from one of the finest young Native American artists
working today, this lovely bracelet would be a worthy addition to any collection.
Price $1,350