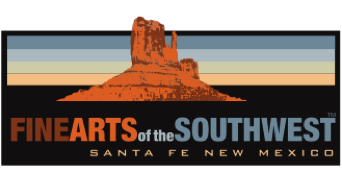 © 2010-2021 by Fine Arts of the Southwest, Inc. All rights reserved.
Unauthorized reproduction or use is strictly prohibited by law.
An exceptional contemporary Navajo silver and Number 8 Mine Nevada spiderweb turquoise bracelet by Quaid Shorty, 2021
We don't know a great amount about Quaid Shorty personally other than the most important basics: first,
he is the renowned Navajo silversmith, Perry Shorty's son and second he is already one mighty talented silversmith in his own right as this bracelet so eloquently attests. This piece is every bit as beautiful and well made as anything Perry Shorty might have made as Perry himself would likely be very proud to admit. Chips off the old block don't get much better than this and apples don't fall much closer to the tree.
Quaid has exhibited for the past several years at the prestigious annual SWAIA Santa Fe Indian Market with his Father and his work has been received there with great enthusiasm and every one of our professional colleagues who have been fortunate enough to get pieces of Quaid's work think they are just terrific.
This bracelet is very finely and traditionally crafted and let's begin our description in the very middle with the beautiful hand-cut oval-shaped high-grade #8 Mine Nevada spiderweb turquoise stone. The old Edgar Brothers #8 turquoise mine near Carlin, Nevada first opened in1929 and is one of America's oldest, most classic  and prestigious turquoise mines and it produces an outstanding quality of blue spiderwebbed stone in several varieties; this particular stone is the fabled "Red Web" so named for its beautiful reddish-brown spiderweb matrix. This luscious stone is perfectly set in a finely-wrought old-style "foldover" type silver bezel which is surrounded by a finely twisted silver wire border which itself is surrounded on both sides by borders of round applied-silver "raindrops", ten on each side of the stone. Moving outwards from there things get even more interesting.
Quaid fabricated two beautiful half-moon or fan shaped finely-chiseled silver plates and applied them onto the silver shank on either side of the stone. The silver shank, it is worth mentioning at this point was beautifully triple split into several sections here at the bracelet's center area, but these separated sections will come back together into a single solid piece as the bracelet progresses outwards towards the terminals. At each end of the bracelet near the terminals, Quaid placed an oval-shaped deep repoussee or domed bump-out. The repoussees are nicely decorated with precisely executed stampwork designs.
The bracelet's overall design is satisfyingly complex, beautifully arranged and most artfully layered. The amount of skill and concentrated effort handwork like this takes to accomplish so precisely and so well is difficult to imagine, as is how someone so young could get so good at these extremely difficult demanding tasks so fast, but then he did learn his craft from one the finest practitioners of Navajo silversmithing ever. 
The bracelet measures 15/16" just slightly under one inch, in width at its widest center point and tapers down to 3/8" in width at the end terminals. The inner circumference end-to-end is 5 7/8" and the gap between the terminals is 1" for a total interior circumference of 6 7/8". The bracelet weighs a very comfortable and easy to wear 50 grams or 1 3/4 ounces. It is in new, unworn original condition and it is signed "Quaid" on the interior in Quaid Shorty's cursive signature again in a similar vein to that of his Father. This bracelet is a remarkably accomplished piece from a remarkably talented young artist. It would be equally attractive in our view when worn by either a man or a woman. It conveys both a great strength and intensity and a certain delicacy and complexity.
On top of everything else, the bracelet has perfect provenance, we recently purchased it directly from Quaid. This piece seriously makes you wonder if Quaid Shorty can make something this good already what
will his work be like ten or fifteen years from now?
Price $2,100
#8 Turquoise
This large district, encompassing ten 20-acre claims, was very active from the 1930's through the early 1950's, when production peaked.
The Number 8 turquoise mine in Carlin, Nevada was first mined in 1929. In its prime, Number 8 produced some of the largest nuggets of turquoise ever found. The color of Number 8 varies from light blue, blue with shades of green to beautiful dark blue. It is found with a black, golden, red or brown matrix. With the black and red spider webbing being the most valued. Today Number 8 turquoise is one of the most valuable stones that can be collected. High-grade Number 8 turquoise is by far some of the finest turquoise to ever have come out of Nevada.
-#8 turquoise photo and text source and © Gene Waddell, Waddell Gallery, Scottsdale, AZ