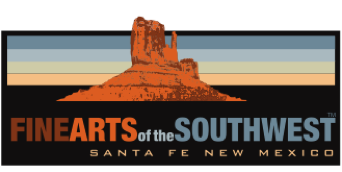 © 2010-2021 by Fine Arts of the Southwest, Inc. All rights reserved.
Unauthorized reproduction or use is strictly prohibited by law.

An original oil on canvas painting entitled
"Kills Two" by Randy Lee White, 1980
Randy Lee White was born in Texas in 1951 and attended college at Texas Tech University. He is of mixed Scotch-German and Brule Sioux Native American heritage, but not enough to be officially enrolled as a tribal member. White's paintings reflect and depict his fascination with Plains Indian storytelling traditions, myths and legends. His work is held in the collections of The Art Institute of Chicago, The Field Museum of Chicago, The Museum of Fine Arts in Santa Fe and the Heard Museum in Phoenix.
"Kills Two" is a late 19th-century Plains Indian battle scene depicted in White's typical stylized ledger-book style. The painting is almost perfectly square, measuring 30" in height by 30 1/2" in width. The painting is in excellent original condition and is titled and signed"R. Lee Whitehorse" and dated "1980" in pencil on the reverse.
According to Philip J. Cohen, former owner of the now-defunct Gallery 10 of Scottsdale, Arizona who formerly represented the artist from 1983-1995, White commonly used this particular signature in the earlier part of his career during late 1970's and early 1980's. The painting is in excellent original condition and is framed in its original dark-stained wood modernist frame.
Price $3,600