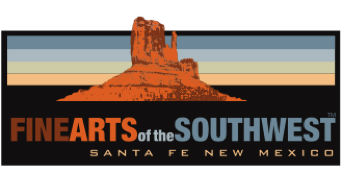 © 2010-2021 by Fine Arts of the Southwest, Inc. All rights reserved.
Unauthorized reproduction or use is strictly prohibited by law.

A beautiful ceramic chalice by Rick Dillingham, Santa Fe, NM 1973
JAMES RICHARD "RICK" DILLINGHAM (1952-1994) was one of the most accomplished and unique pottery artists in Southwestern history. Born just outside Chicago, Rick moved to Albuquerque to study art and anthropology at The University of New Mexico where he immediately became engrossed in the history, tradition and techniques of Pueblo pottery-making. Working at the University's famed Maxwell Museum of Anthropology, he studied everything from ancient Mimbres picture bowls to the pottery of the families of the great Pueblo pottery Matriarchs, Nampeyo of Hano, Maria Martinez, Margaret Tafoya and others and in the course of his work there as a pottery restorer, he repaired and re-assembled countless pottery vessels, experience he would later employ to great artistic effect.
Dillingham also researched and wrote significantly about Pueblo pottery in several volumes beginning with the seminal Maxwell Museum exhibition catalog "Seven Families of Pueblo Pottery", University of New Mexico Press, Albuquerque, 1974. Later, he spent years as a well-respected pottery dealer in Santa Fe where he delighted in passing on his intimate knowledge to his colleagues, clients, friends and fellow potters among whom he was an esteemed artist, friend and tireless promoter. He formed lasting friendships with many Pueblo potters; Maria and Julian Martinez, Margaret Tafoya, Dextra Quotskuyva Nampeyo, Lucy Lewis, Dora Tse Pe and Virginia Ebelacker.
Dillingham's personal ceramic work combined age-old Native American methods and ancient Japanese Raku pottery techniques with his own imagination to create a unique, highly-original and daringly modern body of distinctive, deeply personal work. There is an energy, freshness and dynamism immediately evident in them, a certain air of familiarity perhaps, but also the distinct sense that that you've never seen anything like this before, that new ground is being broken here. As he himself explained, as a non-Pueblo person, he was largely unbound by the creative constraints that generations of tradition and custom impose upon most Pueblo potters. Pueblo societies are inherently conservative in nature and change when it happens, occurs only incrementally and slowly over time.
In the case of this Lovely, tall pottery chalice, Dillingham employed a number of his unique and innovative methods in constructing and firing the vessel; he intentionally made the vessel's stem at a tilted angle to emphasis the verticality and height of its form, like the famous Leaning Tower of Pisa, more noticeably and visually interesting for its "lean" than if it stood straight. He intentionally kept his clay coils unsmoothed here and thus prominently visible in the finished vessel, an artistic emphasis on the hand-made process of building it and he combined fully glazed, partially glazed and unglazed areas to a very nice aesthetic effect. The rich mixture and subtle interplay of the subtle and variegated colors and textures Dillingham used in the glaze and clay body and extremely pleasing and harmonious. The vessel shows at once all the beauty and expressiveness of the clay and glaze and all the intense power, heat and alchemy of the fire which transforms them.
"No one is a master of ceramic arts, it's just a matter of how much you can cooperate with the elements at the time. That's a humbling sort of thing that I like to keep in mind because it gives me the freedom to experiment. I try to keep the work fresh and fairly intuitive. I keep all the processes as simple as possible to reach the results that I do. And keeping the forms simple as well –spheres, triangles, cones, rectangles –lets me get away with visual murder on the surface.
As a painter looks at a canvas, I look at a form and think how can I make it work? I calculate my process, but not my work. The juxtaposition of basic stripes, zig zags, triangles and circles on the surface looks tricky, but is not consciously set out to be a new image. When I put these things together it's as much a surprise to me as to the viewer. Ceramic art used to be hung up on the technique rather than the "art" of the piece. I think I've done a lot to negate that concept."
-Rick Dillingham
The chalice measures 10 1/2" in height and 3 1/4" in width at its widest point. It is in excellent original condition and is properly signed "Dillingham" in the artist's customary incised cursive signature on the bottom and also dated "73" for 1973. This is an exceptional work of art (And quite notably, an intentionally and completely functional and remarkably stylish drinking vessel.) by a talented artist near the beginning of his all-too-brief career. Tragically, Rick Dillingham died at merely 41 years of age. He was only 21 when he created this piece and it naturally leads one to wonder how many other beautiful things he might have created had he lived longer.
Price $1,950
Rick Dillingham in Santa Fe, circa 1975