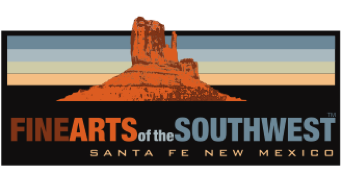 © 2010-2021 by Fine Arts of the Southwest, Inc. All rights reserved.
Unauthorized reproduction or use is strictly prohibited by law.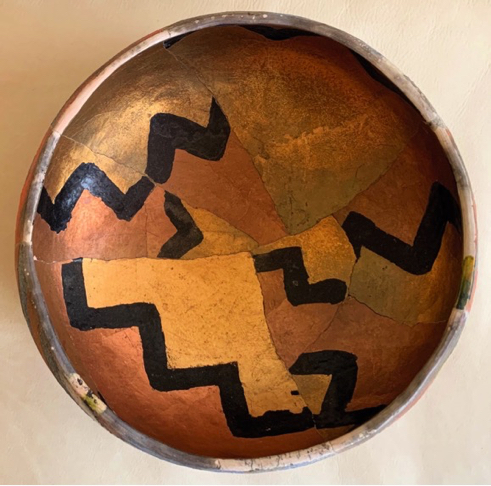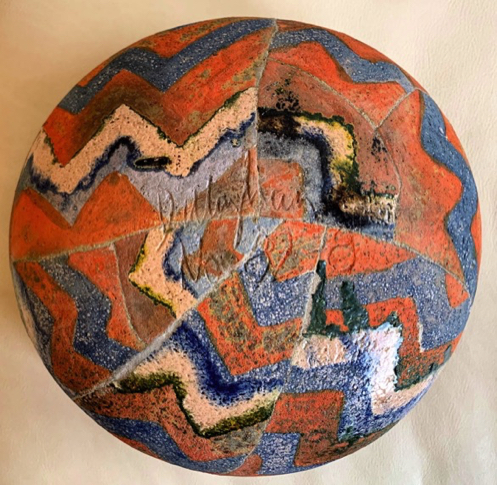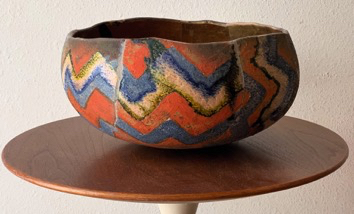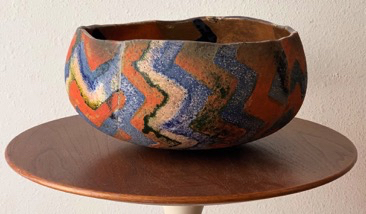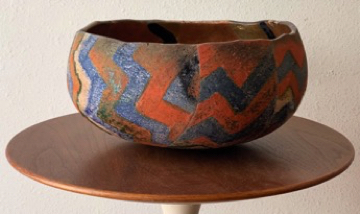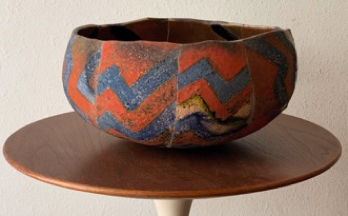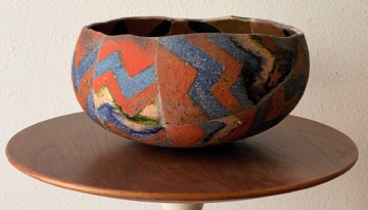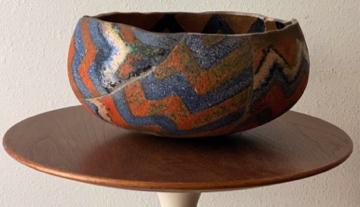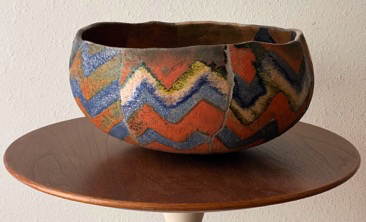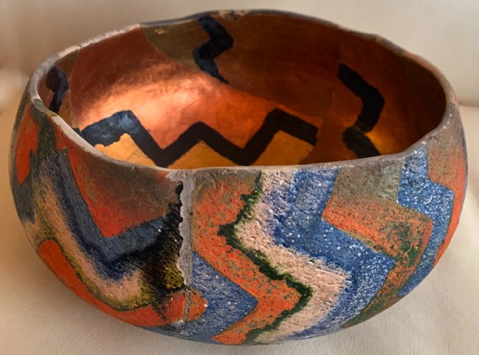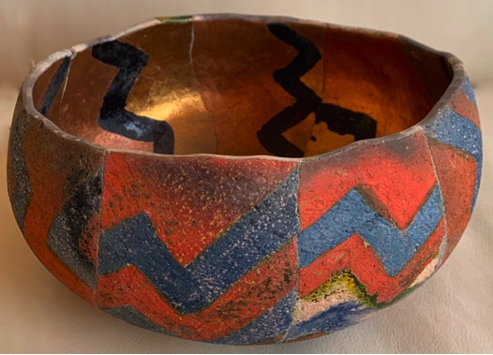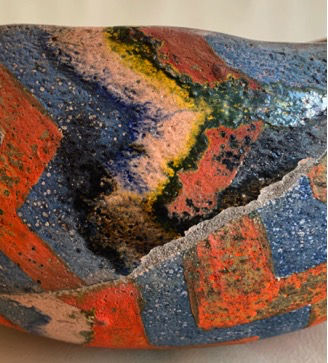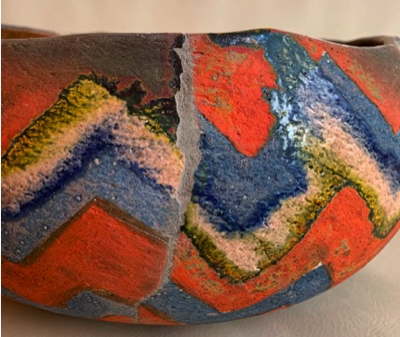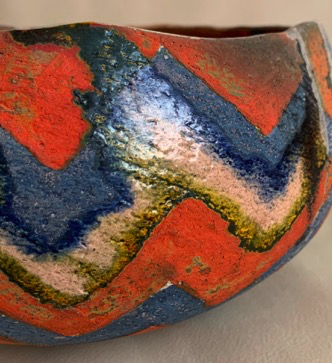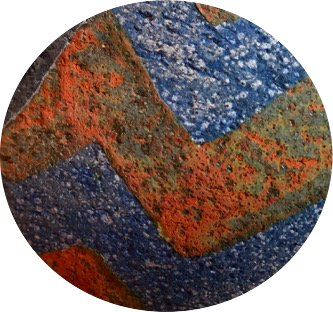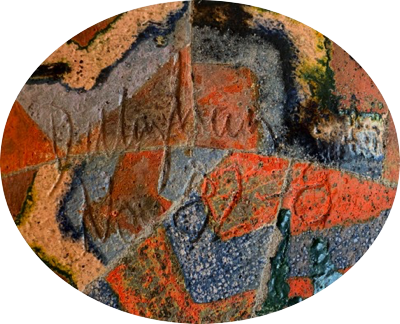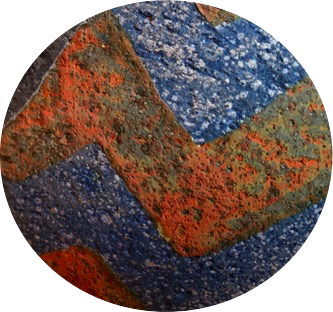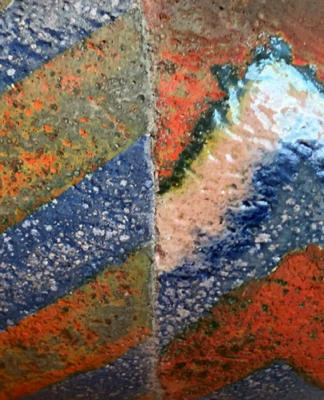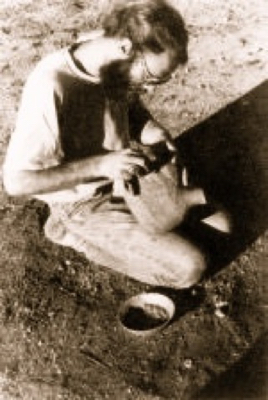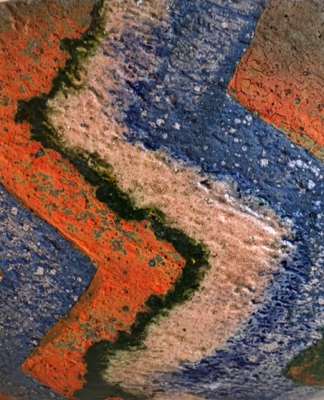 A stunning, large ceramic "Shard" style
bowl by Rick Dillingham, Santa Fe, NM,1982
JAMES RICHARD "RICK" DILLINGHAM (1952-1994) was one of the most accomplished, interesting and original pottery artists in the 1200 or so hundred year history of Southwestern pottery-making. Born in the Chicago suburb of Lake Forest, Illinois, Rick moved to New Mexico to study art and anthropology at The University of New Mexico in Albuquerque where he soon became engrossed in the history, tradition and technique of Pueblo pottery-making. Working at the University's famed Maxwell Museum of Anthropology, he studied everything from ancient Mimbres picture bowls to the 20th Century pottery of the families of the great Pueblo pottery Matriarchs, Nampeyo, Maria Martinez, Sarafina and Margaret Tafoya and others and in the course of his work there as a pottery restorer, he repaired and re-assembled countless pottery vessels, experience he would later employ to great artistic effect in making his own original pieces such as this bowl and much more on that in a bit.
Rick also wrote prolifically and significantly on the subject of Pueblo pottery in several important volumes beginning with the seminal Maxwell Museum exhibition catalog "Seven Families of Pueblo Pottery", University of New Mexico Press, Albuquerque, 1974. Rick also spent a number of years as a highly-respected dealer in historic Pueblo pottery in Santa Fe where he delighted in passing on his intimate knowledge to his colleagues, clients, friends and fellow potters among whom he was a deeply respected artist, friend and tireless promoter. He formed many lasting friendships with various Pueblo potters, among them Maria, Julian and Popovi Da Martinez, Margaret Tafoya, Elizabeth Q. White, Dextra Quotskuyva Nampeyo, Lucy Lewis, Dora and Tse Pe and Virginia Ebelacker.
In his numerous writings and over the course of a number of personal conversations we were privileged to have with him, it was clear to see that Rick Dillingham was totally fascinated with and completely enamored by the entire process of pottery-making from the gathering and handling of the clay to the management of the firing process and the often elaborate later processes of working and re-working the pieces which he created. Dillingham literally and figuratively broke the mold (and often broke the pottery itself) with his startlingly original ceramic work, combining age-old Native American methods and ancient Japanese Raku pottery techniques with his own imagination to create a unique and daring modern body of distinctive, deeply personal work. There is an artistic energy, freshness and dynamism immediately evident in them, a certain air of familiarity but also the distinct sense that that you have never seen this before, that new ground is being broken here. As he himself explained it, as a non-Pueblo person, he was largely freed from the creative constraints that generations of tradition and custom impose upon almost all Pueblo people. Pueblo societies are inherently conservative in nature and change when it happens, occurs only incrementally and slowly over time.
This wonderful bowl is one of Dillingham's highly-distinctive and renowned "Shard" style ceramics, a signature piece whose underlying creative concept comes directly from his extensive experience re-assembling and restoring ancient prehistoric pottery pieces which are almost always found broken into pieces and must re-assembled into complete vessels by conservators. This process for Rick eventually formed the genesis of an extremely daring and completely revolutionary new idea; form a pottery jar, fire it, break it deliberately, re-glaze, re-paint and re-fire the pieces and then re-assemble the jar into a mosaic-like configuration of differently colored and and textured panels. In a recent interview with Rick's former longtime studio assistant, the assistant described the distinct and specific methodology and process Rick had developed to make these shard pieces.
This particular bowl was initially formed from individual clay coils in a traditionally Native American pottery technique, then it was smoothed and the surface texturing applied after which the bowl then received a first initial firing in a ceramic kiln, known as a "Bisque" or "Biscuit" firing from which it emerged in a "greenware" or terra-cotta like state. Rick then applied the various glazes and/or paints and other surface texturing. After these had dried, the jar was then broken into perhaps eight or nine large pieces and additional glaze and paints were applied selectively to the individual broken pieces after which the pieces were then placed back in the kiln and fired again.
During the second firing, Rick would open the kiln at times and throw in various powders and ground minerals that he had already prepared which he referred to as his "spices". After the now twice-fired pieces had cooled, came the step of re-assembling and gluing the different pieces into a finished jar which Rick would accomplish using a proprietary toothpaste-like substance he had developed composed of cow dung, ash and Elmer's glue. The final finishing touches were the hand application of the various metal leafs; copper, bronze and brass to the interior of the bowl and the painted black lightning-style designs done on top of them.
Depending on from which side and from which angle you look at the finished piece here, the different sections of this bowl with their various different glazes, paints, metal leaf appliques, textures and particular "spice" applications, are each like their own little abstract modernist painting. Masterfully, Rick did this procedure on both sides of the ceramic pieces so that both the exterior and the interior of the jar have their own different and unique but still related individual and overall compositions. It looks like a series of miniature Modernist presentation vignettes of the distinct highly-saturated colors and contours of the landscapes, sky and ancient pottery of the Southwest with its rich mixture of various oranges, yellows, blacks, blues, greens, ochres, pinks and greys and its interestingly and intentionally variegated and alternating surface textures. The vessel shows at once all the beauty and expressiveness of the clay and through the glazing, painting, metal leafing and the "spice" application, all the intense power, heat and alchemy of the fire which transforms it.
As such, this piece is an absolutely gorgeous and unusually compelling artwork. This unique combination of traditional techniques, new and very specific techniques and knowledge and a fresh, distinctly daring modern viewpoint and sensibility combine powerfully in Dillingham's ceramics and are the reason they are held today and coveted in the collections of numerous important museums from the Smithsonian's American Art Museum, the Los Angles Museum of Art and the Victoria and Albert Museum in London as well as in many important private collections.
"No one is a master of ceramic arts, it's just a matter of how much you can cooperate with the elements at the time. That's a humbling sort of thing that I like to keep in mind because it gives me the freedom to experiment. I try to keep the work fresh and fairly intuitive. I keep all the processes as simple as possible to reach the results that I do. And keeping the forms simple as well –spheres, triangles, cones, rectangles –lets me get away with visual murder on the surface.
As a painter looks at a canvas, I look at a form and think how can I make it work? I calculate my process, but not my work. The juxtaposition of basic stripes, zig zags, triangles and circles on the surface looks tricky, but is not consciously set out to be a new image. When I put these things together it's as much a surprise to me as to the viewer. Ceramic art used to be hung up on the technique rather than the "art" of the piece. I think I've done a lot to negate that concept."
-Rick Dillingham
The shape of this bowl with its undulating rim is very organic and pleasantly globular like a large lily pad flower. It measures a very nicely-sized 11" in diameter and it is about 5 1/2" in height. It is in excellent original condition. The bowl is properly signed "Dillingham" in the artist's customary dramatic incised cursive signature on the bottom and it is also dated "Nov '82-8" which suggests to us that this piece is the 8th piece he had completed to date in that particular month.
This is an exceptional and evocative work by an extremely talented and special artist who died tragically way too young at only 42 years of age. Rick was only 30 years old when he created this outstanding piece and it naturally leads one to wonder how many other extraordinary and beautiful things he might have created had he lived longer.
Price available upon request
Rick Dillingham in Santa Fe, circa 1975