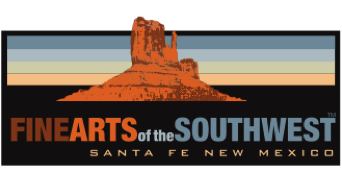 © 2010-2021 by Fine Arts of the Southwest, Inc. All rights reserved.
Unauthorized reproduction or use is strictly prohibited by law.

A remarkable, New Mexico tin wall sconce light
fixture by Robert Woodman, Santa Fe, c.1940's
THE HISTORIC HISPANIC TINWORK of New Mexico is one of America's most interesting and beautiful indigenous folk art and decorative traditions. Beginning in the third quarter of the 19th Century, various inventive New Mexico metalsmiths began working with salvaged tin lard cans originally brought into the then-remote New Mexico Territory by wagon trains over the Old Santa Trail to create an astonishing variety of religious and household objects; from retablos and nichos with images of various Catholic Saints to crosses and treasure boxes to candlesticks, chandeliers, lanterns and sconces using only the most basic assortment of found materials, scavenged pieces of tin, glass, wallpaper and religious prints often handed out to the congregation by priests after Mass in local churches.
Many items of New Mexico tinwork replaced older traditional forms which were previously crafted from wood. Tin framed retablos with paper religious prints under glass replaced the old hand-adzed and painted wooden retablos and carved wooden nichos and tin candle sconces and, subsequently, electrified tin wall sconces such as this one replaced the older, carved wood New Mexico candelabra forms, candle lanterns and candle sconces.
.
The classic period of New Mexico tinwork came to a close around the 1920's after which the so-called "Revival" period of New Mexico tinwork began led by several celebrated Santa Fe tinsmiths, Francisco Delgado, Francisco Sandoval and the extraordinary Robert Woodman (1908-1983). Of these three, Robert Woodman was perhaps the most influential in scope. Woodman played an important role in the Spanish and Pueblo "Revival" movement during the Works Progress Administration (WPA) period in New Mexico during the 1930's and 40's, which sought to revive and continue New Mexico's unique and singular tradition of Hispanic religious and decorative tinwork as well as other traditional decorative arts such as carved wooden Santos, retablos and furniture, textile weaving and embroidery.
Working in close concert with the great Santa Fe-based Architect, John Gaw Meem (1894-1983), Robert Woodman designed and crafted an extraordinary variety of tin light fixtures, chandeliers, mirrors and other pieces for many of New Mexico's most storied "Territorial Revival"-style public buildings; from the Zimmerman Library at The University of New Mexico to the historic La Quinta and other residences at Los Poblanos in Albuquerque to the Laboratory of Anthropology, The La Fonda Hotel and The Bishop's Lodge in Santa Fe as well as for numerous private residences in the area including Woodman's own beautiful home and studio on Santa Fe's Upper Canyon Road which, interestingly, was subsequently purchased soon after Woodman's death in 1983 by two prominent Santa Fe gallery owners.
This gorgeous electrified tin wall sconce is an exceptional example of Woodman's lovely aesthetic and his outstanding craftsmanship and attention to detail. The design is satisfyingly rich, complex and visually stunning composed of over 25 beautifully and elaborately-stamped and punched separate tin panels surrounding an interior central panel of reflective silvered wallpaper under glass which measures about 7" in height and 4 1/2" in width. The sconce itself measures approximately 18" in height, 17" in width and is about 3 1/2" in depth. The sconce is in excellent original condition overall and in perfect working order and it casts a wonderful warm light from the matched pair of highly unique and distinctive-looking old-style glass bulbs which might possibly be original to the piece. The electric plug and cord also appear to be original and the cord measures a little over seven feet in length. There are a couple of tiny inconsequential things which we mention only out of an abundance of disclosure; there is a very small unknown black mark on the central glass panel, possibly from a pen or marker and it appears as if of one of the tin "leaves" at the upper left corner of the sconce came loose at some point and was soldered back on.
All in all, this splendid tin wall sconce is a delightful, distinctive, completely charming and highly useful piece of
old Santa Fe history and art. A wonderful way to illuminate your life while basking in the unique, warm glow of our ancient "City of the Holy Faith."
SOLD