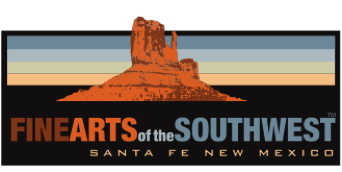 © 2010-2022 by Fine Arts of the Southwest, Inc. All rights reserved.
Unauthorized reproduction or use is strictly prohibited by law.

A very beautiful Navajo cast ingot-silver
bangle bracelet by Roger Skeet, Jr. c.1950's
Roger Skeet, Jr. (B.1933) learned to make silver literally at his Father's knee. His father, the renowned silversmith, Roger Skeet, Sr. was one of the famed Indian trader, C.G. Wallace's primary in-house Navajo silversmiths along with such other accomplished luminaries as Austin Wilson and Ambrose Roanhorse. Skeet Sr. worked for Wallace at his landmark trading post at the Zuni Pueblo in far Western New Mexico for approximately 30 years from the late
1920's until his death in 1959.
Roger Skeet, Jr. was born in 1933 and he began making silver alongside his Father in Wallace's trading post as an
eight year-old boy. The silverwork of both the Skeets is quite similar, clean-lined and very traditionally-crafted but with a distinctly modern sensibility and always extremely fine detailing. Roger Skeet, Sr. never signed his pieces while Roger Skeet, Jr. used a simple hallmark of his capital letter initials "RS".
The C.G. Wallace Trading Post at Zuni Pueblo, NM, "home" base for Roger Skeet, Jr. where he grew up working alongside his Father.
The skill and imagination displayed in this beautiful cast ingot-silver bangle bracelet are quite remarkable; a double
row of alternating square-shaped chiseled and filed panels is stamped with interesting horizontal linear deigns while the intervening panels are left as plain silver, giving the piece a unique and distinctively modern geometric look.
The angular feeling of the bracelet is further accentuated by its carinated or triangular profile. In an interesting and particularly attractive touch, Skeet slightly flattened the bracelet's profile at the terminals and further accented them by applying some elegant stampwork designs.
The bracelet measures 3/8" in width most of the way around, widening very slightly to 7/16" at the terminal ends. The inner circumference end-to-end is 5 1/4" and the gap between the terminals is 1 1/16" for a total interior circumference of 6 5/16". The bracelet rises 1/4" in height above the wrist. The bracelet weighs a substantial-for-its-slim-width yet extremely comfortable 36 grams or 1 1/4 ounces. It is in excellent original condition and is properly marked with
Roger Skeet, Jr.'s "RS" hallmark on the interior and also marked "Sterling".
This marvelous and striking bracelet by one of the Southwest's most accomplished Native American jewelry artists
is extremely easy and satisfying to wear and looks just wonderful in any situation. A simply can't lose piece!
SOLD