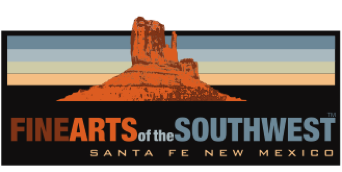 © 2010-2022 by Fine Arts of the Southwest, Inc. All rights reserved.
Unauthorized reproduction or use is strictly prohibited by law.
An exceptionally well-made Navajo silver buckle by Roger Skeet, Jr. set with a gorgeous Nevada spiderweb turquoise stone, Lander or Indian Mountain, c. 1970's
Roger Skeet, Jr. (B.1933) learned to make silver literally at his Father's knee. His father, the renowned silversmith, Roger Skeet, Sr. was one of the famed Indian trader, C.G. Wallace's primary in-house Navajo silversmiths along with such other accomplished luminaries as Austin Wilson and Ambrose Roanhorse. Skeet Sr. worked for Wallace at his landmark trading post at the Zuni Pueblo in far Western New Mexico for approximately 30 years from the late 1920's until his death in 1959.
Roger Skeet, Jr. was born in 1933 and he began making silver alongside his Father in Wallace's trading post as an
eight year-old boy. The silverwork of both the Skeets is quite similar, clean-lined and very traditionally-crafted but with a distinctly modern sensibility and always extremely fine detailing. Roger Skeet, Sr. never signed his pieces while Roger Skeet, Jr. used a simple hallmark of his capital letter initials "RS".
The artistic imagination and technical skill displayed in this beautiful silver buckle are quite remarkable; it is so perfectly crafted that it almost appears to hand-carved from a block of silver. It has a double two-part design of repousseed lozenge-shaped panels at top and bottom surrounding a lovely large deeply repousseed and finely chiseled radiating oval-shaped panel in the middle into which the horizontally-oriented oval shaped turquoise stone is beautifully set in a finely serrated or sawtooth high-walled silver bezel.
At left, Lander Blue Turquoise
Rita J. Hapgood, a blackjack dealer at the Nevada Club at Battle Mountain discovered this turquoise deposit in 1973 while picnicking at Indian Creek. Later that year, she sold her claim to Marvin Syme and Henry Dorian, who formed the Lander Blue Turquoise Corporation. Lander Blue is almost entirely spider-webbed turquoise with colors from medium to deep blue and a black contrasting matrix. Although some other grades were found, only 90 to 110 pounds of the beautiful spider-web turquoise was mined. Lander Blue was a "Hat Mine," so called because you could cover it with a hat. Today, this is the rarest of all Southwestern turquoise "classics" is also of the highest grade and thus pound for pound, the most valuable turquoise in the world.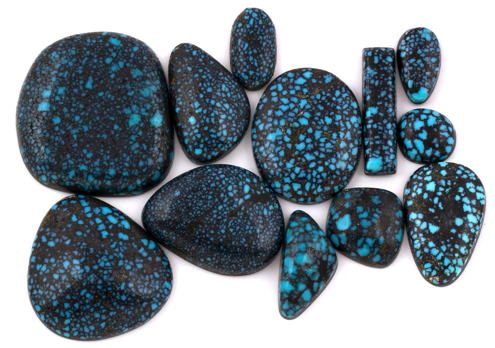 At right, Indian Mountain Turquoise
A Indian Shoshone sheepherder was said to discovered the lode in 1970, on the south range of Bald Mountain in Lander County, Nevada where he stumbled upon a vein of turquoise on a hillside while tending his sheep. The Indian Mountain was owned and operated by Ed Mauzy and J.W. Edgar, both legends in Nevada turquoise mining. Mining at Indian Mountain was carried on from late May to early October with a recovery of "about three pounds" of good turquoise a day. During winter the mine could be covered up in 10 feet of snow. This mine hasn't produced in over 20 years. Indian Mountain turquoise is rare and worth collecting
if you can find it. It produced both blue and green turquoise, sometimes combined, with brown to black spider web.
-Turquoise type photos and descriptions source and © Waddell Gallery, Scottsdale, AZ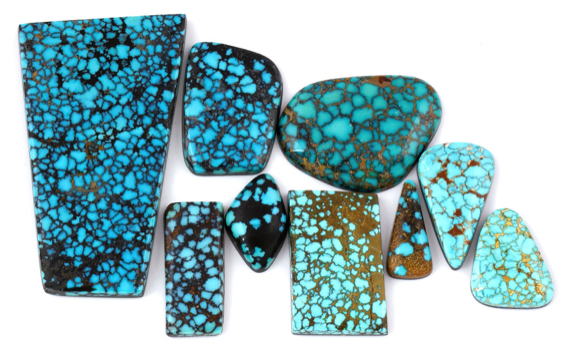 And now a few words about this absolutely stunning high grade Nevada spiderweb turquoise stone. This is a stone
of the highest quality and rarity; in our opinions, it is either the fabled old Lander Blue, the rarest and now most expensive turquoise in the world or the also extremely highly-regarded and sought-after Indian Mountain spiderweb.
Our personal feeling is that the stone is likely Lander, although we haven't priced it at the stratospheric level Lander now usually commands because we are not completely certain. The decision is ultimately yours and an excellent visual comparison between the two varieties courtesy of our friends, colleagues and serious turquoise authorities at Waddell Galleries in Scottsdale, AZ is shown below for your reference.
The stone itself measures slightly under 3/4" in width and is just under 1/2" in height. It should also be said that the central dark declivity in the stone is a natural matrix feature not a crack or chip and not the result of an impact damage or surface loss. The buckle measures 3 1/2" in width and is 3" in height and weighs a substantial 82 grams or
2 7/8 ounces. It will accommodate a belt strap of up to 1 1/4" in width. The buckle is in excellent original condition and it is properly marked with Roger Skeet, Jr.'s "RS" capital initials hallmark on the back.
This marvelous and striking buckle with a stunningly beautiful turquoise stone by one of the Southwest's most accomplished Native American jewelry artists is extremely easy and satisfying to wear and looks just wonderful in
any situation on either a man or woman. A truly gorgeous and distinctive piece.
Please note that the leather belt pictured here is for demonstration purposes only and is not included
in the sale of this buckle. We can recommend an excellent custom belt maker here in Santa Fe if desired.
Price $2,400