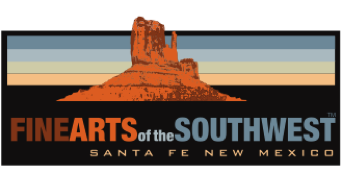 © 2010-2022 by Fine Arts of the Southwest, Inc. All rights reserved.
Unauthorized reproduction or use is strictly prohibited by law.

A rare, early Navajo Sterling silver
"Ranger"-style belt buckle set by Sam Roanhorse for The White Hogan Shop, Arizona, 1948
Sam Roanhorse (1916-1988) was one of the 20th Century's finest Navajo silversmiths although his fame has often been overshadowed by the towering reputation of his older brother, Ambrose (1904-1982), who as Co-Founder and Director of the Navajo Guild, consultant to The Indian Arts and Crafts Board and instructor at the Fort Wingate and Santa Fe Indian Schools was a living inspiration for generations of young native silversmiths.
Sam Roanhorse began his career at the Fort Wingate school in New Mexico learning from brother Ambrose and moved on to become a silversmithing instructor at the Santa Fe Indian School. He then continued on to a succession of silversmithing jobs, including a five-or-six year period from the late 1940's to the early 1950's when he worked at the famous White Hogan shops in Flagstaff and later, in Scottsdale, Arizona, under the the leadership of the brilliant Navajo silversmith Kenneth Begay and alongside Begay's talented cousins, George, Allan and Ivan Kee.



This fine three-piece silver ranger-style buckle set is from this very early White Hogan Shop period and it dates to 1948. It is gorgeously crafted using completely traditional methods, yet the sleekly Modernist style being developed by White Hogan at this time is beginning to be evident in this design. The buckle measures 1 7/8" in width and 1 5/8" in height, the keeper is 7/16" by 13/16" and the tip is 1 1/8" by 3/4". It will accommodate a belt of up to 3/4" in width.
The Ranger set is in excellent original condition and it is properly and elaborately signed and dated with
Sam Roanhorse's capital letter initials "SR" and the White Hogan shop's famous domed Navajo Hogan insignia on
the back of the tip. It is also inscribed "Handmade Original Design, 1948" and "Sterling" in cursive on the back of
the tip and "Handmade Sterling" in cursive on the back of the keeper as well as "Handmade Sterling Original Design" on the back of the buckle.
All Sam Roanhorse silver jewelry is rare and difficult to come by. This early Ranger set is not only a beautiful piece of jewelry, it's a unique and significant slice of Southwestern art history by an extremely important Native American artist. Moreover, it's an easy-to-wear and very versatile fashion piece which would look great on a man and particularly elegant on a woman.
Price $1,150