© 2010-2021 by Fine Arts of the Southwest, Inc. All rights reserved.
Unauthorized reproduction or use is strictly prohibited by law.

A unique historic San Ildefonso or Tesuque Pueblo black-on-red pottery bowl, c.1890-1915
This is one of the most unusual pieces of historic Pueblo pottery we have ever seen. The asymmetrical, graffiti-like designs remind us of some of the English language letters and characters one occasionally finds on turn-of-the-century Navajo weavings, arranged forwards, backwards, sideways and upside down in ways that make one think it is the shape of the characters that mattered much more to the artist than what the characters actually represent.
The natural tendency here would be to think that possibly a child created this piece, but this bowl wasn't made by an inexperienced potter--it is beautifully formed and shaped and skillfully stone-polished and the weird modernity of the paint job is out of this world—like Jean-Michel Basquiat's graffiti-style street art almost a century before Basquiat.
We think it's safe to say that we will never see another one like it.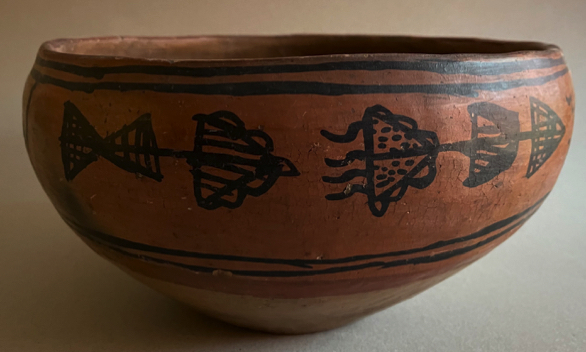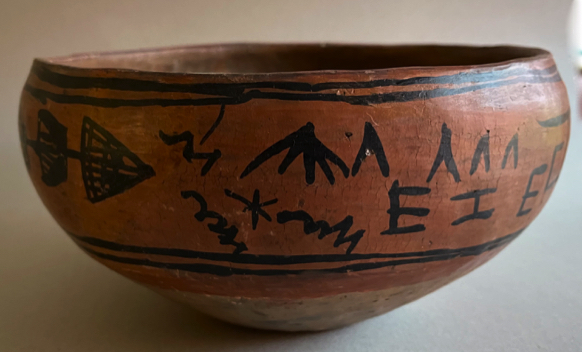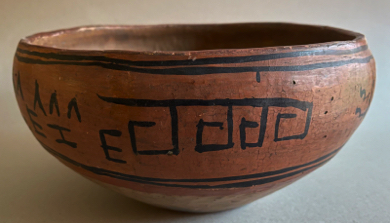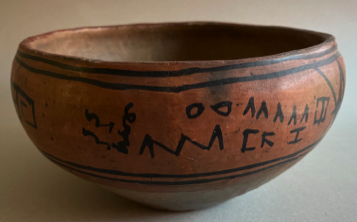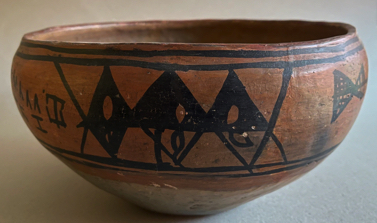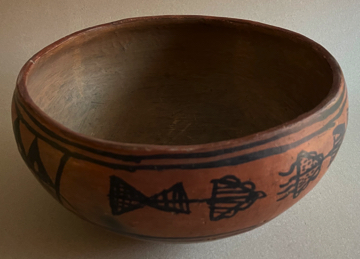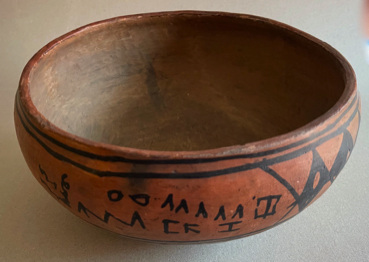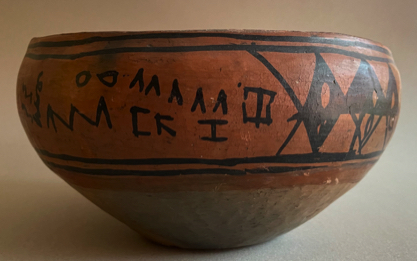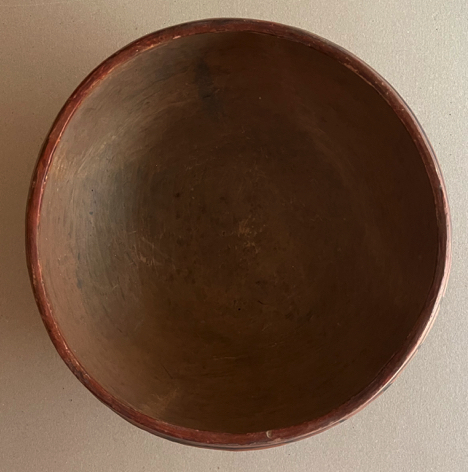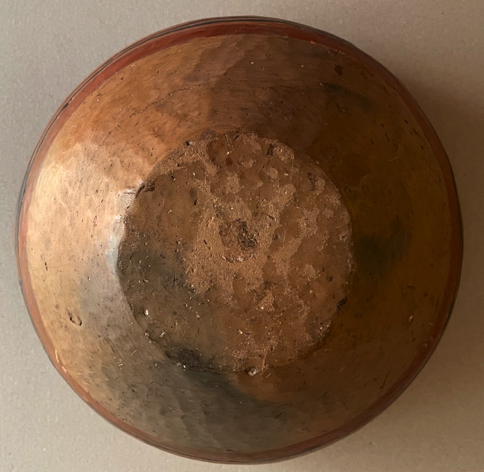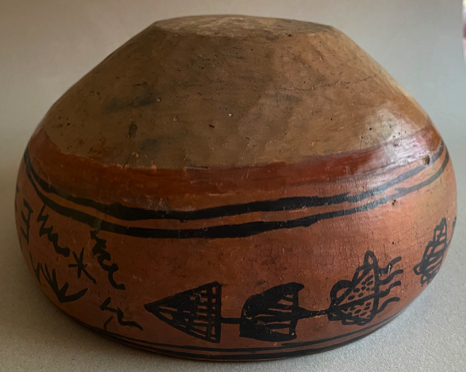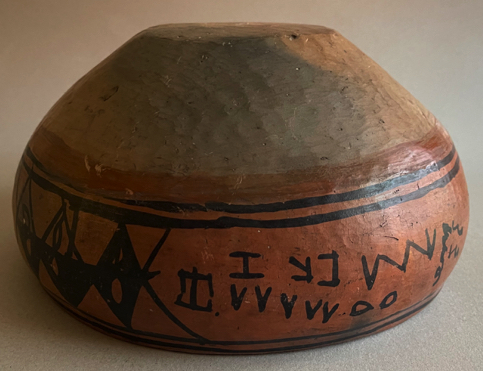 However it specifically occurred, this bowl is a marvelous synthesis of traditional Pueblo and American Anglo cultures at the turn of the century at a time when early archaeologists, tourists and Santa Fe traders such as Jake Gold, J.S. Candelario and the Spiegelberg brothers were regularly buying and commissioning pottery from potters at the Rio Grande Pueblos near Santa Fe. The black-on-red early 20th century pottery from San Ildefonso and Tesuque are extremely similar and it can often be very difficult to tell them apart. This bowl has the "looseness" of painting which often characterizes Tesuque pottery as well as a pinkish cast to the un-slipped clay body below the red framing band. However Tesuque vessels often have a considerable amount of mica present in the paste which this bowl does not.
To add to the confusion, this bowl shows the signature white volcanic tuff temper indicative of San Ildefonso pottery. Our guess, for what it's worth, is San Ildefonso. Whichever, the bowl measures 10 1/2" diameter, 5 1/2" in height and is in excellent restored condition. A couple of large cracks and a rim chip have been professionally repaired. There is no plaster, just minor crack infill. There is also a small amount of abrasion to the surface around the mid-body.
This bowl is a rare and completely unique piece of Southwestern history and culture.
Price $2,800