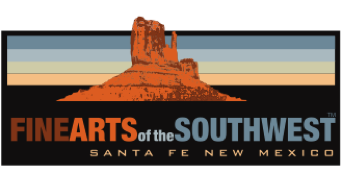 © 2010-2022 by Fine Arts of the Southwest, Inc. All rights reserved.
Unauthorized reproduction or use is strictly prohibited by law.

A lovely large historic San Ildefonso Pueblo polychrome pottery pitcher, c.1910-15
San Ildefonso Pueblo in northern New Mexico is known in its traditional Tewa Indian language as "Po-woh-ge-oweenge", which means "Where the Water Cuts Through." In the late 16th to early 17th century, the Spanish Conquistadores named the Pueblo "San Ildefonso" after their Catholic saint, San Ildefonsus who was an archbishop of Toledo, Spain. San Ildefonso Pueblo lies about 20 miles north of Santa Fe and is considered to be one of the greatest pottery-making Pueblos with a proud and venerable fifteen hundred plus year-old pottery tradition which dates back to their ancient 6th to 14th Century Anasazi days in their ancestral area of the Mesa Verde in Southwestern Colorado.
This wonderful early 20th Century pottery pitcher is a thoroughly delightful and distinctive mixture of the old and the new; traditional historic San Ildefonso polychrome pottery meeting the modern Anglo world and making a decidedly non-Native pottery form for sale to and use in a commercial non-Native market. Possibly, this pitcher was originally made for one of the prominent Santa Fe Indian traders of the time such as Jake Gold, J.S. Candelario or Julius Gans all of whom had the idea to commission Native potters at the various Indian Pueblos nearest Santa Fe (Tesuque, Cochiti, San Ildefonso, Santa Clara) to make new non-Native pottery forms which could be easily marketed to white tourists, forms such as the so-called "Tesuque raingod" figurines or pitchers such as this one, dinner plates, salt and pepper shakers, ashtrays, umbrella stands etc.
The better Pueblo potters made these pieces with their customary great skill and technical expertise putting all their traditional knowledge and methods to work in the service of making the new type of piece as good as it could be made which is precisely the case here with this superlative large pitcher.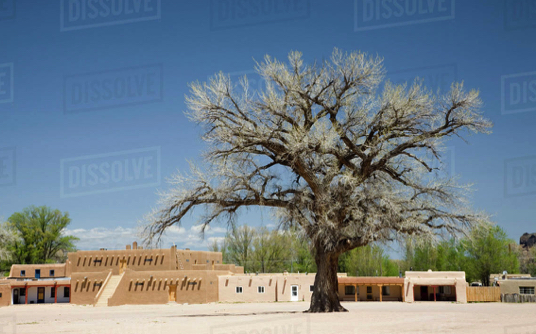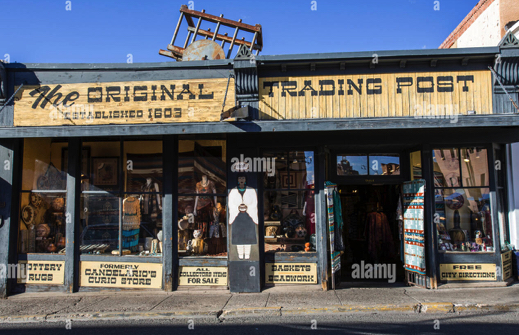 A San Ildefonso pottery jar attributed to Tonita Roybal or Dominguita Pino
Photo Source and © Marcy Burns American Indian Arts
View of the North Plaza at San Ildefonso Pueblo
Photo source and © Dissolve
J.S. Candelario's old trading post in Santa Fe. This pitcher was possibly sold there.
Photo source and © Alamy Stock Photos
This piece could have been commissioned for use at a Fred Harvey Hotel such as Santa Fe's La Fonda, Albuquerque's Hotel Alvarado or Las Vegas, New Mexico's Hotel Castaneda or simply made for sale in a local Santa Fe trading post. However, and for whomever it was made, it is just superbly done with a beautiful graceful form subtly adapted from the shape of a traditional upright Pueblo olla or water jar with the addition of a spout and handle. The pottery making here is excellent; the vessel walls are thin and even, the white slip is skillfully applied and the four-band painted polychrome design very beautifully done. There are a few somewhat charming and folky-looking black paint drips which may or may not have been deliberate. The stone polishing is also remarkably well executed. The narrow red band perfectly painted around the bottom of the design field is a telltale indicator of the vessel's early 20th Century age as is the delicately footed base of the pitcher.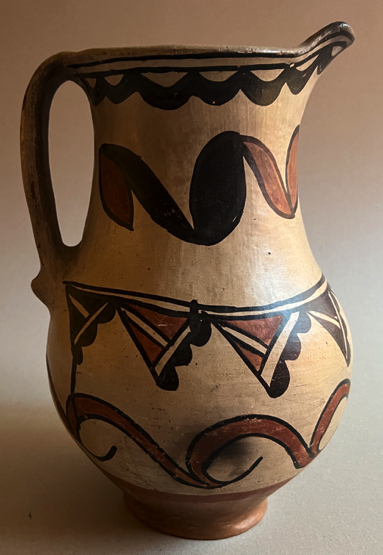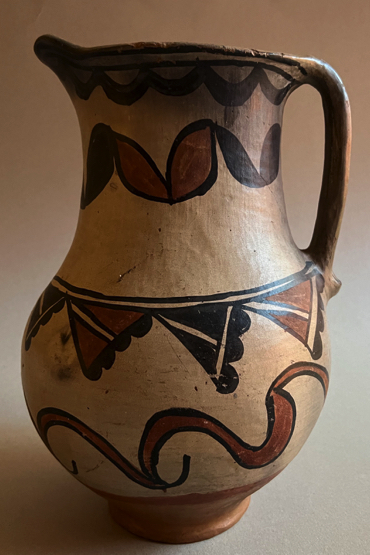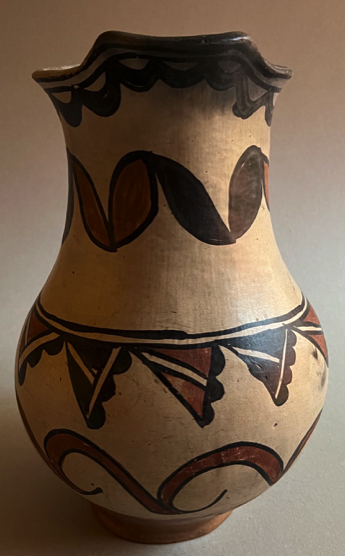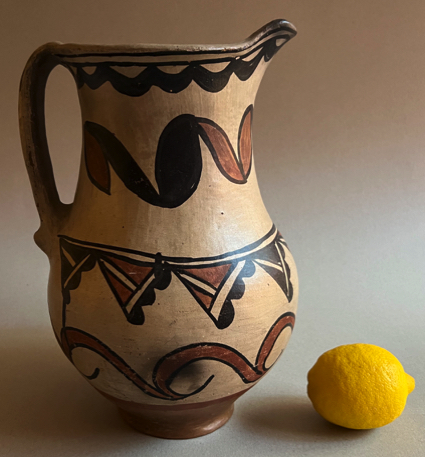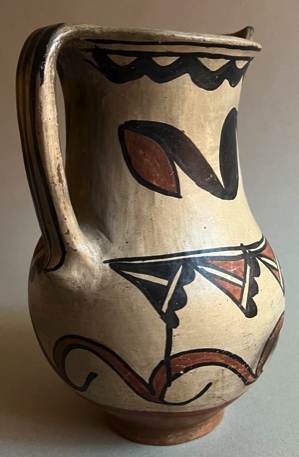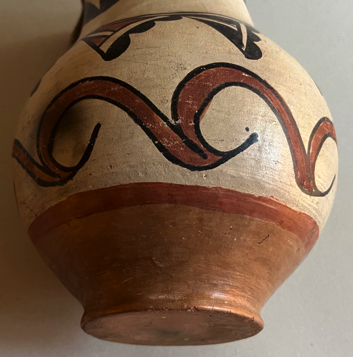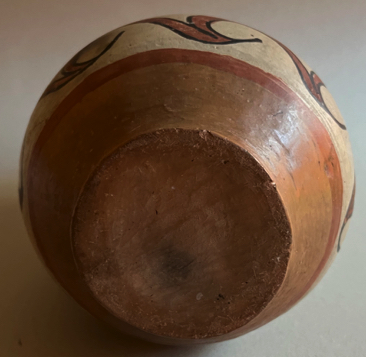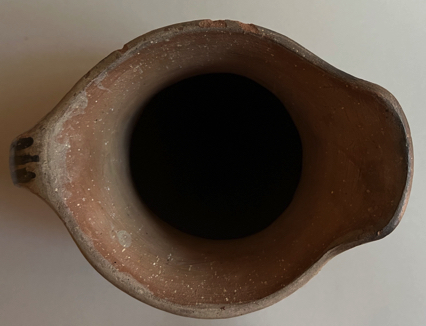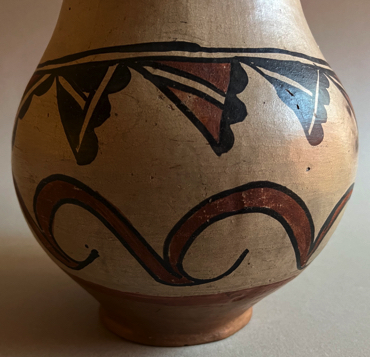 The pitcher stands a full 11 1/4" in height and is just under 8" in width at its widest point. It is in excellent original condition especially considering its 110 or so years of age. There are some minor abrasions here and there on the exterior and some evidence of wear inside the spout. There is also some natural fire-clouding on the vessel, but this is completely normal and desirable on such a historic piece. A thorough examination of the vessel under Ultraviolet light reveals no evidence at all of any restoration or overpaint. The pitcher is not signed for the maker, it is too early for that and, naturally, it is interesting to speculate on who might have made it. The most prominent potters at San Ildefonso Pueblo at this time were Maria and Julian Martinez, Martina and Florentino Montoya and Dominguita Pino and her daughter Tonita Roybal. Our choices from this group would be Tonita Roybal or Dominguita Pino, but of course it is impossible to ever know this for certain.
What we can say for certain however is that this pitcher is an elegant, graceful, most beautifully made and fascinating piece; a unique product of the historic combination of an ancient Native pottery tradition meeting and interacting with a more modern non-Native world to a beautiful and lasting effect.
Price $3,250