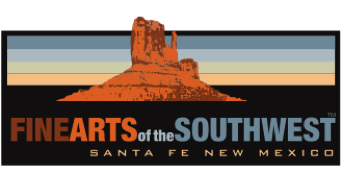 © 2010-2021 by Fine Arts of the Southwest, Inc. All rights reserved.
Unauthorized reproduction or use is strictly prohibited by law.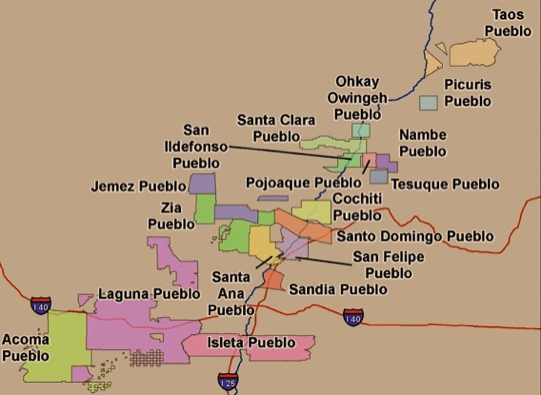 Present-day map of New Mexico Pueblos
-Photo source and © U.S. Bureau of Reclamation, Washington, D.C.
San Juan Pueblo village scene by Edward S. Curtis, 1927.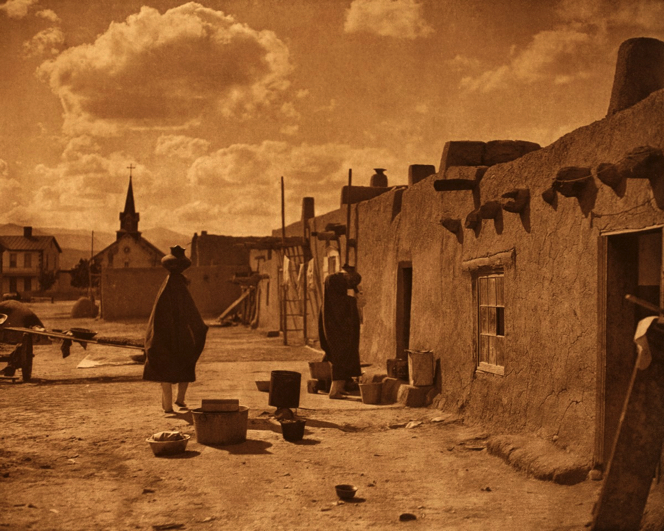 A completely unique San Juan Pueblo
black-on-black painted pottery jar, c.1900-1920
The San Juan Pueblo in northern New Mexico, located about 30 miles north of Santa Fe, is known today as "Ohkay-Owingeh" or "Place of the strong people" in its traditional Tewa Indian language has historically produced some of the most distinctively beautiful and traditionally crafted pottery in the entire historic Pueblo pottery world. San Juan is one of the oldest existing Pueblos in the Rio Grande Valley, begun around 1200 A.D. by migrating refugees of the ancient Mesa Verde culture moving southwards down along the Chama River drainage from what is now present-day southern Colorado.
The Pueblo of San Juan de Los Caballeros has long played a pivotal role in the history of New Mexico and the greater Southwest region. It was here in 1598 that the Spanish conquistador and colonizer, Juan de Onate arrived from Mexico at the head of his large army of Spanish soldiers and settlers. Onate gave the Pueblo its Spanish name after his patron Saint, Juan Bautista and declared there the first Spanish Colonial capital in the territory of New Spain, "Santa Fe de Nuevo Mexico" or "The Holy Faith of New Mexico". And to that end, they built the very first Catholic church in New Mexico in the Pueblo village. Years later, in 1680, after suffering nearly a century of oppression and brutal persecution at the hands of the Spanish, it was also here that, perhaps fittingly in a historic irony, that San Juan Pueblo religious leader Pope secretly planned, co-ordinated and put into motion the historic Great Pueblo Revolt that drove the now-despised Spanish entirely out of the region for the next twelve years.
San Juan Pueblo has long been renowned across the Southwest for the quality and unique beauty of its distinctive historic pottery. Unpainted, plainware pottery, defined entirely by its wonderful shapes, sizes and forms and by its distinctive clay and slip colors and its two distinct but completely related remarkable color patterns; the red-on-tan and the black-on-grey. The classic, disciplined, understated, elegant beauty of San Juan pottery is appreciated by both traditionalists and Modernists alike. Traditional San Juan pottery is never painted with decorative designs, the only decorative touches other than its unique red/tan and black/grey color schemes are the distinctive and dark-grey to black firing clouds that occur on San Juan vessels regularly.
Until now, that is. This distinctive black-on-black upright jar has a most interesting and unique feature which
we have never seen or heard of before on a historic San Juan Pueblo pottery vessel of this type and time period. There is a series of beautifully rendered greyish-black Pueblo designs of stylized birds and stacked raincloud terraces painted all the way around the shoulder of the jar, two vertically stacked terraced designs and two sets of stylized opposing bird pair designs.
So what exactly happened here? Did a San Ildefonso pottery making woman marry a San Juan Pueblo man and move to San Juan and make pottery in her former San Ildefonso pottery style? Or did a San Juan woman happen to see some pieces by Maria and Julian and simply make one herself out of artistic curiosity? Or did Maria and Julian themselves make this piece at San Juan for some reason using San Juan clay and methods? We may never know but this piece is completely unique in our extensive experience. We have never seen and may never see another piece of historic San Juan Pueblo pottery like it.
This finely-shaped medium-sized vertical jar is most beautifully formed with a gracefully curving profile and marvelous overall shape. The stone polishing of the vessel is simply superb. The jar measures 7" in height and it
is 7" in diameter at its widest shoulder point. It is in excellent original condition with no cracks or chips and a thorough examination under Ultraviolet light reveals no evidence of restoration or overpainting. There is some amount of age-appropriate abrasion here and there on the jar.
For the time being, this jar is completely in a league of its own, a rare historic mystery which contains
far more questions than it does answers. At least until someone finds another one, if ever.
SOLD
The modern-day "black-on-black" style of painted Pueblo pottery was originally developed in nearby San Ildefonso Pueblo around 18 miles from San Juan around 1910-1915 by San Ildefonso potters, Maria and Julian Martinez based on the style of some distinctive prehistoric Kapo Slackware type potsherds found on the nearby Pajarito Plateau and shown to the couple by the Museum of New Mexico's Kenneth Chapman. After some years of experimentation the couple had perfected their methodology. Maria would first form and finely stone polish the vessel after which Julian would apply the painted designs in a light greyish-black colored thin clay slip paint. When the pottery was fired the painted designs would have an even matte quality which contrasted beautifully with the highly polished shiny unpainted surface of the piece. This appears to be precisely the same process which happened here on this vessel,
but San Juan Pueblo is not now nor was ever known for producing this particular style of pottery.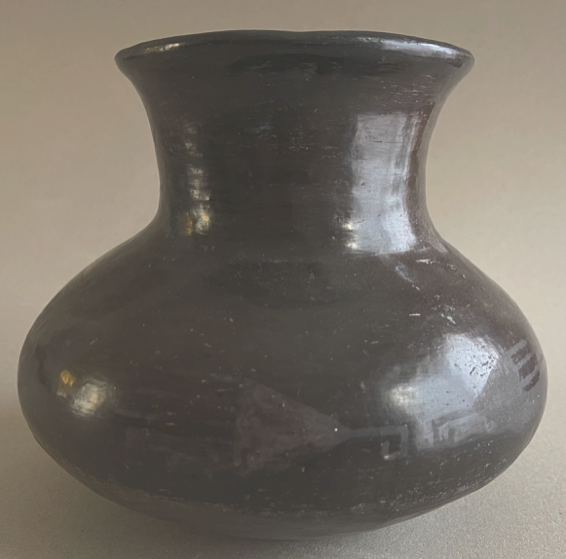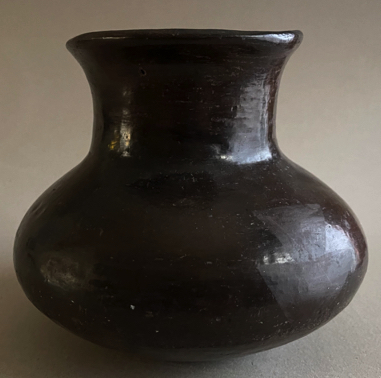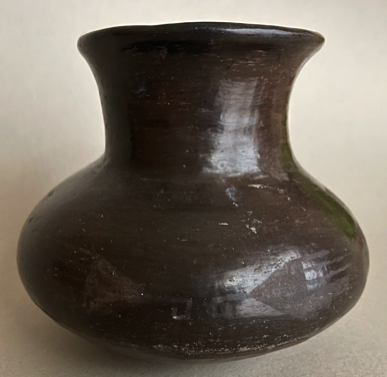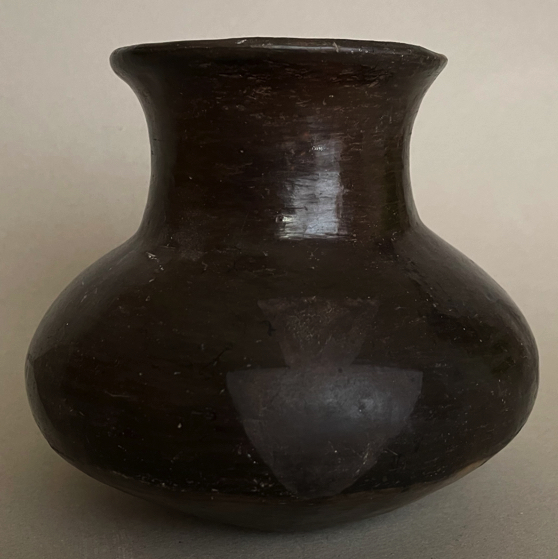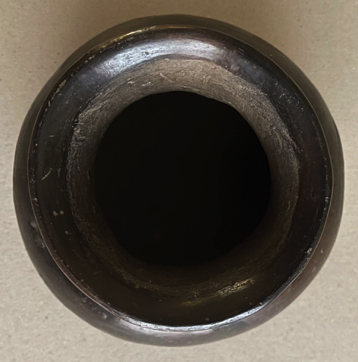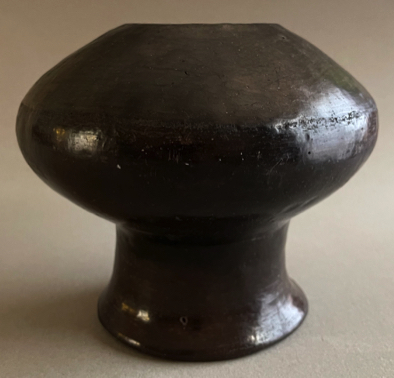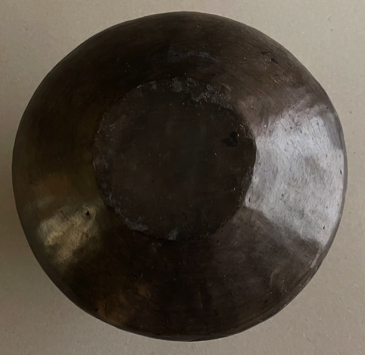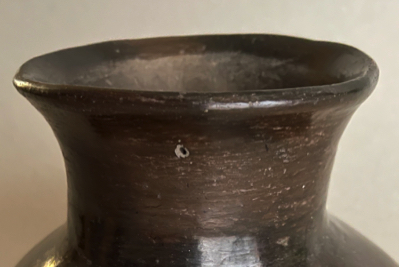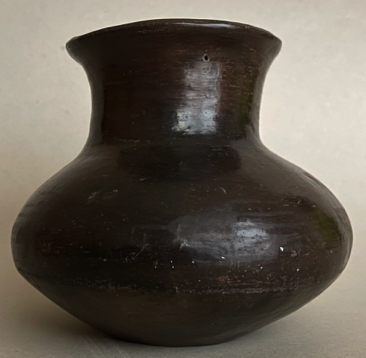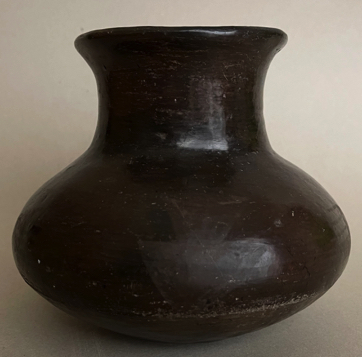 Maria and Julian Martinez San Ildefonso Pueblo black-on-black pottery jar, c. 1920
To see two pieces of historic San Juan red-on-tan pottery available on our website, please click here.