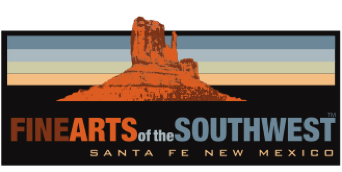 © 2010-2022 by Fine Arts of the Southwest, Inc. All rights reserved.
Unauthorized reproduction or use is strictly prohibited by law.

A wonderful small historic Santa Clara Pueblo
redware pottery upright jar or vase, attributed
to Sarafina Tafoya c. 1905-1915
ex: Fred Harvey Fine Arts Collection
If the great European Modernist sculptor, Constantin Brancusi (1876-1957) had been a Pueblo potter he might
very well have made this piece so beautiful, graceful and pure is its sculptural form. Instead, we think the maker of this piece is very likely another famous 20th Century artist, the renowned Santa Clara potter, Sarafina Tafoya (1863-1949), mother of another great Santa Clara potter, Margaret Tafoya (1904-2001).
We make this attribution for a number of important reasons. First and foremost is the quality and beauty of the pottery making itself; a graceful elegant form and not an easy one to make requiring great skill to create the many small clay coils placed atop each other in succession. The reddish-orangish brick color is in line with other sardine pieces we have owned and/or seen. It's a little different than most Santa Clara Pueblo redware pieces which are slightly redder in tone. The surface texture and stone polishing of the piece too bear a distinct resemblance to other Sarafina pieces we have seen. All that said, this is still an attribution only, not a definite fact, but we believe it to be a well-reasoned attribution. And one of the strongest parts of the attribution is yet to come in the very next paragraph.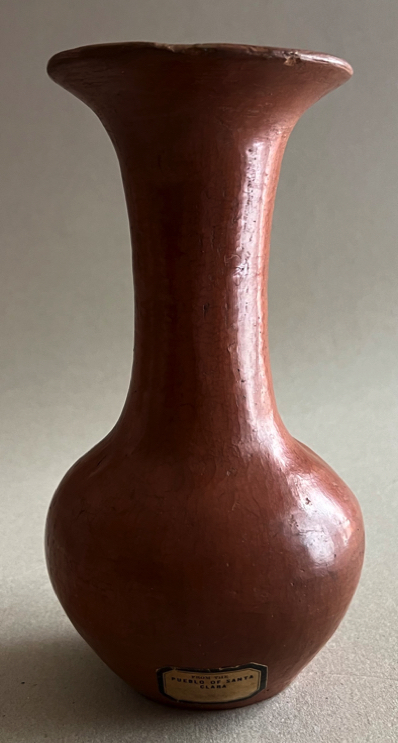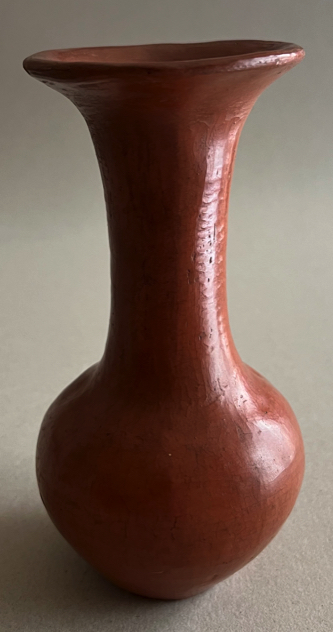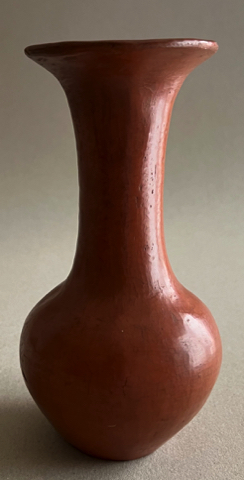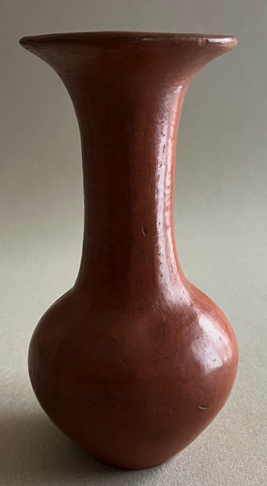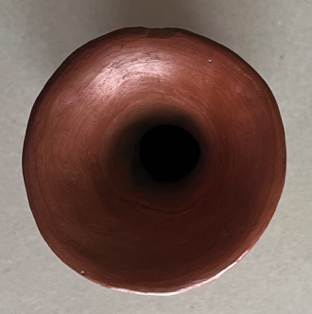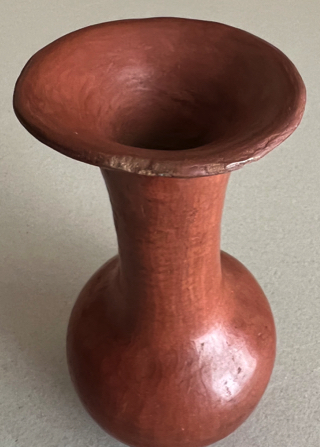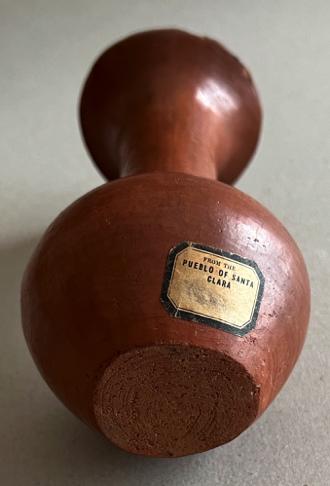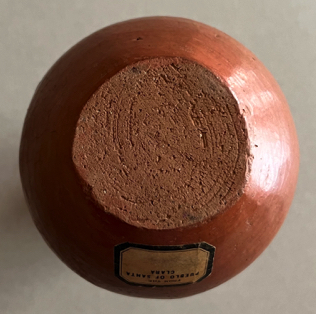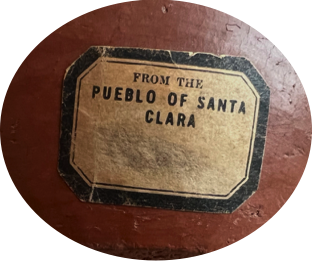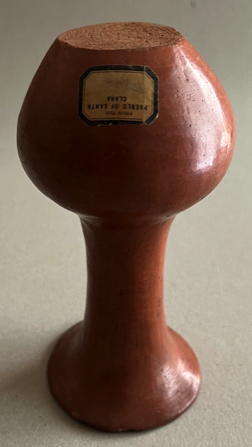 This jar was very possibly sold at Fred Harvey's famous Indian Building at The Hotel Alvarado in Albuquerque or at the Fred Harvey/Santa Fe Railway's La Fonda Hotel in Santa Fe or at their Hotel Castaneda in Las Vegas, New Mexico. Of course, the vessel's relatively small size would make it ideal for careful transport back home on one of the Santa Fe Railway's famous trains as evidenced by the fact that we acquired it from a private family in Massachussetts.
This was a prized souvenir for its lucky owner (s) who clearly valued it as its still near-pristine condition after well over a century attests.
The jar measures a fairly small-sized 6 1/2" in height and is 3 1/4" in width at the widest point. It is in excellent-plus original condition especially for its 110 or so years of age. There are no cracks and no significant chips, just a very slight amount of abrasion wear to the rim. There is a certain amount of "lean" to the jar when displayed on a completely flat surface which can be easily remedied by a bit of display wax or small paper insert. A through examination under Ultraviolet light reveals no evidence of restoration or overpainting. This vessel is unsigned as befits its age; it was made years before Pueblo pottery makers generally began signing their work.
Beauty, elegance and history born of a unique combination of ancient cultural traditions and Modernist design sensibility and patronage. That's some mighty big artistic shoes to fill by something just six and a half inches tall.
Price $1,250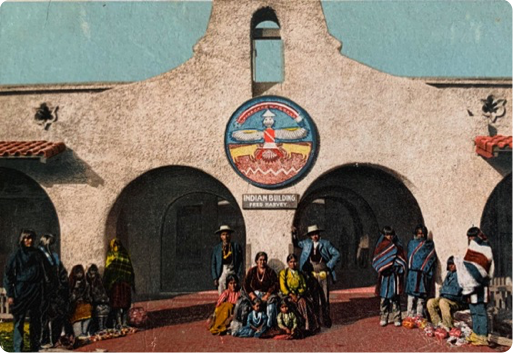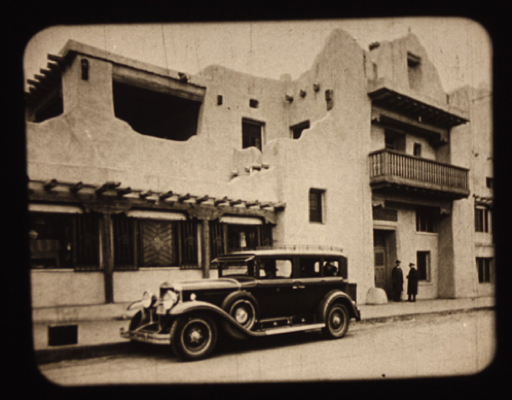 Several of the places where this pottery jar might have been sold. At upper left, La Fonda Hotel, Santa Fe, c. 1920's. At upper right, The Indian Building at the Hotel Alvarado in Albuquerque, c. 1910. Above center, The Hotel Castaneda in Las Vegas, New Mexico pictured in a 1906 Fred Harvey postcard.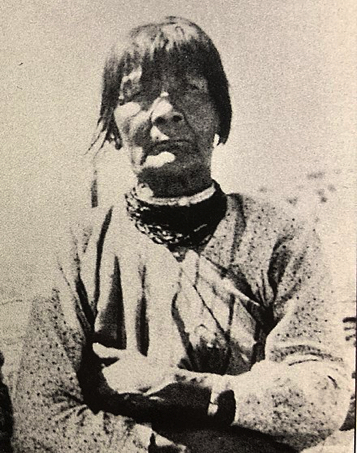 Sarafina Tafoya, c. 1920's
Photo source and © Wikipedia
As the leading pottery maker of her time at her Pueblo, Sarafina's work would have been eagerly sought after by the jar's former owner, the famous Fred Harvey Company whose various employees and purchasing agents combed New Mexico's various Indian Pueblos during this time period searching for the finest examples of pottery and other Native arts by the finest Native artists to display and sell to their high-end private clients or at their widespread network of Southwestern trading posts. The company and its agents also commissioned prominent Pueblo potters to make non-traditional Pueblo pottery forms for sale to a predominantly white Southwestern tourist audience. This small upright jar, which is essentially a Pueblo interpretation of a Victorian bud vase fits that bill precisely. To the potential purchaser, the famous distinctive octagonally-shaped black bordered Fred Harvey Company paper label proudly and prominently placed on the lower shoulder df the jar was an ironclad guarantee of the highest quality.