© 2010-2021 by Fine Arts of the Southwest, Inc. All rights reserved.
Unauthorized reproduction or use is strictly prohibited by law.

A spectacular 10-strand Santo Domingo
Pueblo "Chaco Revival" style jet, coral, shell
and glass bead Necklace, c.1970's-80's
This incredible necklace has to be seen to be believed. The artistic historic and technical
aspects of this piece are simply remarkable and they are all closely inter-related.
Artistically, the piece is a brilliant example of modern-day Santo Domingo Pueblo jewelry making by an unknown,
but clearly extremely talented artist. This is a modern-day reinterpretation or "revival" of the ancient Anasazi black and white and multicolored stone and shell bead necklaces which were originally made around 1000-1200 A.D. at the Pueblo great houses of Pueblo Bonito and Chetro Ketl in northern New Mexico's Chaco Canyon prehistoric civilization complex and which were later excavated by various American archaeological expeditions
to Chaco beginning in the 1890's.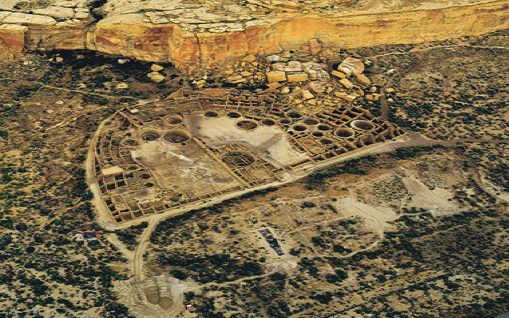 Present-day views of Pueblo Bonito ruins, Chaco Canyon National Historic Park, New Mexico
Photo source and © The Santa Fe New Mexican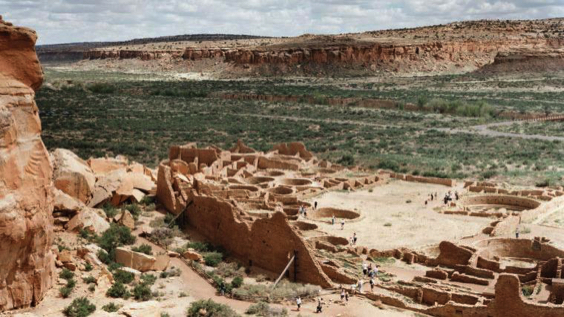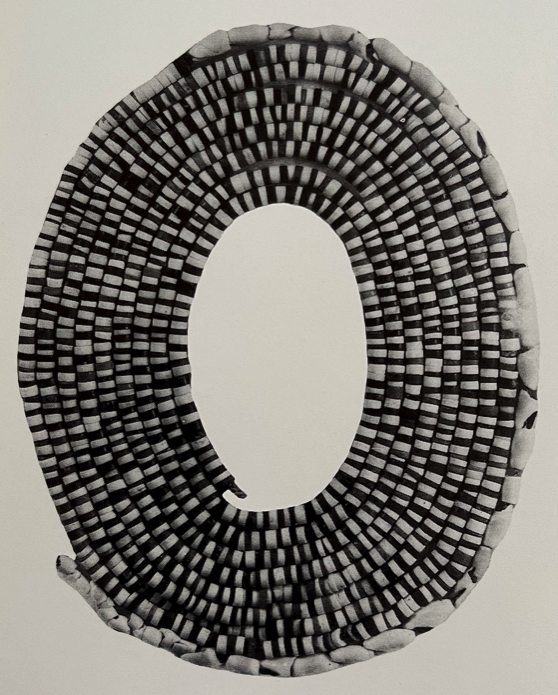 Prehistoric Anasazi necklace, c. 1100-1200 A.D., 10 feet in length comprised of 1,045 white shell and black jet beads excavated by Edgar Lee Hewett in 1931 at Chetro Ketl Pueblo in Chaco Canyon, New Mexico.
Photo source and © Museum of New Mexico, Santa Fe. Published in
"Southwestern Indian Jewelry" by Dexter Cirillo, Abbeville Press, 1992, pp. 20.
The necklace measures 15 3/4" in length from the top of the Pueblo-style wrap to the bottom of the jet beads measured while lying flat on a table. The necklace's circumference all the way around is approximately 28". The ten strands of the necklace are just shy of 1/4" in width each and each strand contains approximately 200 beads.
The necklace weighs a very comfortable 149 grams or 5 1/4 ounces. The necklace also has an excellent provenance; we purchased it from a highly-experienced and knowledgable longtime East Coast colleague of ours with terrific taste who originally purchased it for herself at Santa Fe Indian Market sometime in the 1970's or early 1980's.
This necklace is an outstanding quality, absolutely dynamite-looking piece of finely-crafted modern-day jewelry
with a fascinating and enduring ancient American heritage. High fashion, tradition and the ancient world of the Southwest all come together perfectly in this unique and stunning masterpiece.
Wear it to The Met Gala at The Metropolitan Museum in New York City and don't be at all surprised
if one of The Met's Curators tries to buy it from you!
Price $2,800
Chaco appears to have been a major production center for jet, shell and turquoise jewelry, the types of pieces which this necklace is a modern day "revival" of. The link to the ancients in this piece is completely palpable and alive here across the centuries. Chaco Canyon lies just 100 miles or so as the crow flies from present day Santo Domingo Pueblo and some present day residents at Santo Domingo are direct descendants of the ancient Puebloans of Chaco as are residents of other Rio Grande River Valley Pueblos.
Aesthetically, this necklace is a powerful organic composition of literally thousands of beautifully hand-cut, hand-rolled natural black jet beads punctuated harmoniously with accents of natural red coral and white and yellow shell beads and turquoise colored glass or bakelite beads. The overall effect is mesmerizing, deeply compelling and somewhat cosmic like seeing flashes of color streaking across a dark night sky.
The ten large strands of "heishi" beads are interspersed in wonderful and varied patterns. It is impossible to overstate how excruciatingly difficult the process of hand making beads such as this is especially considering the fact that there are approximately 2,000 individual handmade beads in this necklace. This completely traditional, time-consuming, painstaking process dates back many centuries to the ancient Puebloan times. The smooth hand-rolled softness and finely polished texture of these jet and other beads in the hand and their marvelous
soft "handle" and feel on the body are simply spellbinding and delicious.
The necklace is finished off with a perfectly-crafted dark cotton "Pueblo" style wrap. This extremely elegant and striking necklace would look terrific when worn with a tee shirt and jeans or absolutely awesome with the right little black dress. And, as we can well attest it also looks wonderful just hanging on a wall.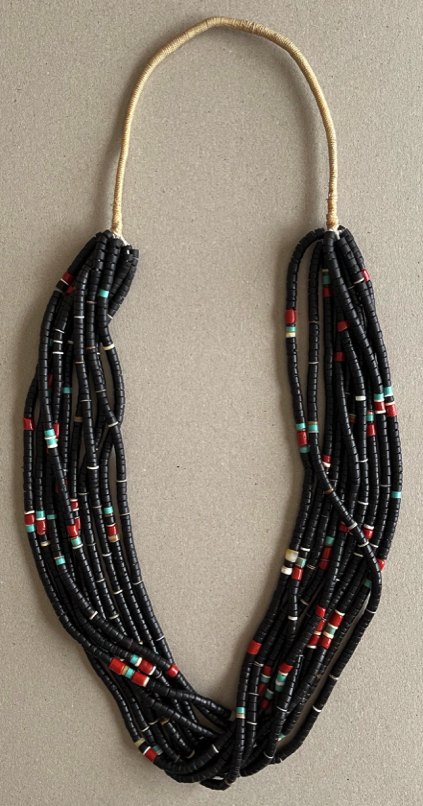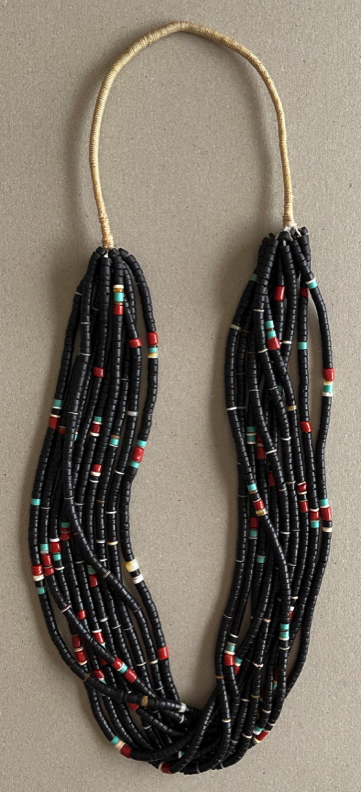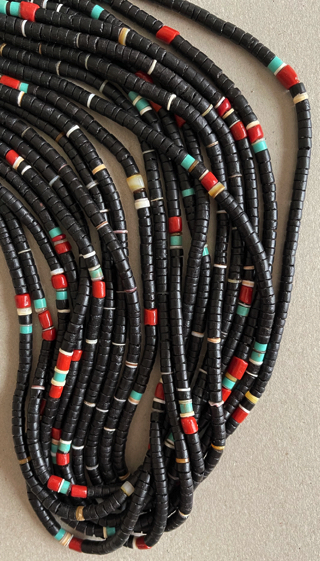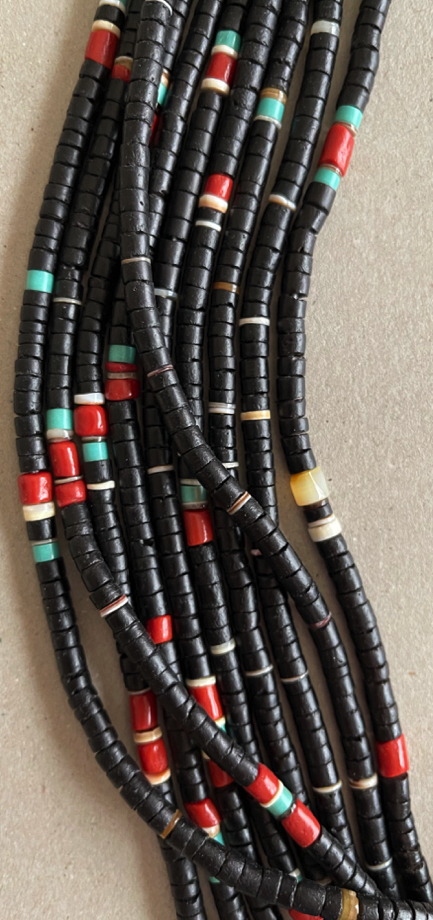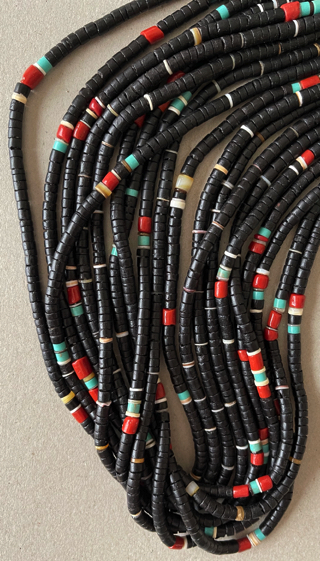 "Many of the styles have persisted in this region for a thousand years. Some Pueblo jewelers, such as those from Kewa (Santo Domingo) Pueblo, are also intentionally revitalizing older ancestral forms"
-Text source and © Maxwell Museum of Anthropology,
University of New Mexico, Albuquerque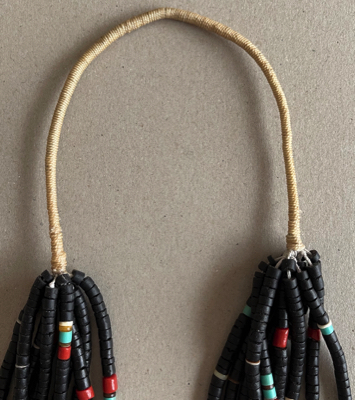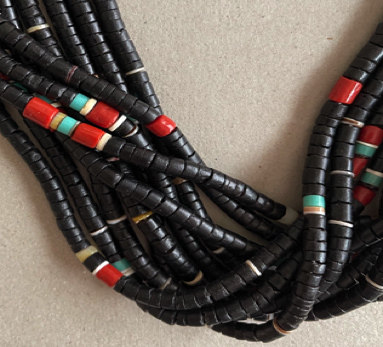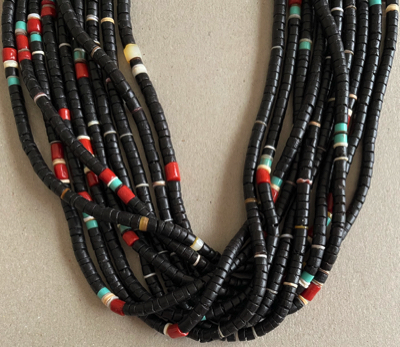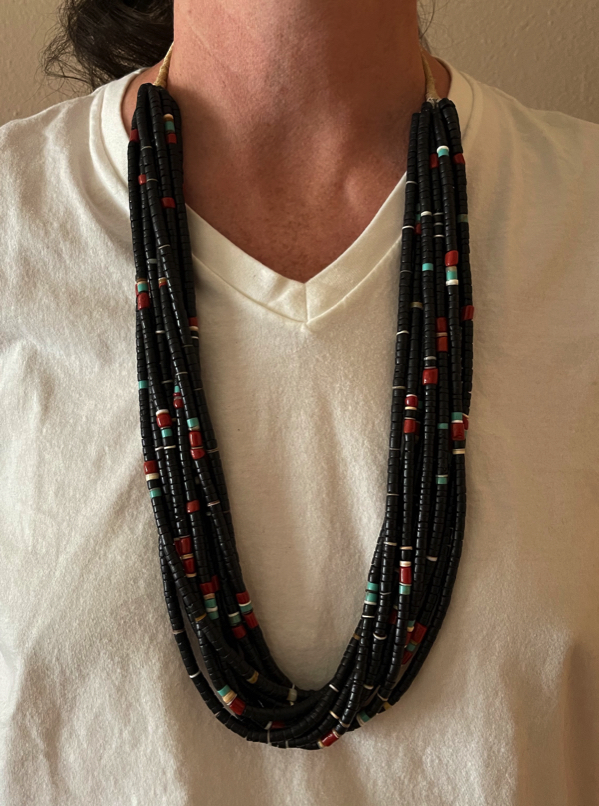 A 16-strand jet and turquoise bead necklace, c. 1250 A.D. found in the Verde Valley of Central Arizona. This necklace could have easily been traded from the Chacoan Anasazi people to the Salado Culture people living in The Verde Valley and vicinity.
Photo source and © Private Collection.