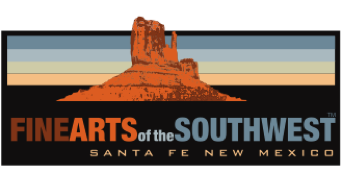 © 2010-2022 by Fine Arts of the Southwest, Inc. All rights reserved.
Unauthorized reproduction or use is strictly prohibited by law.

A selection of three great historic Navajo silver
pins, c.1900-1940's, from three of the world's great collections of historic Navajo jewelry
These three historic Navajo silver pins all share a distinguished and common history in a number of important ways. First, is their extraordinary quality and beauty. Second, is how, when, where and by whom they were made, in every instance skilled Navajo silversmiths in the American Southwest and finally, the three distinguished Navajo jewelry experts who personally collected each of these pieces, all three of whom were longtime colleagues and friends of ours. We are pleased to be able to present this fine selection and feel free to purchase any or all of them. If you buy more than one, we will be happy to make you a more special group price.
An exceptional early Navajo ingot-silver
button pin, c.1900-1920
ex: Harold (Jay) Evetts Collection, Gallup and Santa Fe, NM
A marvelous early cast ingot-silver Navajo button later made into a pin, this fine piece is decorated with exceptionally beautiful stamp work designs. The original copper button loops were removed and a silver and brass pin and clasp installed. This happened at a relatively early date as evidenced by the distinctly old-style brass pin closure. The pin measures a nicely-sized 1 1/2" in diameter and weighs 20 grams grams or 3/4 ounce. It is in excellent original condition.
Like all three of the pins shown here, this pin has outstanding provenance. We purchased it directly from the collection of our longtime friend and colleague, the highly-respected Navajo jewelry expert, dealer and collector Harold (Jay) Evetts (1946-2016) of Gallup and Santa Fe, New Mexico. Jay was an all around expert in Navajo silver but buttons were his biggest love and he had some of the very best, including this button which some Navajo silversmith out there in the Southwest desert many many decades ago gave great new life to as this pin. It's a piece of art and a piece of history equally, a piece which anyone should be proud to own and wear.
Price $675
SOLD
A gorgeous, large Navajo silver pin
with delicate stampwork, c. 1920-1930
ex: Teal McKibben Collection, Santa Fe, NM
We originally purchased this pin around 2000 directly from the exceptional collection of another of our longtime friends and colleagues, the late Teal McKibben (1928-2006) who was one of Santa Fe's and the world's premier collectors of and dealers in historic Navajo and Pueblo silver. Teal had an incredible eye for design and beauty and
this wonderful piece delivers in spades on both fronts.
Elegant, spare and extremely well-crafted, this pin is a dream to behold with the stern serenity, austere simplicity
and impeccable craftsmanship which characterizes the finest Navajo silverwork. The pin measures 2 1/16" in diameter
and weighs 25 grams or 7/8 ounce. It is in excellent original condition.
This pin is a distinguished piece of history in several ways; well appreciated by the knowledgable and discerning expert who formerly owned it.
Price $875
SOLD
A wonderful historic Navajo Arts and
Crafts Guild silver pin, c.1940's-1950's
ex: Lynn D. Trusdell Collection, New Hope, PA
This classic Navajo Guild pin features a beautifully-conceived design, highly-refined stamp, chisel and repoussee work decoration and the perfectly-executed and meticulous craftsmanship for which historic Navajo Guild jewelry is justly renowned. When viewed from the side, it also has a most pleasing domed profile. Of course, we do not know the name of the anonymous Navajo silversmith who made it as NACG regulations at the time prohibited the individual makers from signing pieces with their own individual signatures (only the Guild's official "Horned Sun" hall mark could reused) but he was quite clearly an accomplished artist and craftsman as befits his participation in this distinguished organization.
The Navajo Guild under its brilliant Founder and Director the great Navajo silversmith and educator Ambrose Roanhose (1900-1982) was a veritable All-Star team of some of the finest Navajo silversmiths in the world. To learn more about the Navajo Arts and Crafts Guild please click here.
Again, the provenance here is remarkable, we purchased this pin in 2001 directly from the collection of our longtime colleague, Lynn D. Trusdell (1938-2008) of New Hope, PA. Like Jay Evetts and Teal McKibben, Lynn Trusdell was an acknowledged world-level expert collector of and dealer in historic Navajo jewelry.
The pin measures 2" in diameter and has a very nice weight of 20 grams or 3/4 ounce. The pin is in excellent original condition and is properly hallmarked on the inside with the NACG's customary "Horned-Sun" insignia and the word "NAVAJO". This pin is a classic and elegant piece which could be worn proudly by either a woman
or a man every day or on any special occasion.
Price $575
SOLD