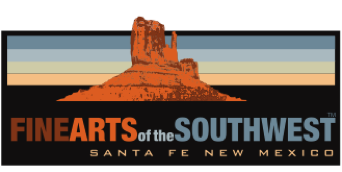 © 2010-2023 by Fine Arts of the Southwest, Inc. All rights reserved.
Unauthorized reproduction or use is strictly prohibited by law.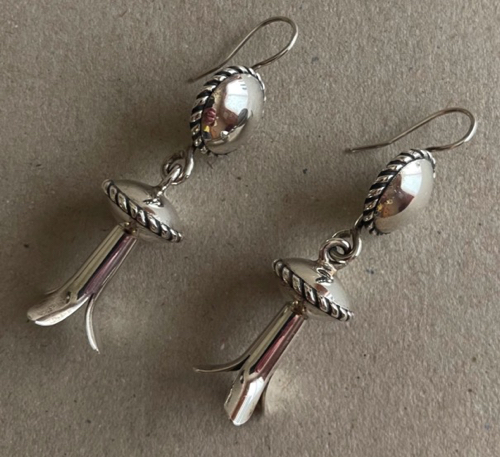 A striking pair of contemporary Navajo silver Squash blossom style earrings by Tammy Nelson, c. 2019
If you think you see a distinct family resemblance here, it's because you do. Tammy Nelson (b.1972) is the niece
and former silversmithing student of her Uncle, the world-renowned Navajo silversmithing legend, McKee Platero
(b.1957) and it is clearly evident here that he taught her quite well. McKee Platero is a consummate craftsman and he
has clearly communicated the importance of quality craftsmanship to his niece and former student. The earrings are
just superbly made with an extraordinary level of overall workmanship, fit and finish. The silverwork is extremely clean-lined and elegant with a lovely, somewhat angular and bold Modernist design twist on the traditional Navajo squash-blossom earring form.
The two silver sections of the earrings are each dramatically outlined with a wonderful thick twisted-silver wire border. The highly-polished top round silver "button" sections are attached by heavy silver links to the "squash blossom" bottom sections. Nelson has flattened the profile of the upper part of the blossom in a very nice and distinctive geometric touch which works particularly well with the flared out petals of the blossoms below.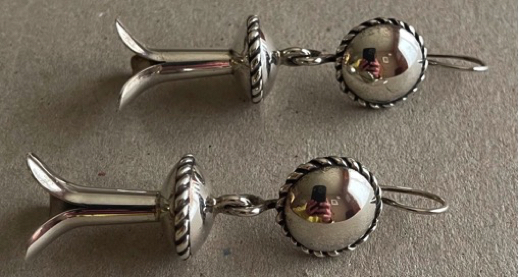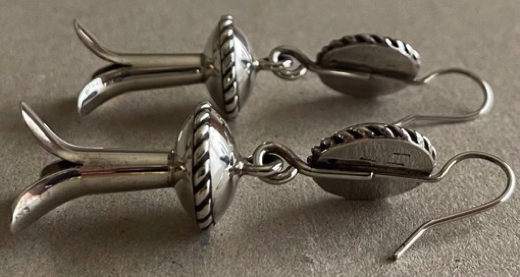 The earrings measure a very nicely-sized 2 3/4" in length from the top of the silver hooks to the bottom of the silver squash blossoms. They are just slightly less than 3/4" in width at their widest points. The "drop" is 1/2". The earrings weigh a substantial, yet quite comfortable 12 grams or 3/8 ounce each. They are properly signed on the backs with Tammy Nelson's single stamped dot hallmark, a tribute to her mentor McKee's three dot hallmark, and they are in new original condition, having been purchased new from Tammy Nelson and never worn.
These are an elegant, refined and visually dynamic pair of earrings made by an extremely talented artist with an unparalleled artistic pedigree. These precious earrings look as if they should be a LOT more expensive. In our view,
there is an unusually large amount of "Bang for the Buck", so to speak, available here.
Price $750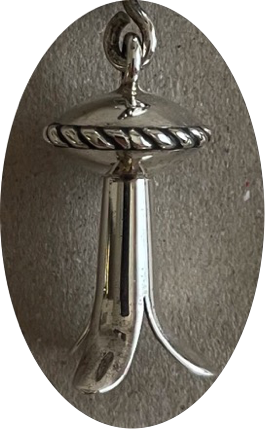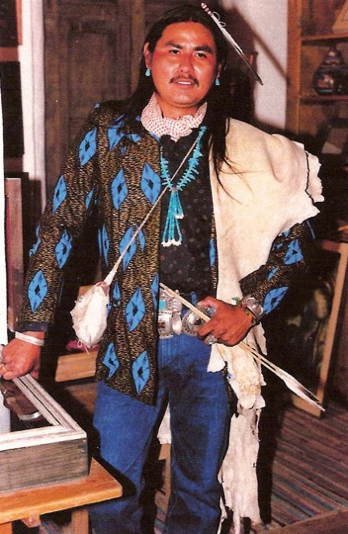 Tammy Nelson's Uncle and mentor, Navajo master silversmith, McKee Platero in Santa Fe, c. 1997