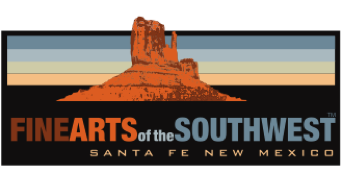 © 2010-2021 by Fine Arts of the Southwest, Inc. All rights reserved.
Unauthorized reproduction or use is strictly prohibited by law.

A large Taxco, Mexico Modernist-style Sterling silver
"Sun God" pendant inlaid with a silver and semi-precious stone mosaic on a handmade Sterling silver link chain, c.1950's-60's
This striking pendant necklace is a stylized Modernist depiction of an ancient Prehistoric Mexican Mayan or Mezcala culture Sun God design. The Sun God pendant is finely set with a beautiful blue-green crushed stone mosaic inlay made up of tiny pieces of azurite, malachite and turquoise stones and the mask's facial features; eyes, nose, eyebrows, mouth etc. are rendered in smooth polished slightly abstracted silver panels. The sun's halo of "rays"
is also executed in highly-polished silver.
The necklace measures 12 3/4" from the top of the silver clasp to the bottom of the pendant measured while lying flat and it measures 19 3/4" in circumference fully opened up end-to-end. The pendant itself measures 3 3/4" in width and 3 3/8" in height. It is marked "Sterling" and "Hecho en Mexico" and stamped "Taxco" and "MA" on the back which strongly resembles the mark of Miguel Alonzo who was a silversmith for the celebrated Taxco jewelry house of "Los Ballesteros", but we are not 100% certain it is him. There is also an additional unknown mark which resembles a bell with the numeral "2" inside it.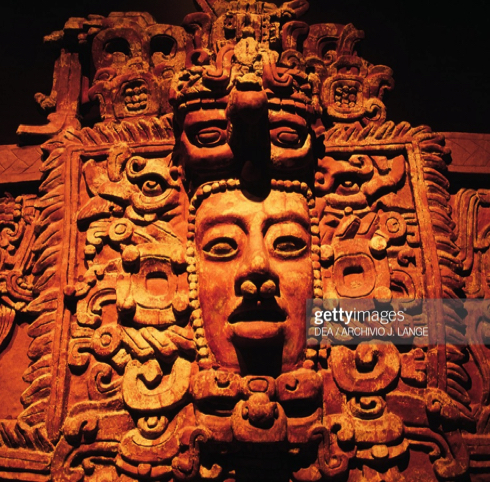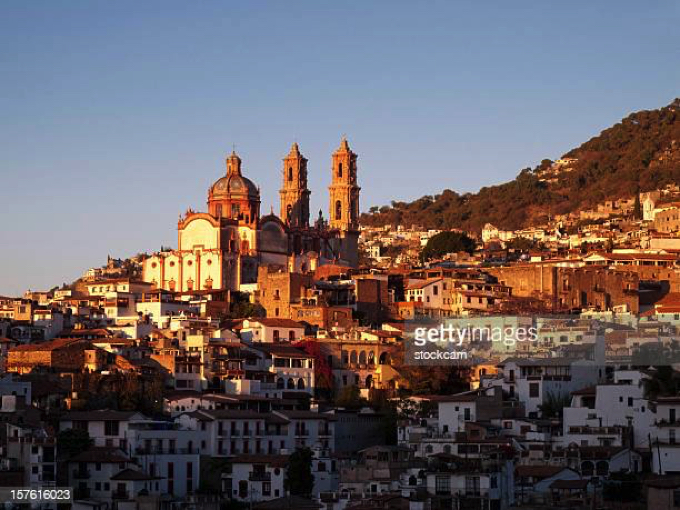 At left, a Mezcala Culture Classic-Period stone head pendant, Guerrero State, Mexico c. 350-600 A.D.
View of Taxco, Mexico, the center of Modern-era Mexican silverwork.
Photo source and © GettyImages
Statue of Maya Sun God, c. 600-900 A.D. at The National Museum of Anthropology, Mexico City, D.F.
Photo source and © GettyImages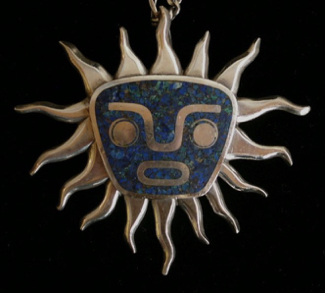 The thick, beautifully complex handwrought Sterling silver link chain is a complete work of art in itself, superbly-fashioned silver links in two sizes and shapes making for a rich eye-catching pattern. The chain measures
19 3/4" in total length, it is just shy of 1/4" in width and it is marked ".925" for Sterling and stamped "Mexico" along with the unknown numeric code "IC-03" on the skillfully made silver clasp. And, of course, the silver chain could occasionally be worn on its own, if desired, or with another pendant and of course the pendant too could be worn with a different chain or handsomely on a length of black silk jewelry cord. Together, the silver pendant and chain weigh an impressive 105 grams or 3 3/4 ounces. They are both in excellent original condition.
Channel the primeval power and impressive appearance of the ancient Mexican Gods with this striking and
exceptional Modern-day Mexican necklace infused with a couple thousand years of remarkable history and tradition.
SOLD