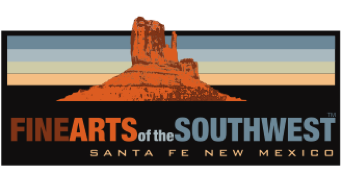 © 2010-2021 by Fine Arts of the Southwest, Inc. All rights reserved.
Unauthorized reproduction or use is strictly prohibited by law.

"INDIAN MAN WITH LANCE", a wonderful original watercolor painting sketch of a Historic Plains Indian Warrior with two additional partial sketches by T.C. Cannon, Santa Fe, NM, c. 1970's
This is a beautiful and evocative watercolor painting sketch by the renowned Native American artist, Tommy Wayne (T.C.) Cannon (Kiowa/Caddo1946-1978). This is an excellent display of Cannon's prodigious artistic talent which was sadly cut short by his untimely and tragic death in a 1978 car accident in Santa Fe at only 32 years of age.
Cannon studied at The Institute of American Indian Arts (IAIA) in Santa Fe from 1965-1968. After graduating IAIA and a very short time at The San Francisco Art Institute, he enlisted in the Army to fight in Vietnam where he served with distinction as a paratrooper in the 101st Airborne. Cannon returned to Santa Fe to resume his artistic career and did so quickly and decisively; his major artistic breakthrough came a few years later in 1972 with the "Two American Painters" exhibition, a two-man show, in conjunction with his colleague and former IAIA instructor, Fritz W. Scholder (1937-2005), at The Smithsonian Institution's National Collection of Fine Arts in Washington DC.
T.C. Cannon's work has been receiving a great deal of renewed critical and enthusiastic attention recently due to a major traveling exhibition organized by The Peabody-Essex Museum in Salem, Massachusetts which is currently on display at the Smithsonian's National Museum of the American Indian in New York City through mid-September, 2019.
This beautiful painting sketch of a historic Plains Indian warrior is actually three separate sketches on one sheet. The color watercolor painting at lower left is in actuality a small finished watercolor painting done in a lovely rich color palette using watercolor and felt-tip pen. This image measures approximately 8 1/2" in height and 6 1/2" in width. To the right of this image on the same paper sheet is a second image of two Plains Indian warriors mounted on horseback done in black and blue felt-tip pen. This sketch measures approximately 8" in height by 5" in width. Above the first two sketches at the very top of the paper sheet is what appears to be a partial sketch of a male torso done in brown felt-tip pen. The three compositions together on a single sheet, one very finished, one more sketchy and the third just partial all convey a distinct freshness and a spontaneous view of the artist's thought and visualization process from start to finish.
"T.C. Cannon embodied traditional Native American culture combined with the best influences of Western civilization. He was a modern Indian living in a modern world, influenced by both cultures, and he used those influences to comment on the past and our present world."
-Quotation source and copyright: "T.C. Cannon, He Stood in the Sun" by Joan Frederick, Northland Publishing, Flagstaff, AZ, 1995
The large sheet of white spiral-bound art sketchbook paper which contains the three sketches measures 13 3/4" in height by 16 3/4" in width (sight). The framed dimensions of the piece are 17" in height and just under 20" in width. The piece is in excellent original condition with a small amount of puckering to the paper sketchbook sheet and some very minor staining. The piece is unsigned, but it has an absolutely impeccable provenance; it was acquired directly from T.C. Cannon's sister and official estate executor, Joyce Cannon Yi and her signed letter of authenticity is attached to the back of the drawing. The drawing is most beautifully framed to the highest archival standards under "Optium TruVue" Museum conservation art glass in a custom hand-carved light maple wood frame by Goldleaf Framemakers of Santa fe, Santa Fe's finest fine art framers.
This is a wonderful and rare piece by one of America's and Native America's most accomplished and brilliant artists.
It is powerfully evocative of both the incredible achievements and the unspeakable tragedy to come, what was gained and what was lost in the all-too short but storied life of the talented and soulful T.C. Cannon.
Price $4,950
"T.C. in 1975", photograph copyright by Matthew Wysocki. Excerpted from "T.C. Cannon, He Stood in the Sun", by Joan Frederick, Northland Publishing, 1995, pp. 11. Copyright by Joan Frederick.