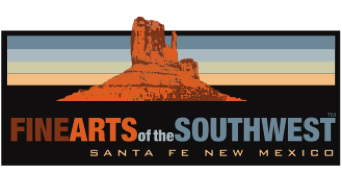 © 2010-2023 by Fine Arts of the Southwest, Inc. All rights reserved.
Unauthorized reproduction or use is strictly prohibited by law.
A contemporary Navajo Sterling-silver,18K gold and turquoise bead band-style ring by Tony Abeyta, 2023
The extremely talented and highly versatile Navajo artist, Tony Abeyta (b.1965) is on fire these days. He's had
a number of major museum exhibitions including the most recent one of his paintings and jewelry at Santa Fe's Wheelwright Museum just last year in 2022. Abeyta was also the 2012 recipient of the New Mexico Governor's Excellence in the Arts award, and was further recognized that year with a Native Treasure "Living Treasures" award by the Museum of Indian Arts & Culture in Santa Fe.
Tony has very recently resumed making his incredibly unique style of jewelry again after taking a several year hiatus from making jewelry to concentrate more closely on his painting. He just completed this outstanding silver, gold and turquoise bead ring and we just purchased it directly from him.
The ring has a fascinating design composed of a series of alternating applied silver, gold and turquoise circular "Beads" arranged around the top of an underlying cast and textured silver band shank. There are fourteen such "beads" in all. The drilled turquoise beads are re-purposed from a historic necklace or Jacla pendant and the gold and silver fabricated "beads" are round metal panels drilled in the centers to echo the design of the old drilled turquoise beads. The turquoise beads set in their silver bezels are 3/16" in diameter while the silver and gold beads are just slightly smaller 1/8" in diameter.
Tony Abeyta in his Santa Fe painting studio
Photo source © and Navajo-Hopi Observer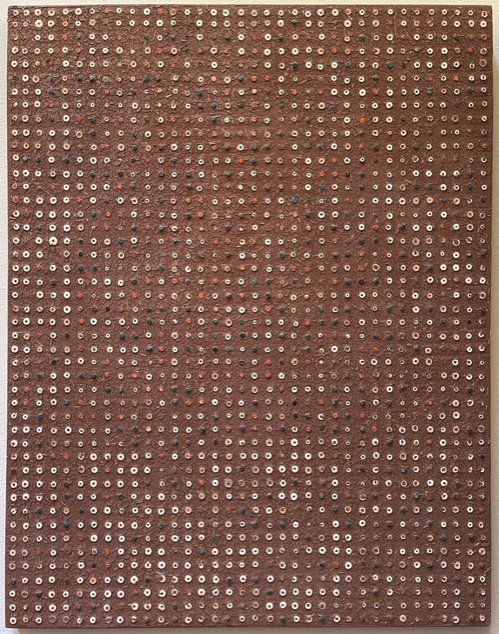 Tony Abeyta, "Constellations", mixed media, 2006
Collection of Fine Arts of the Southwest, Santa Fe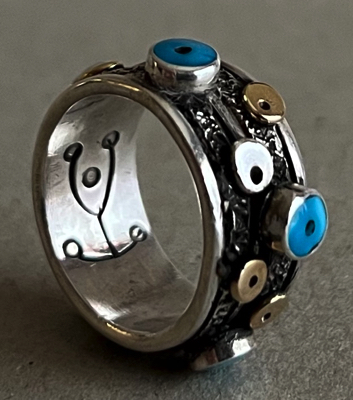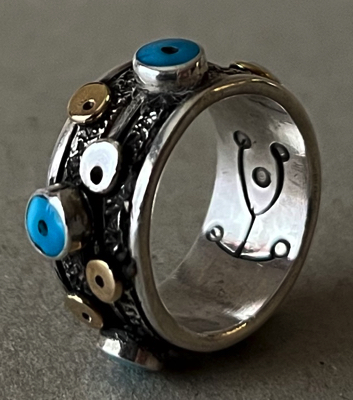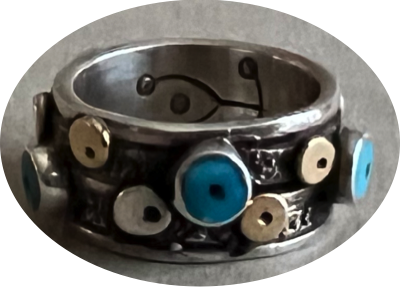 All in all, it's a terrific historic yet completely modern and creative visual presentation with a wonderful three-dimensional, sculptural presence, totally in line with Abeyta's vivid artistic imagination and vision. Abeyta, interestingly, has also previously explored the notion of re-purposed older Native beads in a modern presentation though his paintings such as the one pictured below which presents differently-colored historic drilled Pueblo beads arranged in a modernist linear arrangement and literally set into a painted-on ground of adobe mud.
The ring is 3/8" in width all the way around and it measures a size 7 to 7 1/4 on a professional graduated
ring sizer. It weighs a very comfortable 11 grams or 3/8 ounce. The ring is properly and attractively signed
with Tony Abeyta's stylized "TA" hallmark on the interior and it is in brand-new unworn original condition.
This ring is an extremely attractive and very wearable piece of modern Native American jewelry art
by one of the Southwest's most accomplished and dynamic modern artists.
Price $1,450