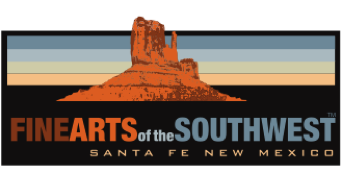 © 2010-2021 by Fine Arts of the Southwest, Inc. All rights reserved.
Unauthorized reproduction or use is strictly prohibited by law.

"The Warp", an extraordinary abstract
painting interpretation of a Navajo weaving
by Tony Abeyta, 2009
Navajo contemporary artist, Tony Abeyta (b. 1965), is completely on fire these days. He recently had a major, one-man museum exhibition on display in Arizona which followed fairly closely on the heels of his significant participation in another major museum exhibition at The Heard Museum in Phoenix. Abeyta was also the 2012 recipient of the New Mexico Governor's Excellence in the Arts award, and was further recognized that year with a Native Treasure "Living Treasures" award by the Museum of Indian Arts & Culture in Santa Fe.
IN 2013, in recognition of the significance of his body of work, he received and honorary doctorate from his alma mater, The Institute of American Indian Arts in Santa Fe. Today Tony's pieces are held in the collections of numerous prominent museums such as the Smithsonian Institution's National Museum of The American Indian, the Boston Museum of Fine Arts, the Eiteljorg Museum in Indianapolis, The Autry Museum in Los Angeles, the Heard Museum in Phoenix and the Millicent Rogers Museum in Taos and the New Mexico Fine Arts Museum in Santa Fe.
"There exists a rhythm in the land where I was born. I spend a lot of time deciphering the light, the cascades of mesas into canyons, the marriage between the earth and sky and the light as it constantly changes at whim, the intensity of rock formations, and the sage and chamisa that accent this poetic experience, unlike anywhere else I have seen. I am beckoned to remember it and then to paint it."
-Tony Abeyta
The reasons for all this acclaim are plain to see. Abeyta's work is extraordinary in its quality and wide-ranging in its scope and ambition; from abstract to realist from traditional subject matter to complete modernism. This particular painting is a perfect storm so to speak, an extraordinary combination of Abeyta's conceptual and cultural framework and his painting talents in a single work.
The painting is a total triumph of texture, color and form. Abeyta essentially "wove" in paint his own modern-day interpretation of a Navajo textile. It is at once a brilliant design idea and a masterful execution. It introduces the revolutionary thought of weaving with paint or re-imagining a traditional, historic Navajo art form (hand-woven wool on a hand-made wooden loom) with another, more modern composition of inter-related and intersecting drips and streaks of Jackson Pollock-like black enamel house paint forming "the warp" or vertical foundation threads of the weaving.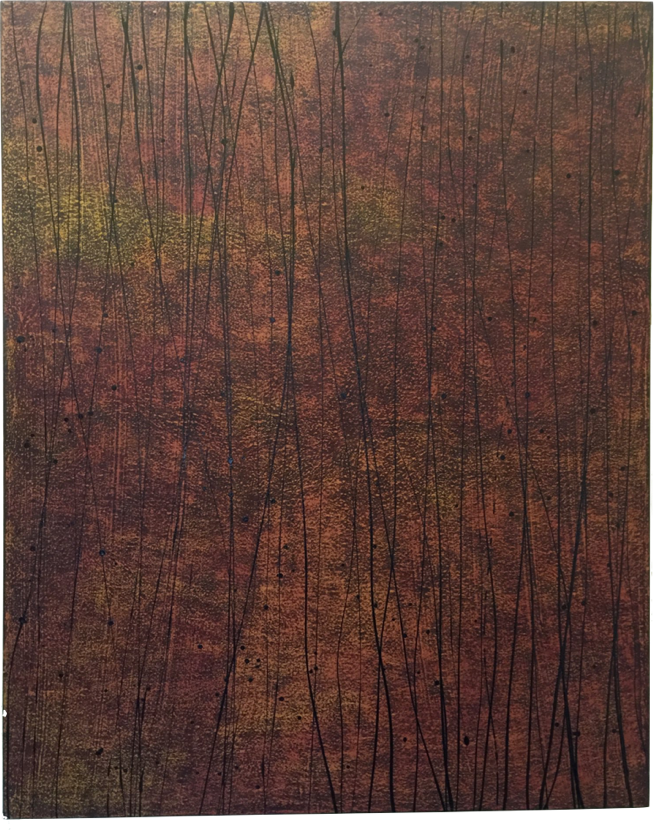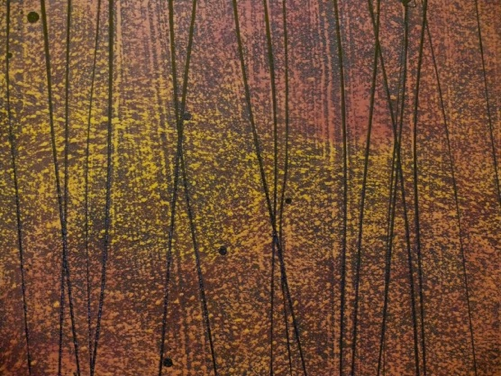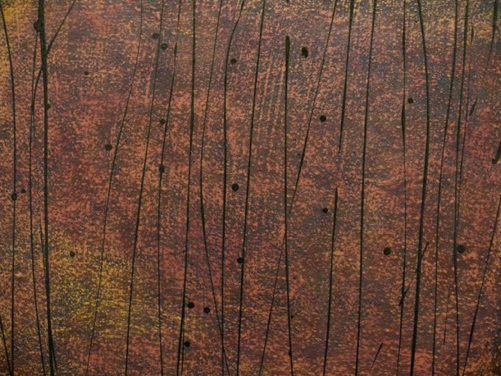 Abeyta skillfully manipulated the actual textures, colors and thicknesses of the paint layers themselves from glossy to matte from thick to thin to convey a sense of depth and of intertwining with each other. The control, precision and interplay of the brushwork and the drip painting techniques Abeyta employed here are fascinating and give the painting a unique, tactile appearance which clearly evokes the material presence of a textile and the process of weaving it. It would be a truly fascinating exercise indeed, if it could ever be done, to see how an actual hand-woven Navajo textile executed in wool to this exact design and size might look.
The painting was created in acrylic paints and black household enamel paint on canvas and measures a very good-sized 60" in height by 48" in width which, not incidentally, is about the size of a Navajo woven serape. It is beautifully signed "Tony Abeyta" and titled "The Warp" and dated "2009" on the verso. We purchased this painting from Tony Abeyta at his Santa Fe studio in 2009 just after it was completed. The painting went directly from his studio to our office wall and it has remained there ever since. It is in "like-new" original condition. We have never framed the painting, feeling that a frame would detract from, not enhance, its visual integrity and impact.
This is a truly inspired and important painting by an accomplished and highly significant Native American and world artist. It's not only a pretty face, it's also got a brilliant imaginative idea from a very keen mind behind it as its driving force. It would be a great credit to any art collection anywhere in the world.
Price available upon request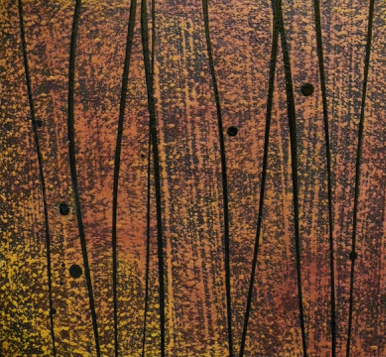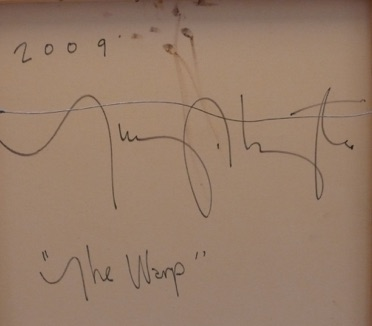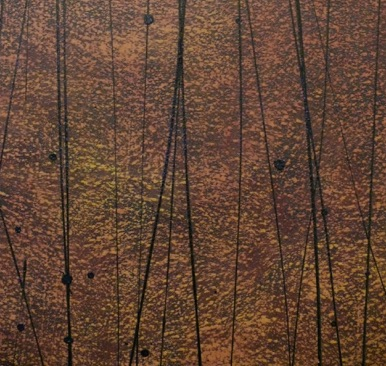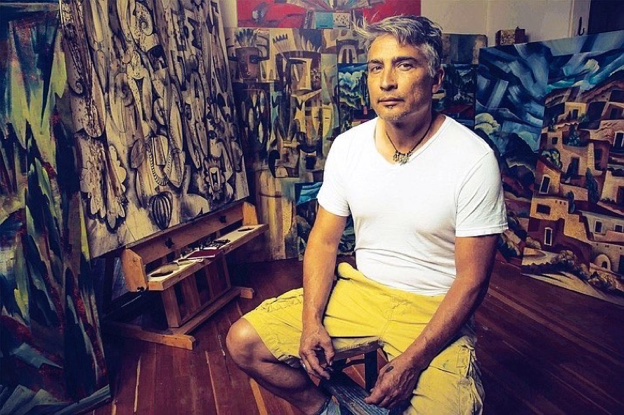 Tony Abeyta in his Santa Fe painting studio.
Photo source © and Navajo-Hopi Observer