© 2010-2021 by Fine Arts of the Southwest, Inc. All rights reserved.
Unauthorized reproduction or use is strictly prohibited by law.
A very beautiful, historic Zia Pueblo pottery "olla"
or water jar by Trinidad Gachupin Medina, c.1930-35
One of the most renowned Pueblo potters of the 20th Century was Trinidad Gachupin Medina (1884-1969) of the Keresan Pueblo of Zia, 35 miles or so northwest of Albuquerque, New Mexico. Medina was known for her graphically powerful and dynamic pottery vessels, often featuring interesting and compelling combinations of various bird designs and geometric elements using stylized bird feathers and/or feather tips.
Like the great Hopi pottery Matriarch, Nampeyo, a generation before her, Trinidad Medina enjoyed a very high degree of artistic recognition and acclaim during her lifetime as a master Pueblo potter. At various times between1930 and1946 she actually toured around the United States demonstrating her pottery-making skills in department stores and at public expositions such as Chicago's 1933 Century of Progress.
In this particular "olla" or water jar, Medina depicts three equal sized birds at equal intervals around the jar. The birds are separated by three abstract stylized geometric feather design panels also at equal intervals to themselves and to the birds. The quality and detail of the painting and the control, interplay and precision of the overall design scheme here are magnificent. Medina's vessels are also known for the quality and beauty of their shape and this one does not disappoint in any regard. The vessel's walls are even, symmetrical and extremely graceful giving the vessel a distinct lightness in feel. The stone polishing of the vessel is similarly remarkable. There is an interestingly Modernist feel to certain of Medinas vessels and it is apparent here in the visual arrangement and the distinct sense of motion and dynamism the designs impart.
The jar measures 9" in height and it is just under 10" in diameter at the widest point. The vessel has a concave, "kickup" bottom as befits its time period of around 1930-1935. Later Zia Pueblo jars generally have flat bottoms. Too, this vessel lacks the red banding around the bottom of the design field that distinguished earlier Zia vessels until the red banding was generally abandoned around the late 1920's. The vessel is unsigned as befits its early time period, but we are confident in our attribution of the jar to Trinidad Medina. However, in an abundance of caution, we consulted with the renowned historic Pueblo pottery scholar, author and former curator at numerous Museums, Dr. Edwin L. Wade, and he agreed with the attribution completely.
The vessel is in remarkably fine original, and totally unrestored condition overall especially considering it's eighty-plus years of age. A thorough ultra-violet light examination of the vessel reveals no restoration or overpainting. There are two chips in the rim, the larger of which measures around 1 1/4" by 1" and the smaller about 1/2" in width. These two chips would be extremely easy to repair by a qualified professional pottery restorer at a nominal cost of around $275-300, but we have left them "as-is" feeling that the decision to restore them or not should be left to the vessel's next owner given the completely original untouched condition of the jar. There are also some slight surface abrasions and a couple of scratches around the jar's shoulder and a certain amount of mineral depositing there. These small deposits could most likely be removed by a restorer if desired but are completely original, normal and appropriate to the intended original ethnographic use of this vessel as an "olla" or water jar. Over time and repeated usage holding water in Pueblo villages the relatively hard alkaline water in the Rio Grande valley of New Mexico can eventually leach mineral deposits through the vessel walls where they will accumulate on the surface.
This jar is a wonderful window into both the traditional creation and traditional use of one of the most traditional and crucial of all Pueblo pottery vessels in the desert Southwest, the water jar, by a master artist who infused this most traditional and utilitarian of objects with a exceptional degree of personal artistry.
Note: If the purchaser of this jar wishes to have the rim chips repaired and/or the mineral deposits removed we can arrange for this to be
done by an excellent professional restorer at an additional cost to be based upon advance approval and payment of a cost estimate.
Price $4,800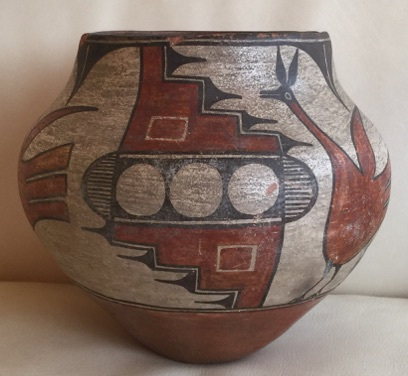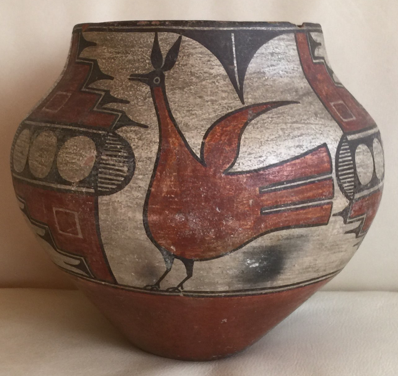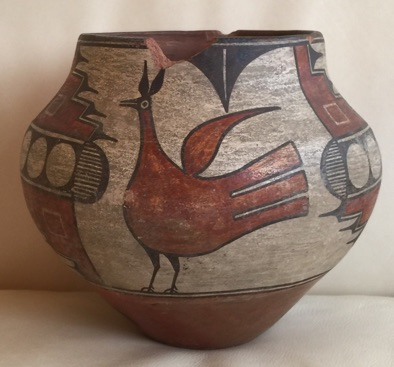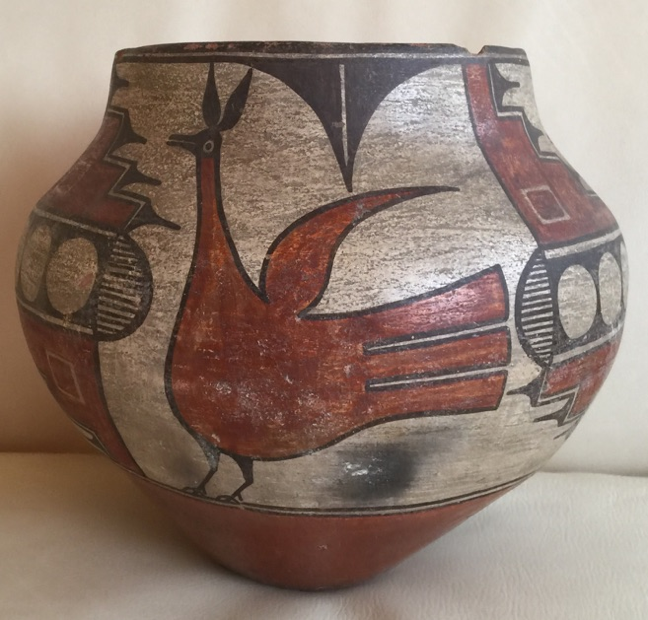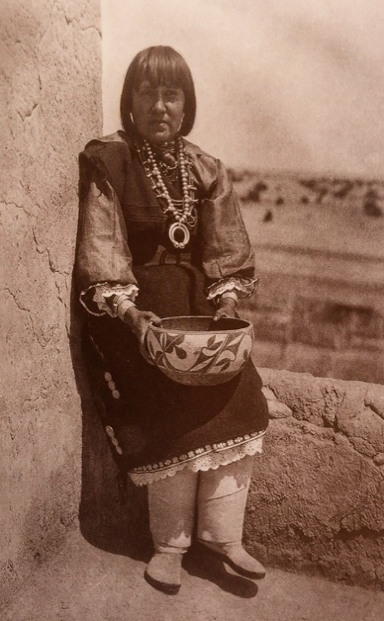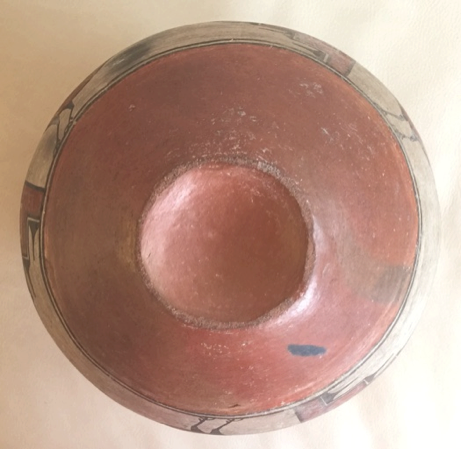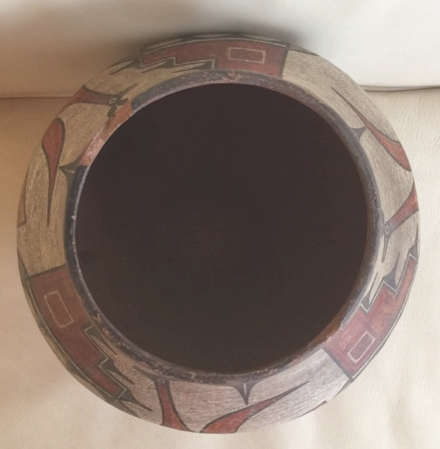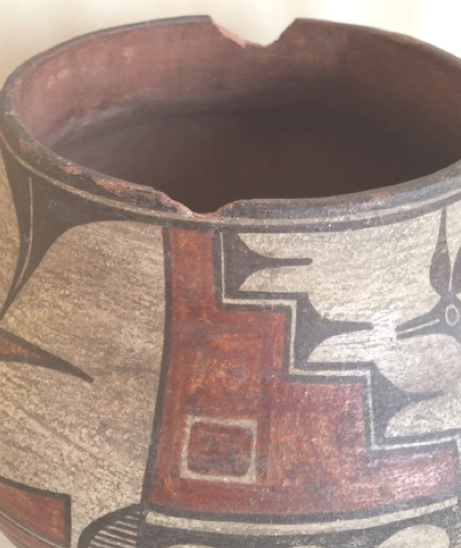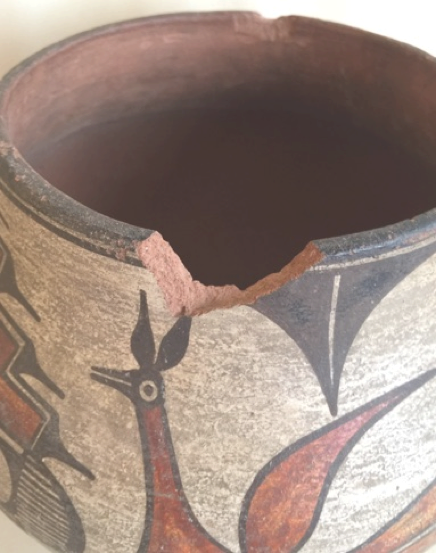 Photo of Trinidad Medina entitled "On A Sia Housetop",
Source and Copyright by Edward S. Curtis, 1925