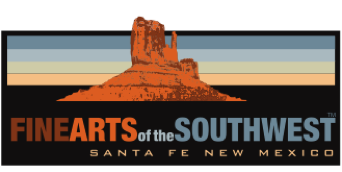 © 2010-2022 by Fine Arts of the Southwest, Inc. All rights reserved.
Unauthorized reproduction or use is strictly prohibited by law.

Two WPA-Style New Mexico hand-carved wood
treasure or document boxes, c. 1940's-50's
The correct term is "Baulito" which translates literally to "trunk" but euphemistically is more used around here to describe a "little treasure box", a place to store any variety of small treasured items; jewelry, letters, important documents or any other valuable trinkets or keepsakes.
Boxes such as these are a longstanding tradition in Hispanic Northern New Mexico and they have been made and used here for centuries, made of leather or hide or hand-carved and sometimes painted or inlaid wood. Later, after the opening of the Old Santa Fe Trail they were made of salvaged tin lard cans, wallpaper and glass and still later in the WPA Period from the late 1930's through the 1940's and 50's, back to a revival of the old hand-carved wood tradition.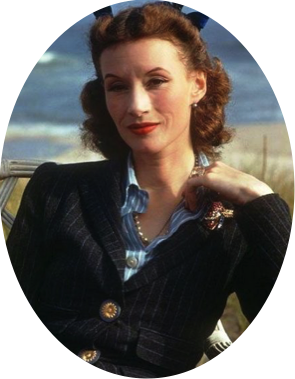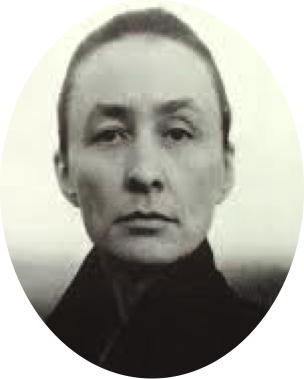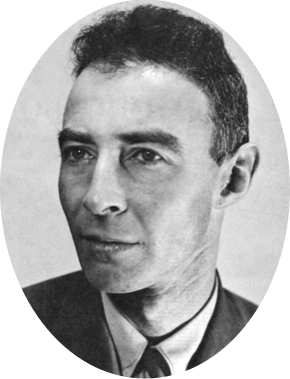 The boxes are both made of hand-carved local pine wood and they are decorated with traditional New Mexico motifs such as rosettes, chip-carving and dovetailing. We will give more specific details of each box in the individual descriptions below, but one thing these two fine pieces both have in common is their beautiful historic appearance and their complete authenticity of time and place. The construction is generally very good if a little on the rustic side and there is a certain amount of New Mexico funk evident which is totally consistent with the nature of New Mexico WPA regional workshop pieces and which only adds to the local historic charm in our view.
Both of these pieces are in original "as-found" vintage condition with some age-appropriate wear and both could benefit from some extra love if ever desired, a good furniture oil or wax application but we will leave that decision to their next fortunate owner(s). The interiors of the boxes are basically plain and unfinished, some people like to line the insides with colored wallpaper or fabric, but that is an individual choice.
So while we can't definitively claim that Millicent Rogers or Mabel Dodge kept their treasures in one of these exact boxes we can say that you certainly can keep your own love letters here or any other keepsakes you love and would like to safeguard in finest old New Mexico style.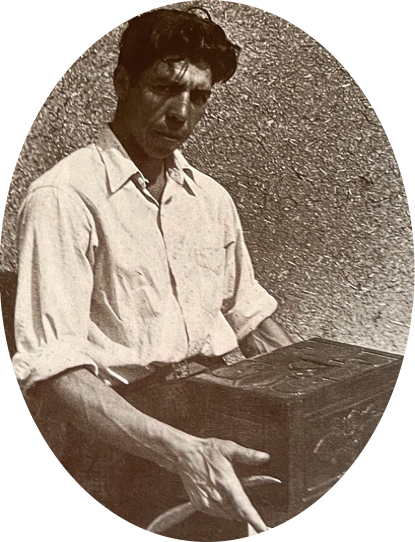 This very good sized box is verging on being a small chest and is beautifully crafted in the style of traditional
New Mexican chests which is to say its a six-board box with corner joints that are all beautifully and finely dovetailed. The box's bottom is not wood but a Masonite board panel which is common during this period.
The top of the box is most beautifully and traditionally decorated with a six-pointed carved rosette in the center bordered on both sides by finely chip carved panels. The box measures an impressive 17" in length, 10" in width and
8" in height. It is in very good original working condition with some staining here and there.
Price $925
This box features some really fabulous traditional New Mexico wood carving. The top and all four side panels have beautifully-carved high-relief raised rosette designs similar in some ways to very old Spanish leather designs which were then later adapted by the Navajo for use in jewelry.
This box measures 11 1/2" in length, 9" in width and 4 1/4" in height. It is in very good original working condition
with a few scratches and some slight warping in evidence because the wood is a little dry and could probably use some conditioning, a decision which we will leave up to the next lucky owner.
Price $675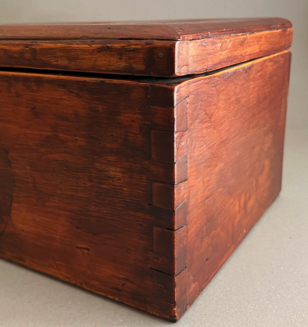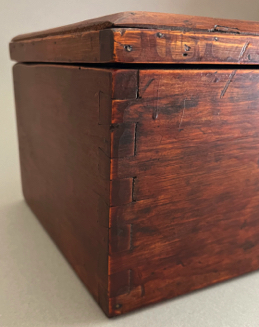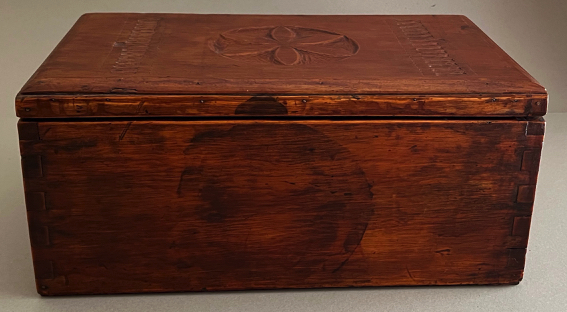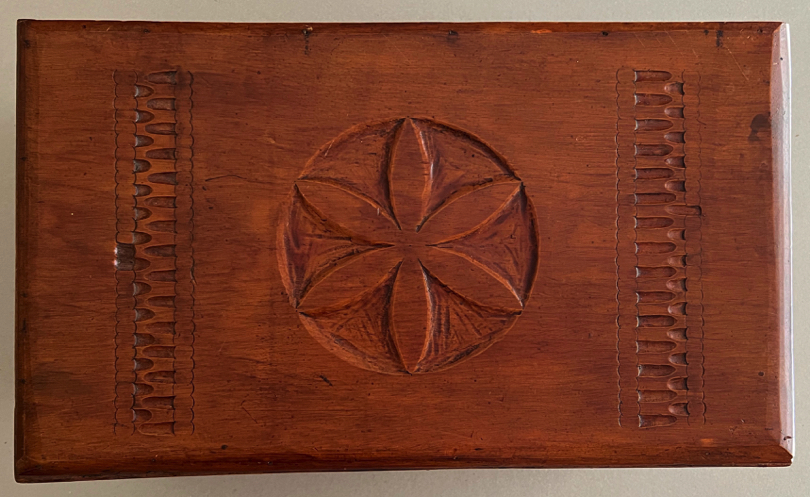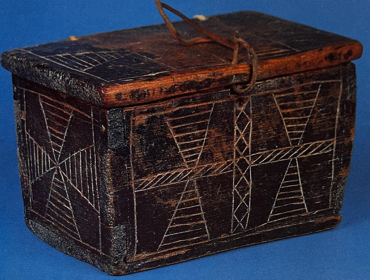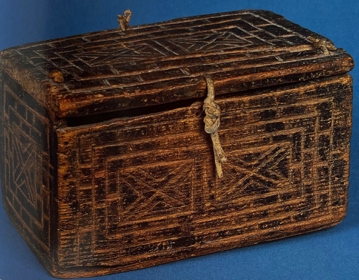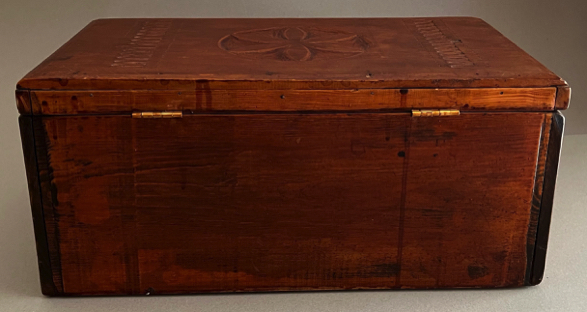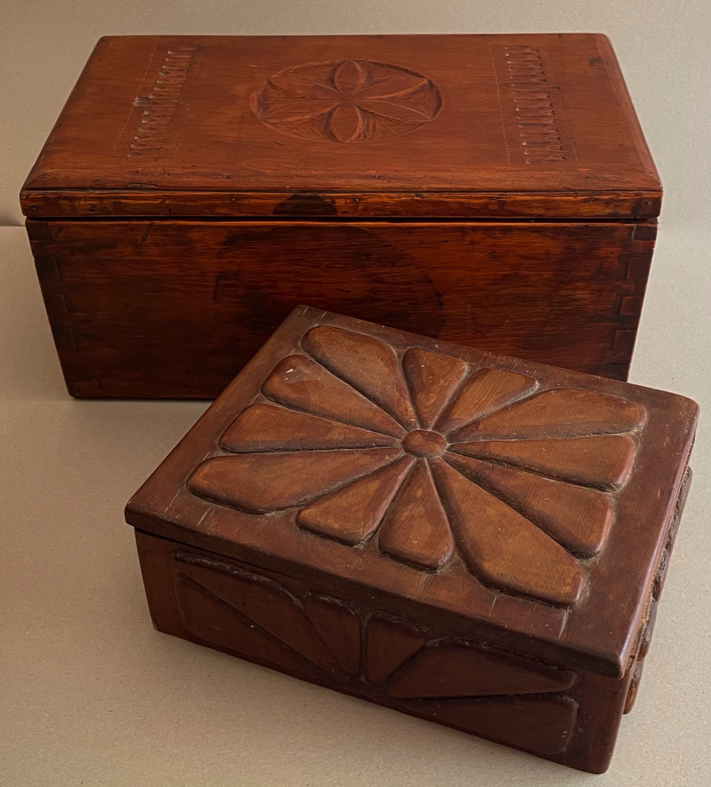 At left and right, historic New Mexican carved wood "baulitos" or document boxes, c. 1800. At center, "Spanish American boy with a chest which he carved", Chamisal, NM 1940.
Left and right photo source and © "A Land So Remote", Volume 3, by Larry Frank and Skip Miller, Red Crane Books, Santa Fe, 2001,
pp. 195-196. Center photo source and © "Sin Nombre", by Tey Marianna Nunn, University of New Mexico Press, 2001, pp. 22.
At left, New Mexico artist Georgia O'Keeffe, c. 1940's. At center, Taos, New Mexico socialite and artist Millicent Rogers, c. 1940's. At right, Manhattan Project Director, Physicist, J. Robert Oppenheimer, Los Alamos, New Mexico, c. 1940's.
Left photo source and © O'Keeffe Museum, Santa Fe, NM. Center photo source and © nasvete. Right photo source and © Wikipedia.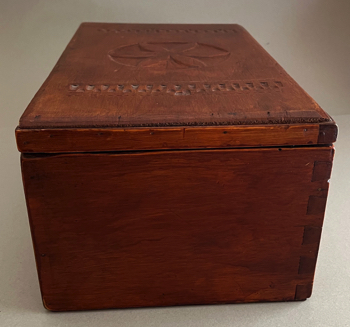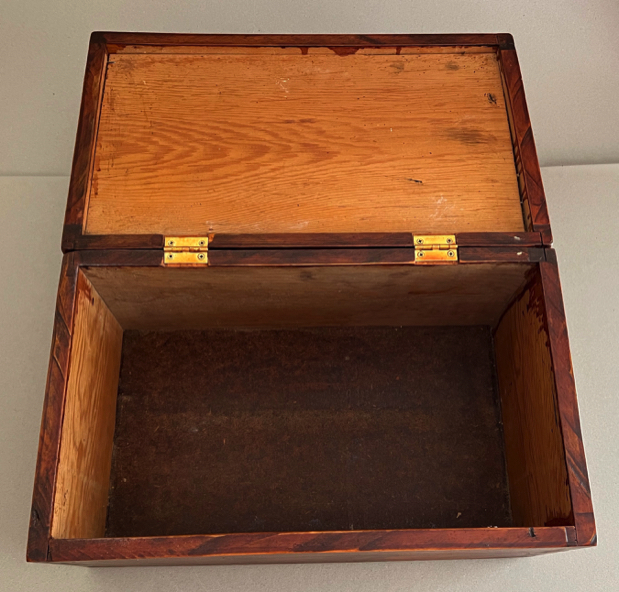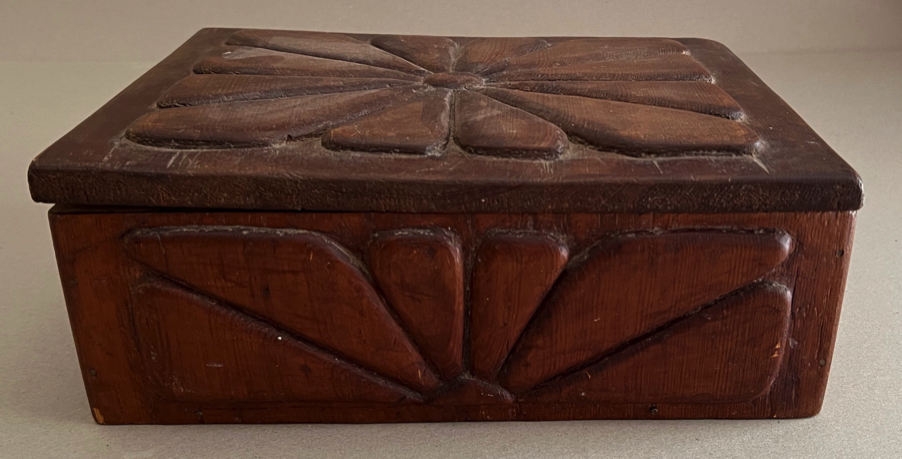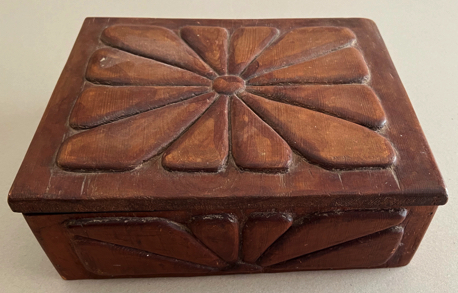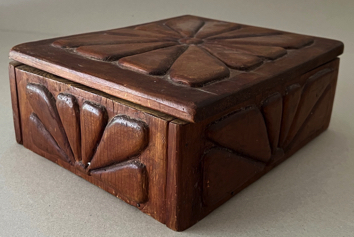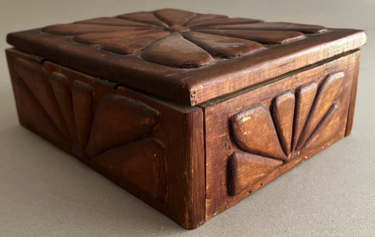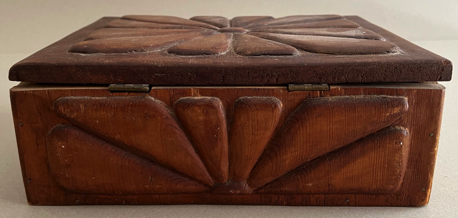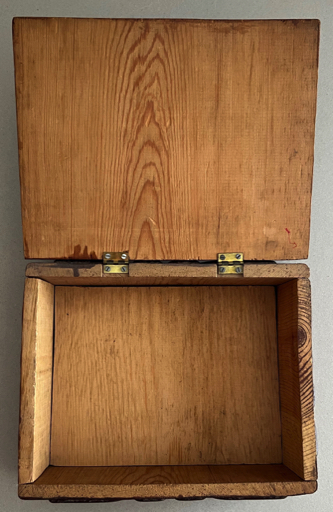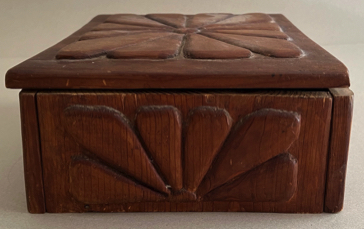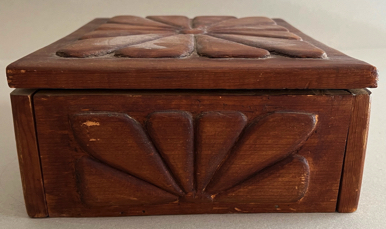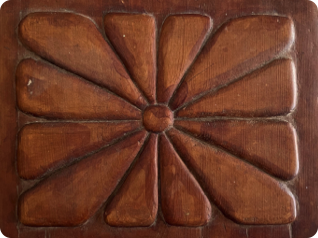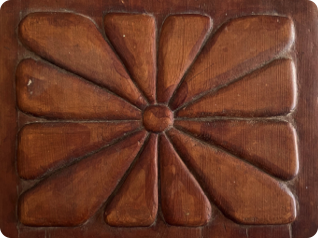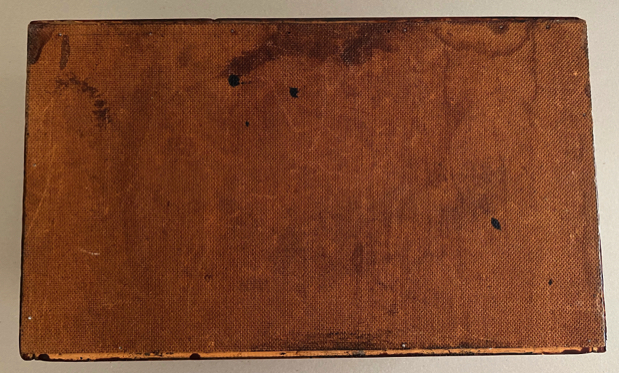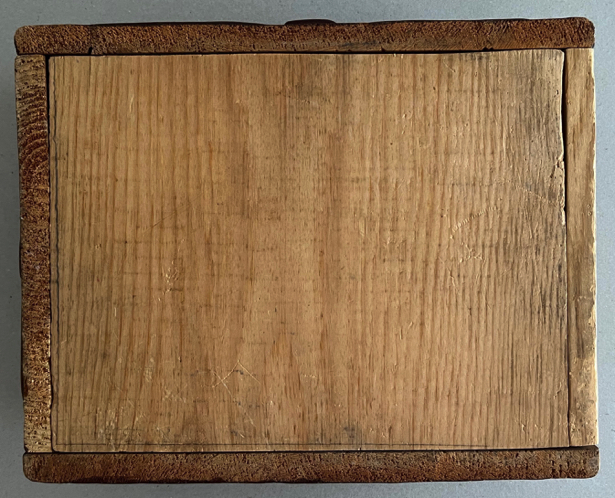 "The WPA (Works Progress Administration) was created during this time to support unemployed artists throughout the country. In New Mexico, 160 artists created public art in 29 New Mexican communities. The WPA supported a wider range of projects in public buildings and supported artists and craftsmen making prints, paintings and photographs, as well as traditional Hispanic and Native American artworks."
-Quotation source and © Wikipedia
The WPA-Period in New Mexico was a period of extraordinary artistic fluorescence and expression and the "revival" of traditional craft arts across a wide variety of disciplines from furniture-making to carved wooden devotional objects such as santos, bultos and retablos, tinwork, painting, Colcha embroidery and other weavings, printing and photography.
Because this is deeply historic small community and village Northern New Mexico, a place which is generally filled with a multitude of interesting and unique characters where everybody often knows everybody else and everybody else's business, it is naturally interesting to speculate upon who might have formerly owned and possibly used these excellent boxes. Possibly it was renowned socialite and artist Millicent Rogers of Taos perhaps for her many love letters or maybe fellow Taos art Doyenne, Mabel Dodge for her correspondence with writer D.H. lawrence or artist, Georgia O'Keefe, of Abiquiu for the many letters she received from Alfred Steiglitz? Or did the brilliant Physicist J. Robert Oppenheimer use one of these to hold his ultra top secret papers during the Manhattan Project building the atomic bomb at Los Alamos? It's an interesting and endlessly enjoyable historic speculative exercise to consider to be sure.