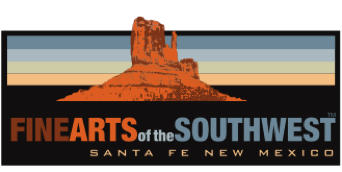 © 2010-2023 by Fine Arts of the Southwest, Inc. All rights reserved.
Unauthorized reproduction or use is strictly prohibited by law.
A beautiful, historic "UITA 21" Navajo
Sterling silver cuff bracelet, Southwest Arts
and Crafts, Santa Fe, NM, c.1931-1940's
This bracelet is a fascinating piece of old Southwestern and old Santa Fe history. Interestingly, it can be fairly and precisely fixed as to the time and place of when and where it was made and even possibly by whom. The time was the early 1930's to 1940's and the place was Santa Fe, New Mexico at the prestigious Indian trading company of Julius Gans known as Southwest Arts and Crafts.
The United Indian Trader's Association or U.I.T.A., founded in 1931 was a voluntary organization made up of the leading Indian traders of the day organized to promote and enforce the highest quality standards for the creation of genuine traditional Indian Arts and Crafts. The members were a veritable who's who of the leading Indian traders of their day
and all pieces certified by UITA and stamped with their unique arrowhead hallmark had to pass a rigorous set of quality inspections regarding the materials and techniques used. Each member of UITA was assigned a specific numeric code which all pieces sold by them had to be stamped with.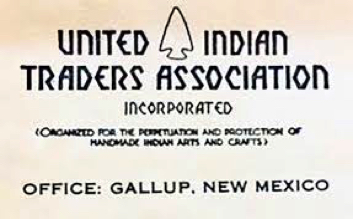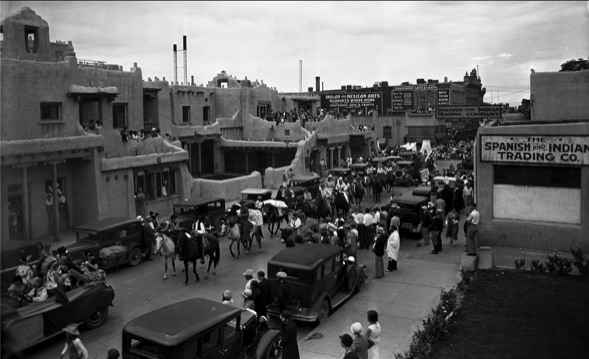 "The best of the genuine."
-Julius Gans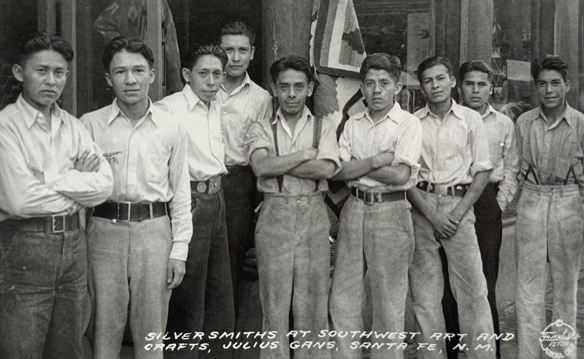 At left, San Francisco Street in downtown Santa Fe. The Southwest Arts and Crafts building sign can be seen at top center.
At right, some of Southwest Arts and Crafts Native silversmiths in front of the store, 1935. Mark Chee is pictured at second from left.
Left photo source and © T. Harmon Parkhurst, The Santa Fe New Mexican, c. 1925-45. Right photo source and © Frashers Fotos
One of the most prestigious Indian trading companies of the time was Julius Gans' Southwest Trading Company of Santa Fe, New Mexico. Julius Gans was an enterprising and dynamic trader who employed at one time or another a veritable All-star team of some of the finest Native American silversmiths in the business; the Roanhorse brothers, Ambrose and Sam, Mark Chee and the fine Cochiti Pueblo silversmith David Taliman among others. The numeric code assigned by UITA
to Southwest Arts and crafts was "UITA21" which is the stamp this bracelet is marked with.
This bracelet could very easily have been made by any one of Southwest Arts and Crafts' ace silversmiths; it most resembles in our minds the work of Ambrose Roanhorse but it could easily have been made by his brother Sam or even possibly by Mark Chee or David Taliman or a number of others. The design is a beautiful repeating pattern of nine perfectly-executed diamond-shaped Navajo textile-style designs running across the center of the bracelet's shank.
"The United Indian Traders Association (UITA) was established on September 13, 1931 for the expressed purpose of authentication of Indian crafts. At the time, the UITA as an important player both in Indian cultural life and in advocating for the sale of authentic Indian arts and crafts.
UITA was incorporated as a non-profit in New Mexico, with the support of a number of traders and San Francisco attorney Charles Elkus. Bert Staples (Coolidge, NM) was UITA's first President, R. C. Master (Zuni, NM) was Vice President, C. N. Cotton (Gallup, NM) served as Treasurer and Tobe Turpen (Gallup, NM) was Secretary. Directors included L. L. Sabin, C. G. Wallace, J. M. Drolet, Ramon Hubbell, Lloyd Ambrose, Bruce Barnard and Mike Kirk. All of the founding directors and officers were veteran owners of trading posts in the Southwest. The founding membership of 753 grew to over 125 in about 10 years."
-Quotation source and © Bille Hougart Books
This bracelet is a serious documented Southwest and Santa Fe piece of history as well as a very beautiful and wearable piece of jewelry and is thus well worthy of serious consideration. It's not very often in ninety or so year old historic Navajo silver bracelets that you have a specific time, a specific place and a select group of specific makers let alone on such a particularly attractive and well made piece; it's a rare, unique and desirable occurrence and provenance indeed.
SOLD
The stamped designs stand out beautifully from the polished silver background and they have a very striking classic yet somewhat Modernist look and feel which again points to Ambrose Roanhorse as possibly being the maker in our opinions. Another few words of admiration about the remarkable stamp worked designs, the stepped crosses inside of each of the diamond-shaped motifs look raised up, but they are actually not. The illusion of them being raised comes from the stamping inwards of the diamond motifs which surround them, the quality and cleanliness of how perfectly this work
was done is truly amazing.
The bracelet measures 1" in width all the way around. The inner cisumference end-to-end is 5 5/8" and the gap between
the terminals is 1 1/16" for a total interior circumference of 6 11/16". The bracelet weighs am extremely comfortable 53 grams or 1 7/8 ounces.The bracelet is in excellent original condition with a small amount of age-appropriate wear and a fine patina. The bracelet is properly signed "UITA 21" on the interior and is also marked "Sterling".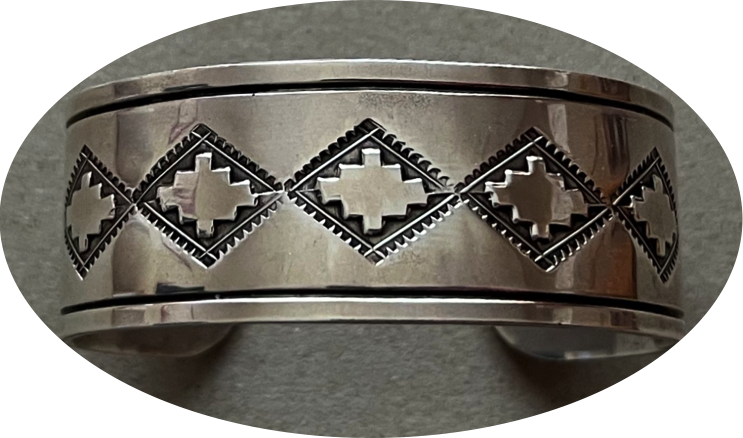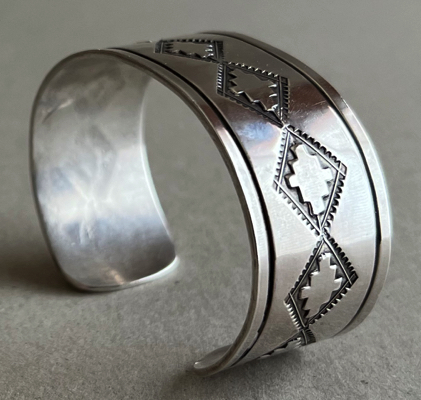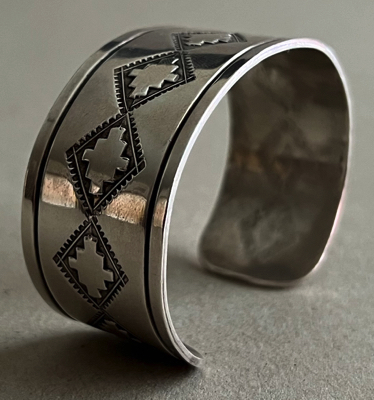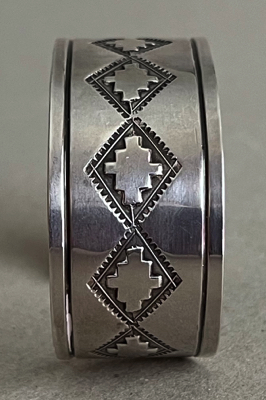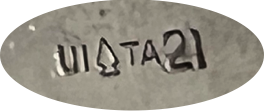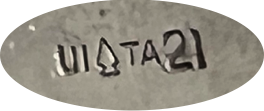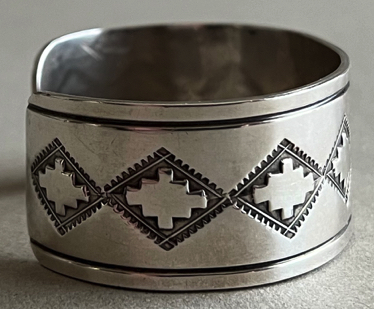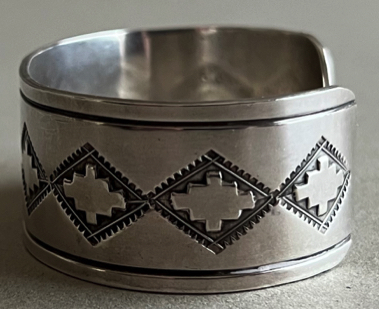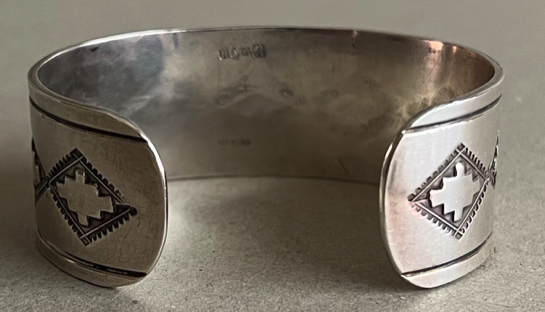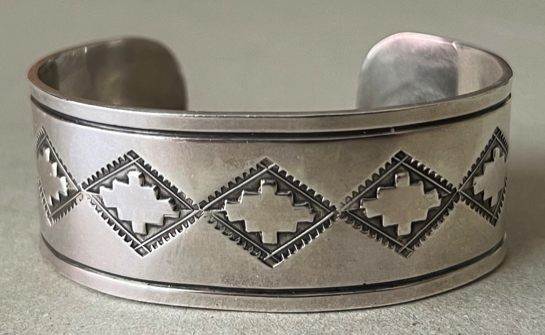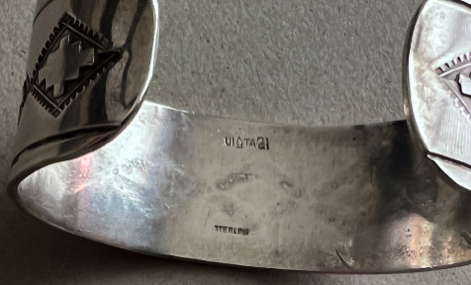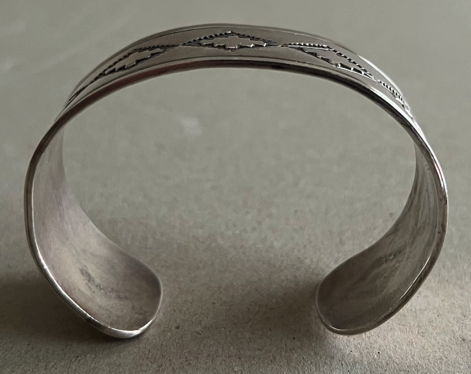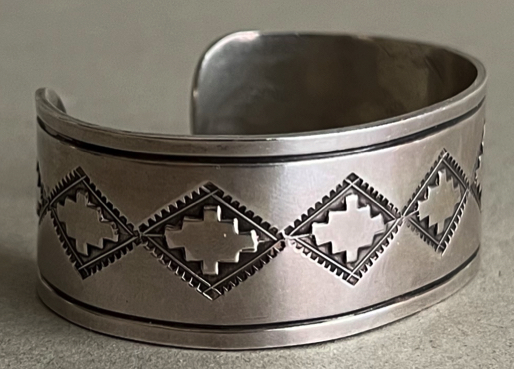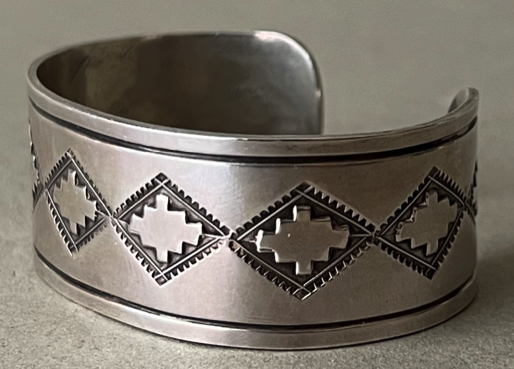 Note: Photo above at very top left and right, Southwest Arts and Crafts sales catalog, c. 1934.
Photo source and © "The Native American Curio Trade in New Mexico", by Jonathan Batkin, Wheelwright Museum, 2008, pp. 155.
UITA's business card, c. 1931.
Photo source and © Bille Hougart Books
Detail of early Navajo Classic-Period poncho serape, 1840-1860.
Photo source and © 2002 "Southwest Textiles" by Kathleen Whitaker, Southwest Museum, Los Angeles, pp.44-45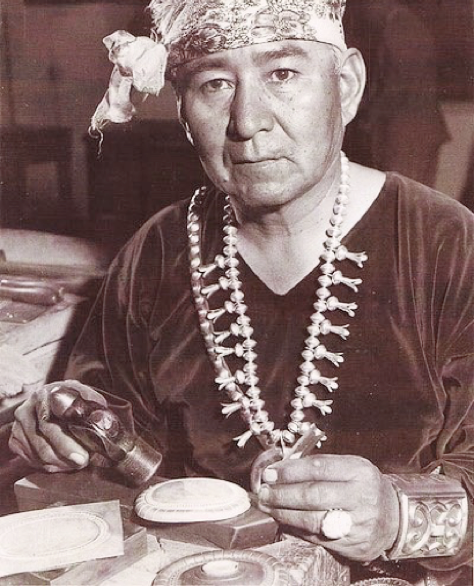 Navajo silversmith Ambrose Roanhorse, c. 1940's