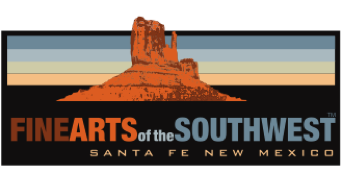 © 2010-2021 by Fine Arts of the Southwest, Inc. All rights reserved.
Unauthorized reproduction or use is strictly prohibited by law.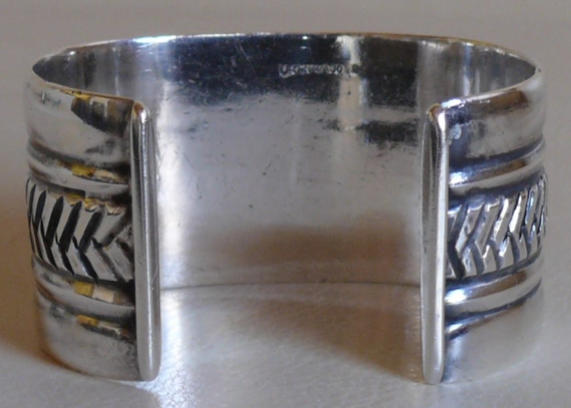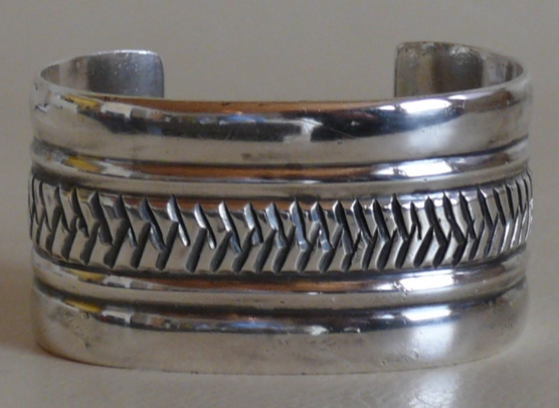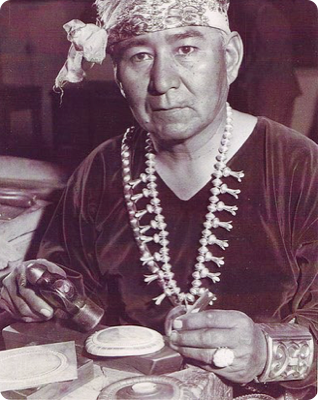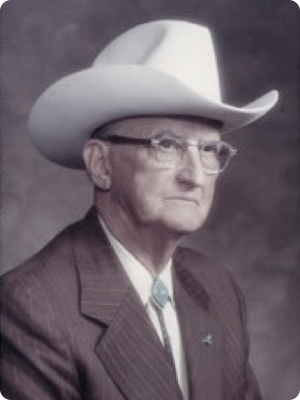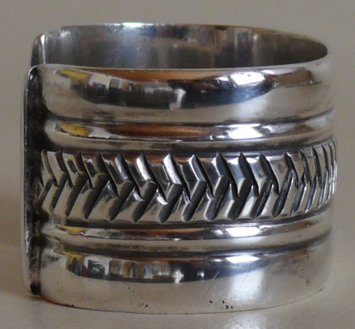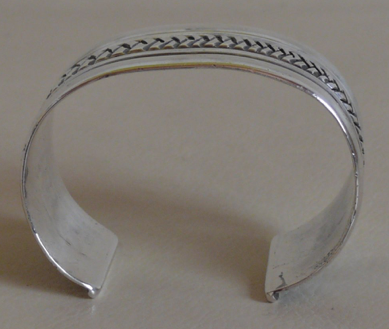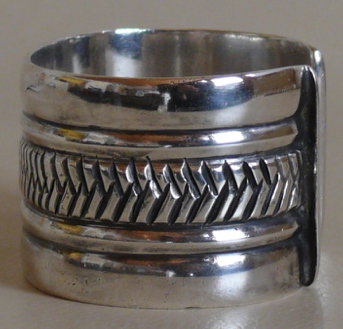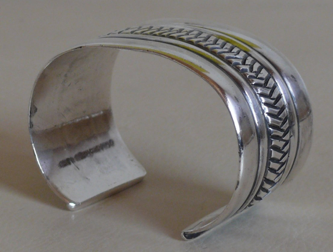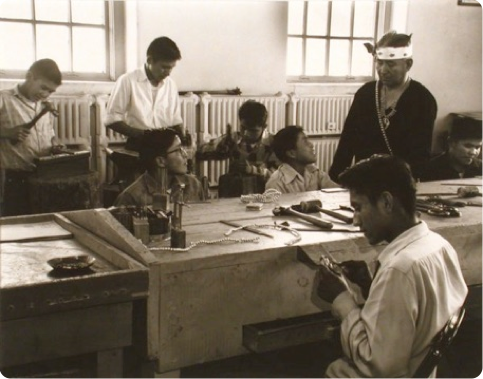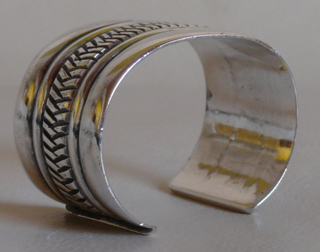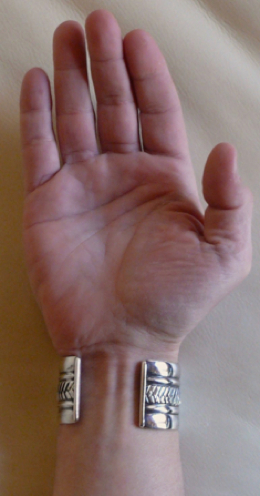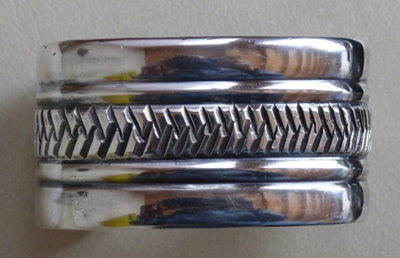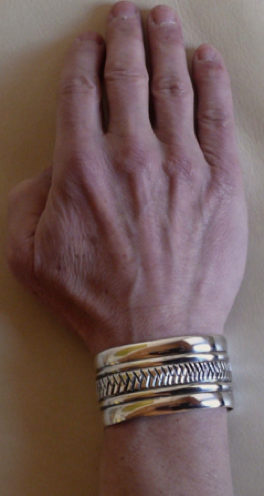 A "U.S. NAVAJO 2" cast-silver cuff
bracelet of outstanding quality attributed
to Ambrose Roanhorse, 1938-1942
The creation of this marvelous bracelet involves an interesting cast of some of the most famous and accomplished characters in the 20th Century Southwest. First, are the greatest Navajo silversmith of his time, Ambrose Roanhorse (1904-1982), and the most influential Indian trader of his time, Charles Garrett (C.G.) Wallace (1898-1993) and then, a bit more peripherally, the renowned Austrian-born art curator and teacher, Count Rene d'Harnoncourt (1901-1968), whom the U.S. Government had recruited to be Director of the Indian arts and Crafts Board (IACB), a New Deal agency created to revive Native American arts and crafts. d'harnoncourt, in turn, promptly recruited Ambrose Roanhorse as his advisor and co-manager.
In 1938, d'Harnoncourt and Roanhorse initiated the "U.S. Navajo" and "U.S. Zuni" inspections program designed to create, ensure and enforce the highest possible standards of quality in traditional craftsmanship and materials used in making Native American jewelry sold across the Navajo, Zuni and other Indian reservations. Member organizations included various individual trading posts, Indian schools such as those in Santa Fe and Fort Wingate and arts and crafts guilds. Each member organization received a specific numeric designation and only jewelry produced to the IACB'S exacting standards would be officially approved for sale and marked as such with the appropriate "U.S. Navajo" or "U.S. Zuni" numeric Designation. Ambrose Roanhorse personally made all the various "U.S. Navajo" stamps himself and he also personally applied the appropriately numbered stamps to the pieces of jewelry only after he had personally inspected them and approved of their superior quality.
Since the IACB program lasted only four years, the number of officially-approved and stamped "U.S. Navajo" pieces is extremely small, so they are quite rare. And even though the various "U.S. Navajo"-designated pieces are all made to a consistently high standard of quality, this particular bracelet stands head and shoulders above most of the others we have seen, which is the most important factor in our attribution of the piece's maker as actually being Ambrose Roanhorse himself.
Charles Garrett (C.G.) Wallace, circa 1960
Photograph copyright Gene Cain
Ambrose Roanhorse, circa 1950
Furthermore, Roanhorse had a close professional and personal association with and also a close geographic proximity to C.G. Wallace from the beginning of both of their respective careers (Wallace in Gallup, NM, Roanhorse only a few miles away at Fort Wingate) which is yet another determining factor here. The designation "U.S. Navajo 2" itself has an interesting sidebar story in that Wallace tried mightily to obtain the "U.S. Navajo 1" designation for his post feeling that having the number "2" somehow implicitly communicated that he was second best. He did not get "U.S. Navajo 1" which went instead to his former boss and sponsor and now competitor, Louis Ilfeldt of Gallup Mercantile. Wallace, however, was successful in obtaining the "U.S. Zuni 1" designation for his trading post in addition to "U.S. Navajo 2.".
The design, detailing and craftsmanship of this bracelet are all superbly done. The center panel features a strikingly stamped or chiseled overlapping design which creates an interesting optical effect that makes the silver appear to have been braided. There is a distinctly modernist sensibility to this piece which is in keeping with other work of Roanhorse's we have seen both under his personal signature, in the "U.S. Navajo" jewelry program and also under the auspices of the Navajo Arts and Crafts Guild of which Roanhorse was the original co-founder.
The bracelet measures 1 1/4" in width all the way around. The inner circumference end-to-end is 5 1/2" and the
gap between the terminals is 1 3/16" for a total interior circumference of 6 9/16" and it weighs a substantial
78 grams or 2 3/4 ounces. It is in excellent original condition with the assortment of age-appropriate nicks and scratches which one would naturally expect to find in a well-used piece of its age and it has a particularly fine patina from its decades of dedicated use. The bracelet is properly stamped "U.S. Navajo 2" on the interior by Ambrose Roanhorse.
This bracelet is a rare, historic and extremely attractive piece of jewelry and American Southwestern history; it represents and is symbolic of a coming together, if you will, of several talented people from different cultures and origins with similarly high ideals, high standards and extraordinary abilities all for the same significant purpose, the promotion and perpetuation of a unique traditional Native American art form.
Price $3,950
Ambrose Roanhorse with his silversmithing students at the Fort Wingate,
New Mexico Indian school, circa 1930's. Photo copyright by Laura Gilpin