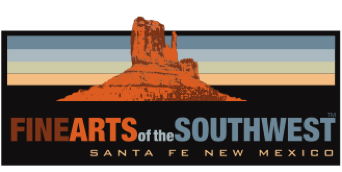 © 2010-2021 by Fine Arts of the Southwest, Inc. All rights reserved.
Unauthorized reproduction or use is strictly prohibited by law.

A rare and beautiful "U.S. NAVAJO 2" Navajo ingot-silver and turquoise bracelet made for the C.G. Wallace Trading Post at Zuni, New Mexico, between 1937 and 1942, possibly by Austin Wilson
Any piece marked "U.S. Navajo" is immediately ranked among the rarest, most desirable Navajo jewelry pieces ever, since only a very small amount of them were ever made and all were made to an extremely high standard of quality for a very short period only, 1937 to 1942, under the strict auspices of the United States Government's Indian Arts and Crafts Board (IACB) directed by the world-famous jeweler and educator, Rene D'Harnancourt and the renowned Navajo silversmith and jewelry teacher, Ambrose Roanhorse (1900-1981). Roanhorse, one of the finest silversmiths and effective educators of his time, was personally recruited by D'Harnancourt to supervise the IACB program, to hand make all the various "U.S. NAVAJO" stamps, and, later, to personally inspect all the finished jewelry pieces submitted to see if they met the required stringent standards of excellence in materials, design and craftsmanship.
Only then could the appropriate "U.S. Navajo" quality stamp be applied to the piece. Ambrose Roanhorse was the only person ever authorized by the IACB to actually apply the stamps to the jewelry. The various specific numeric designations following the "U.S. Navajo" prefix correspond to the few individual private companies, Indian Schools and other organizations who were officially licensed to produce and sell IACB-approved silver jewelry.
"U.S. NAVAJO 2" was the designation assigned to the famous trader, Charles Garrett (C.G.) Wallace's trading post at Zuni, New Mexico. Wallace was somewhat displeased with the fact that his post received the "U.S. Navajo 2" designation as he would have preferred to have what he considered to be the more prestigious "U.S. Navajo 1" designation, but the Ilfeld Trading Company of Gallup, New Mexico, his former employer and competition, beat him to it. (However, Wallace was able to receive the IACB's "U.S. Zuni 1" designation for his trading post's Zuni jewelry.)
C.G. Wallace Trading Post, circa 1930's
© Gene Cain Collection
C.G. Wallace (1898-1993) was one of the most influential and successful Indian traders of the 20th Century.
He cultivated a discerning, high-end clientele to whom he sold the very finest handmade Navajo and Pueblo jewelry and other Native crafts of the day; pottery, weavings, fetishes etc. The silversmiths and other jewelry artists who worked for Wallace were an exclusive and elite group which, at various times, included such luminaries as Austin Wilson, Kathy Wilson, Leekya Deyuse, Lambert Homer, Daisy Hooee, Leo Poblano, Ambrose Roanhorse, Roger Skeet Sr. Roger Skeet, Jr. and Teddy Weahkee. Wallace always supplied his artists with the finest possible raw materials, the highest-grades of turquoise and the choicest coral for the Navajo silversmiths and various other inlay materials for the Zuni silversmiths. 
Although this bracelet is not signed with the individual hallmark of the artist who crafted it, in keeping with the customary directives for Navajo jewelry made under the auspices of the IACB (only the tribal designation, "U.S. Navajo" and the specific organization code, "2" were allowed), we believe that Austin Wilson (1900-1976) is likely its maker for several important reasons. First off, Wilson was Wallace's "go-to" guy for making the finest traditional, old-style Navajo jewelry and this splendidly-crafted, ingot-silver bangle is right down the middle of the bowling alley.
It would be very difficult to find a more finely and traditionally-crafted bracelet--the silver work, stamp work and stone work are all exceptionally well done in keeping with Wilson's outstanding abilities. The bracelet is set with three matched, extremely beautiful, hand-cut rectangular pieces of sky-blue turquoise possibly from the Cerrillos, NM or Bisbee, AZ turquoise mine. The stones are nicely set in old-style "foldover" type silver bezels which have been very finely serrated although some of the fine serrations have been worn down over time. The stamp work decoration along the bracelet's shank is beautifully executed and very classic period Navajo in style; simple, elegant and restrained.
The bracelet measures 1/2" in width at its widest center point and tapers down gradually to 1/4" in width at the terminals. The interior circumference end-to-end is 5 1/4" and the gap between the terminals is 1" for total interior circumference of 6 1/4". It weighs a very comfortable 31 grams or 1 1/8 ounces and it is in excellent original condition with age-appropriate wear and a gorgeous soft patina from many years of use. One of the turquoise stones is very slightly loose, but completely secure in its bezel. The bracelet was properly stamped "U.S. Navajo 2" by Ambrose Roanhorse on the interior.
This bracelet is like an all-star team roster of historic Navajo jewelry. After all, how many more famous names can be so closely associated with one single piece of jewelry than C.G. Wallace, Ambrose Roanhorse, U.S. NAVAJO, and, possibly, Austin Wilson? This is an exceptionally handsome, beautifully-crafted and exceedingly rare piece of Southwestern jewelry art and history. Any serious Indian jewelry aficionado lucky enough to see you wearing it will likely try to buy it.
SOLD