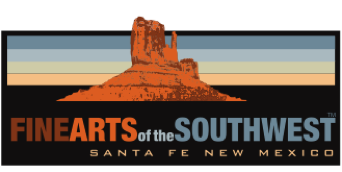 © 2010-2021 by Fine Arts of the Southwest, Inc. All rights reserved.
Unauthorized reproduction or use is strictly prohibited by law.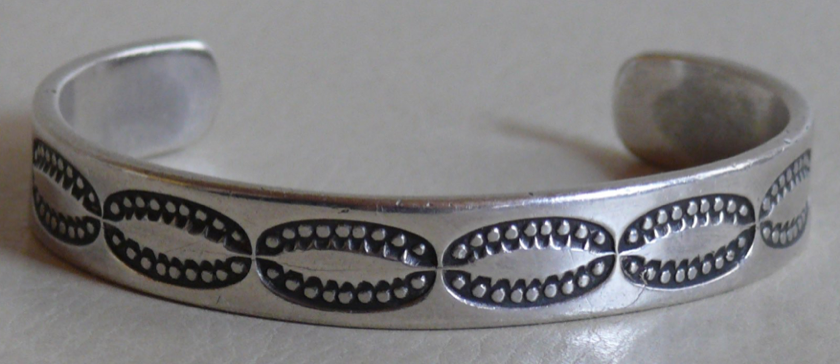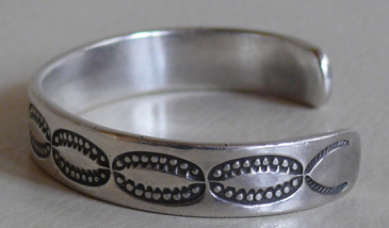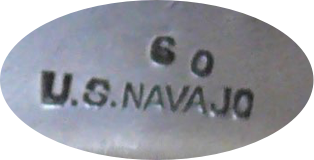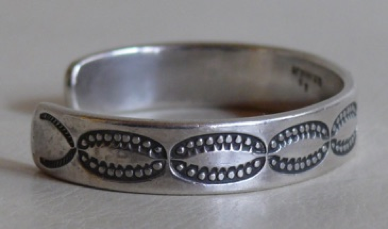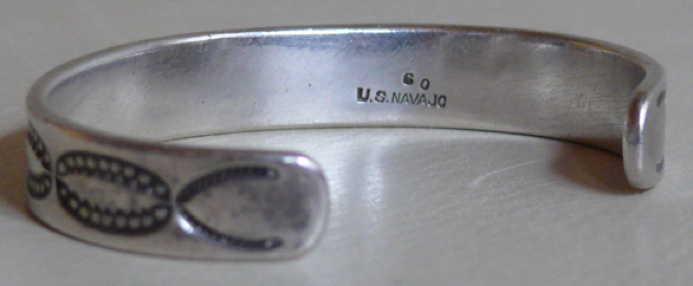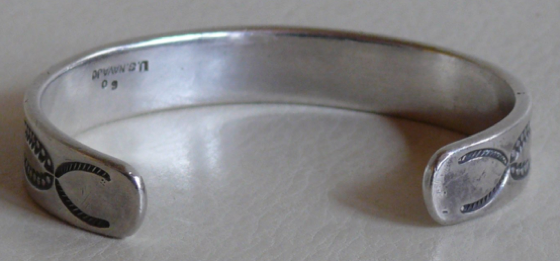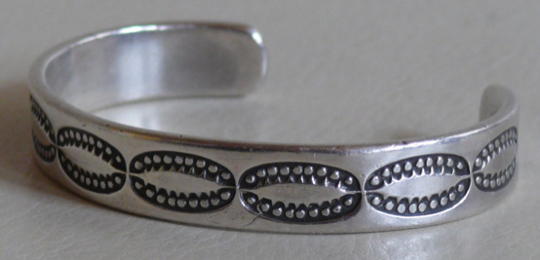 An exceptionally rare and historic "U.S. Navajo 60" silver bangle bracelet made at The Santa Fe Indian School between 1937 and 1942, very possibly by Ambrose Roanhorse
It is most unusual to find older historic Navajo jewelry which is clearly marked with a definitive indication of precisely when and where it was made and possibly also by whom. It is even more unusual when numerous individuals and places of such talent and historic importance are involved.
The United States Government's Indian Arts and Crafts Board's organized attempt in the mid 20th Century to promote and safeguard the creation of the highest-quality of Navajo and Pueblo jewelry possible was organized under and coordinated by two artistic giants; the internationally-renowned art and antiquities authority, teacher and art promoter, Rene D'Harnoncourt and Ambrose Roanhorse, Navajo silversmith extraordinaire, founding Director of the Navajo Arts and Crafts Guild and Chief jewelry instructor at The Santa Fe Indian School.
A strictly limited number of organizations; Indian schools and commercial Indian trading posts were licensed to make jewelry under this IACB program which lasted only five years from 1937-1942. The standards for materials and techniques were extremely high and the inspection and approval process was extremely rigorous to ensure that only the finest pieces could receive the Indian Arts and Crafts Board's coveted stamp of approval. Participating organizations were issued specific numeric codes with which their approved jewelry would be marked. All of the various "U.S. Navajo" stamps were personally made by Ambrose Roanhorse and each of the finished pieces of jewelry was also personally inspected by Roanhorse. If he approved it, he would then personally apply the prestigious "U.S. Navajo" stamp along with the appropriate numeric code after which the finished piece could then be sold at a premium due its official "U.S. Navajo" designation.
All "U.S. Navajo" marked jewelry is rare and difficult to come by due to the high standards of the IACB program and its very short duration, but of the various "U.S. Navajo" designations, "U.S. Navajo 60", the stamp on this bracelet, is most likely the rarest of all. The Santa Fe Indian school was primarily an educational organization, not really a commercial sales enterprise such as "U.S. Navajo 2", C.G. Wallace's trading post in Zuni, New Mexico or "U.S. Navajo 1", Charles Ilfeldt's trading post in Gallup, New Mexico. This is only the second "U.S. Navajo 60" piece that we have ever seen in over 30 years of buying and selling historic Navajo jewelry. It is even more significant because of the very strong possibility that Roanhorse not only applied the "U.S. Navajo" stamp of approval, but that he likely made the bracelet as well. At the same time Roanhorse was administering the "U.S. Navajo" inspection program for the IACB, he was also chief jewelry instructor at the Santa Fe Indian School and this classic, perfectly-stamped bangle sits exactly at the precise intersection of both his spare modernist design sensibility and his extraordinary level of traditional silversmithing ability.
The bracelet is for the small-to-medium sized wrist. It measures 3/8" in continuous width along the length of the shank. The interior circumference end-to-end is 4 13/16" and the gap between the terminals is 1 3/16" for a total interior circumference of 6". It weighs an extremely comfortable but substantial 24 grams or slightly under 1 ounce and it is in excellent original condition with a beautiful, fine, soft patina from age and use. This bracelet is an extremely lovely and finely-crafted piece of jewelry that is also a rare and coveted slice of Santa Fe, Southwestern and American history.
Price $2,400