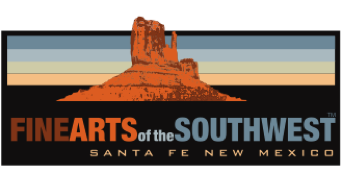 © 2010-2021 by Fine Arts of the Southwest, Inc. All rights reserved.
Unauthorized reproduction or use is strictly prohibited by law.

A superb pair of Hopi silver "Signature" style stud earrings by Verma "Sonwai" Nequatewa, 2015
THESE ARE AN ABSOLUTELY WONDERFUL pair of classic square silver stud earrings by the renowned Hopi jewelry artist, Verma "Sonwai" Nequatewa (b.1949), niece, former longtime apprentice and colleague of her Uncle, legendary Hopi jewelry master, Charles Loloma (1921-1991). Verma's life's work to date was importantly recognized in October of 2018 with a major retrospective exhibition by The Heard Museum in Phoenix, Arizona.
These square-shaped stud earrings prominently feature Verma's beautiful "Sonwai" signature. "Sonwai" in the Hopi language is the feminine form of the English word for "beauty" as "Loloma" is the male form of the same word. In the late 1970's and 1980's Charles Loloma made a number of pairs of stud and dangle earrings using his uniquely beautiful engraved signature as the design motif and Verma has fittingly continued that elegant tradition here.
The earrings are very subtly contoured to fit and accentuate the ear perfectly. The earrings measure 1/2" inch square and they weigh an extremely comfortable 2 grams or a little less than 1/10 ounce each and they are in pristine, like-new original condition. We purchased these earrings directly from Verma Nequatewa in August of 2015 at the annual Santa Fe Indian Market. They have been worn only a couple of times. They are properly signed "Sonwai" across the fronts.
These earrings epitomize elegance, beauty and tradition all at the same time, They can be worn anywhere, anytime, with anything. Wear them, love them, never take them off, they're that good!
Price $1,150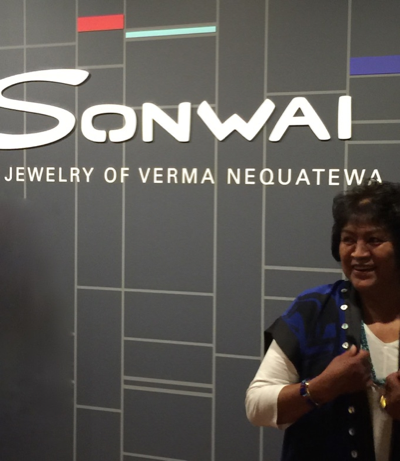 Verma Nequatewa at the Heard Museum's "Sonwai" exhibition opening, October 5th, 2018