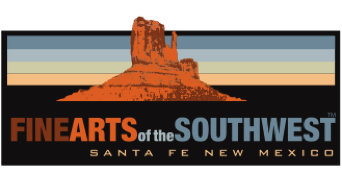 © 2010-2022 by Fine Arts of the Southwest, Inc. All rights reserved.
Unauthorized reproduction or use is strictly prohibited by law.
A superb pair of Hopi cast silver and
14K gold "shield" style earrings by Verma "Sonwai" Nequatewa, 1992
THESE EARRINGS PACK A TREMENDOUS amount of concentrated beauty into some fairly tight spaces; classic silver triangularly-shaped earrings perfectly accented with beautifully and artfully applied 14k gold bars,
by the renowned Hopi jewelry artist, Verma "Sonwai" Nequatewa (b.1949) whose name literally means "Beauty" in Hopi and whose life's work was recently and most appropriately recognized in 2018 by The Heard Museum in Phoenix, Arizona with a major retrospective exhibition entitled "Sonwai: The Jewelry of Verma Nequatewa."
We are proud to say that we were lenders of multiple pieces to this important exhibition.
Verma Nequatewa's jewelry is truly incomparable. Trained by her Uncle, the brilliant, ground-breaking Hopi jewelry artist, Charles Loloma (1921-1991), from her teenage years beginning around 1968, Verma is one of the great classic artists of Native America with a formidable body of extraordinary work spanning the past five decades. However, at 73 years of age today, Verma is starting to slow down just a bit and is not making quite as much jewelry as she did in past years. This coupled with the increased demand for her pieces which her Museum retrospective and her increasing popularity in Japan caused means that there will most likely be less of her jewelry available in the years to come.
"Charles taught that beauty is all around us on Hopi; in the environment, in the culture, in ceremony. By combining elements from what is a part of my everyday life, the finest of ideas, with the finest of materials, I can interpret a part of Hopi for people to see and wear."
-Verma Nequatewa
The main silver bodies of these earrings have a lovely, slightly variegated surface texture on their fronts and backs which we believe comes from casting, either with tufa or sand. The texture is extremely fine and even and the highly polished gold accent bars provide a lovely color and textural contrast. We checked the date of these earrings with Verma and her husband and partner, Robert Rhodes and they confirmed that they were made in 1992 which amazingly was thirty years ago as they look as fresh and modern as if they were made yesterday.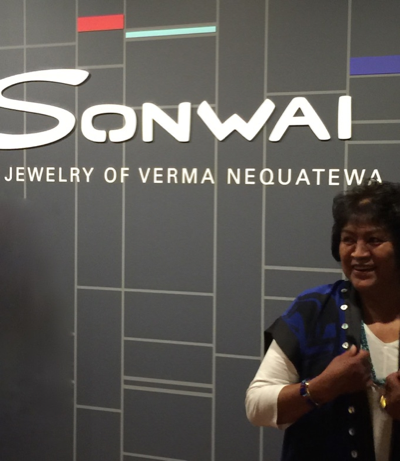 Verma Nequatewa at the Heard Museum's "Sonwai" exhibition opening, October 5th, 2018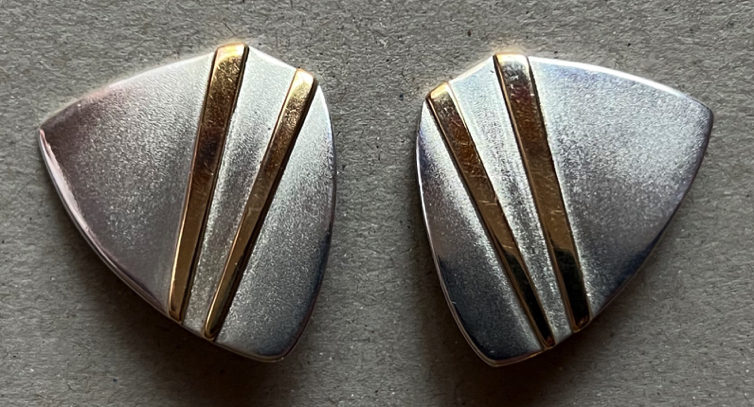 The earrings have a swooping, modernistic sculptural shape, almost space-age in appereance. The earrings measure 1 3/8" in height and they are 1 1/8" in width at their widest points and they are mounted on their original clip closures which could easily be converted to posts by a qualified professional jeweler if ever desired, and they weigh a very comfortable and easy to wear 8 grams or 1/4 ounce each. The earrings are in excellent original condition and they are properly signed "Sonwai" in Verma's distinctive cursive signature on the back of each earring and stamped with her butterfly insignia.
These striking earrings are the very epitome of elegance, ease and style; easy-to-wear go-to everyday or
special occasion-type pieces which essentially makes every time and place you wear them a special occasion; sensational-looking perfectly-crafted precious jewelry by one of the greatest Native artists of all time.
And for those of you who might be searching for that perfect birthday or Holiday gift for that
very special someone you care about a whole lot, possibly even yourself, these may just be the ticket.
Your ears or theirs will thank you forever.
Price $2,800