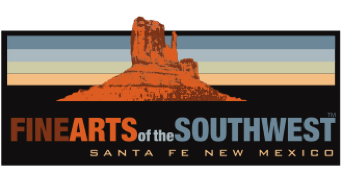 © 2010-2023 by Fine Arts of the Southwest, Inc. All rights reserved.
Unauthorized reproduction or use is strictly prohibited by law.
An original Victor Higgins Taos Founder painting "Untitled, figure study of a Taos Pueblo Woman",
Oil on canvas mounted on board, c. 1930's
ex: Zaplin-Lampert Gallery, Santa Fe, NM
ex: Nedra Matteucci Gallery, Santa Fe, NM
A very powerful and dynamic Modernist-style figure study by the brilliant Taos Society of Artists painter, Victor Higgins (1884-1949). Victor Higgins, a native of Indiana, attended the prestigious school of The Art Institute of Chicago as a very young man in his teens where he quickly caught the attention of the well-known Chicago art collector, arts patron and Mayor of Chicago, Carter Harrison, who became Higgins' benefactor and patron and sponsored Higgins on a several years-long art study and painting trip to Europe. In Germany, he met two fellow
artists with whom his fate would soon become entertwined, Walter Ufer and Ernest Martin Hennings, who would
all shortly become part of the now world-famous Taos Society of Artists (TSA) in Taos, New Mexico.
After Higgins' return to Chicago from Europe in 1914, Carter Harrison sent him on his first painting trip to New Mexico where Higgins found the powerful light, brilliant color, majestic skies and unique land forms to be an alluring and liberating force from the strict confines of his traditional academic training. Higgins quickly moved to Taos where he soon became a full member of the famous Taos Society of Artists in 1917 and spent the rest of his life painting landscapes, still-lifes and figure paintings in his beautiful light-filled studio on Kit Carson road in Taos.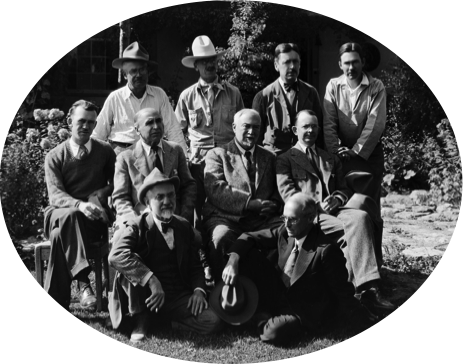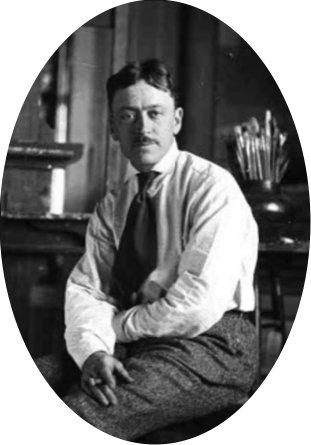 Victor Higgins is renowned today as being one of the most accomplished painters of that highly distinguished artists group; his bold and inventive brush work, often high-keyed color-saturated palette and distinctly Modernist approach characterize his work. Many critics see Higgins as being a bridge between his more conservative colleagues and the strongly emerging trends of Modernist painting pioneered by European artists Pablo Picasso, Georges Braque, Salvador Dali and American painters Robert Henri, with whom Higgins had earlier studied in Paris, George Sloan, Marsden Hartley, Andrew Dasburg and others in the early decades of the 20th Century.
Higgins' work figures prominently in major museum and private collections around the world from the Smithsonian American Art Museum in Washington, D.C., The Metropolitan Museum of Art in New York City, the Snite and Eiteljorg Museums of Art in Indiana, The Harwood Museum in Taos and The New Mexico Museum of Fine Arts in Santa Fe.
The Modernist, almost cubistic style of this painting is reflective of Victor Higgin's mature, most accomplished,
second Taos period from around 1929-1937 in which he deftly combined elements of realism and modernist abstraction to render figural, landscape and floral compositions in a uniquely personal, powerful painterly style which reflects
his lifelong dedication to and fascination with Modernism.
"Any picture is a good picture on account of its abstract qualities."
-Victor Higgins
Notably, this painting features a similar female Pueblo Indian model sitting in a chair placed on a similar floor rug as several other Higgins studies of similar figures pictured in Victor Higgins scholar, Dean Porter's authoritative book, "Victor Higgins, An American Master", (The Snite Museum of Art, University of Notre Dame University,1991), which are reproduced here below. The juxtaposition between the intimate portrayal of the age-old Pueblo native woman's organic rounded figure and the highly stylized and modern rendering of her in a series of interlocking, related angular shapes provides a stunning and powerful visual contrast and synthesis. Too, the luminous quality of the paint and the beautiful brushwork provide an exceptional freshness and dynamic energy here, the picture is every bit as fresh and alive today as the day it was painted some 90 years ago.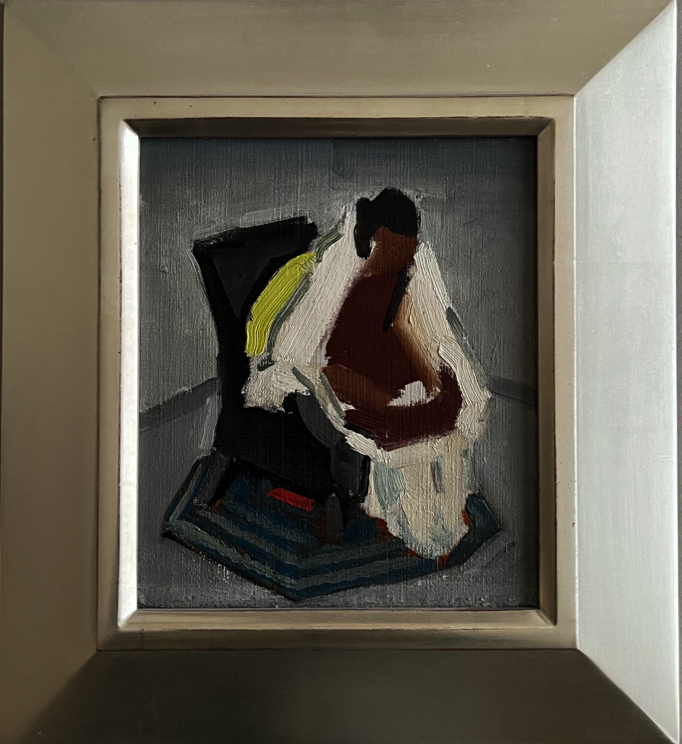 The "sight" size of the painting itself is 9" by 7 1/2" and the framed dimensions are 15" by 13 1/2". The painting is unsigned, but has been definitively authenticated in a handwritten inscription on the painting's verso by Victor Higgins' first wife, Sara (Higgins) Mack. The painting is in completely excellent original condition with no damages and
no inpainting as verified by a thorough examination under Ultraviolet light.
There is a bit of interesting Santa Fe provenance here. After several attempts, we originally purchased this painting
in 1997 directly from the living room wall of the upper Canyon Road home of the late, longtime Santa Fe art gallery owner and collector, Mark Zaplin (1952-2014), Co-Founder of the prominent Santa Fe gallery, Zaplin-Lampert.
A Zaplin-Lampert gallery label is affixed to the painting's verso as is a label from another prominent Santa Fe Gallery, Nedra Matteucci Gallery as well as one from our former Canyon Road gallery.
The painting is most beautifully and appropriately framed in a hand-carved 22K white gold-gilded Modernist-style
frame by Goldleaf Framemakers of Santa Fe, Santa Fe's premier Fine Art framers.
This figural study is a powerful and endlessly compelling painting and a beautiful historic document as well created by one of the finest, most accomplished historic American painters of the early 20th Century, an artist whose unique style bridged the traditional and the modern in a uniquely and visually extraordinary and historically significant
part of America and the world.
Price available upon request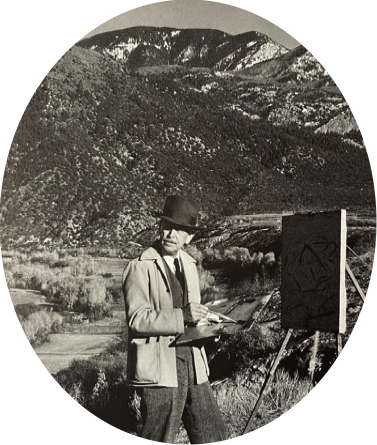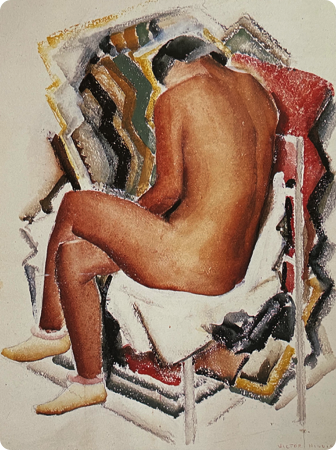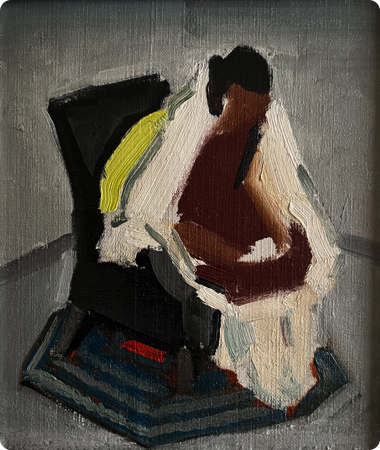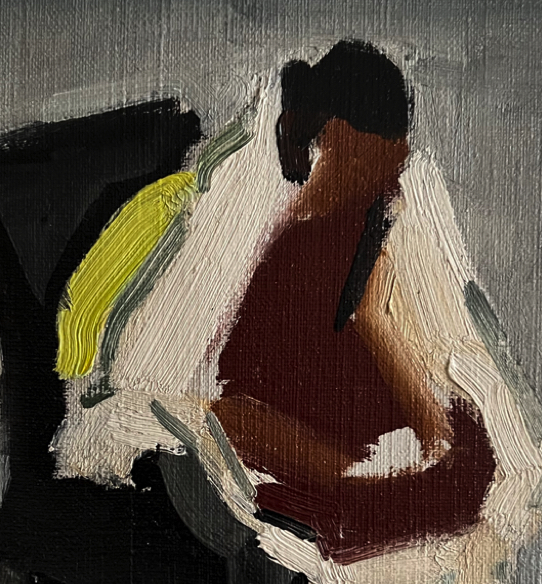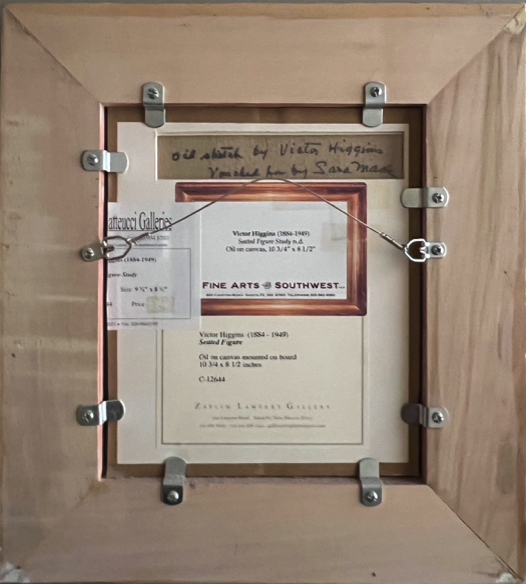 At left, Victor Higgins in Taos, c. 1930's. At center, the Taos Society of Artists, c. 1932. Victor Higgins is in the back row third from left. At right, "Higgins Painting in Field", photograph by Laura Gilpin, Collection of Amon Carter Museum, Fort Worth, Texas.
Left photo source and © Phil Starke Studio. Center photo by C.E. Lord. Photo source and © Palace of the Governors Archives, Santa Fe, NM.
Right photo source and © "Victor Higgins: An American Master" by Dean A. Porter, Snite Museum of Art, Peregrine Smith Publisher, 1991.
Two other similar Modernist-style figure studies of Pueblo Indian women by Victor Higgins. At left, "Single Shrouded Figure", c. 1935, oil on board, 8" x 6 1/2". Photo courtesy Gerald Peters Gallery, Santa Fe. At right, "Nude Study", c. 1935-37, watercolor on paper, 24" x 19", Collection Museum of Fine Arts, Museum of New Mexico.
Left and right photo source and © "Victor Higgins: An American Master" by Dean A. Porter, Snite Museum of Art, Peregrine Smith Publisher, 1991.