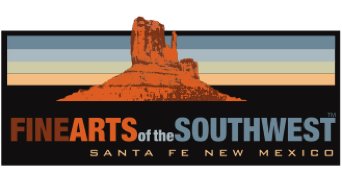 © 2010-2023 by Fine Arts of the Southwest, Inc. All rights reserved.
Unauthorized reproduction or use is strictly prohibited by law.
A vintage "Chaco-style" hand-rolled shell and stone "Heishi" bead necklace from Santo Domingo Pueblo,
New Mexico, c.1960's-70's
Let's talk about a real blast from the ancient past! Pueblo people have been making stone and shell bead necklaces like this one around these parts for the past thousand years or so. Pieces like this are proof positive that there is no great mystery where the Anasazi peoples of the ancient prehistoric Southwest from places like Chaco Canyon and Mesa Verde went when they left those vast village complexes. Their descendants are alive
and well and living right here in the Rio Grande Valley.
These 20th Century versions of the ancient's shell and stone bead necklaces are evidence of a cultural continuity which has existed here in this region throughout these many centuries, a continuation of an ancient form of adornment which Pueblo people were wearing at Chaco Canyon and Mesa Verde back in the 11th Century. This wonderful historic strand of hand-rolled shell and stone beads was made at the Santo Domingo Pueblo just a hundred or so miles as the crow flies from their old ancestral homeland at Chaco Canyon. The making of shell and stone bead "Heishi" necklaces is a particular specialty of the Santo Domingo Pueblo and for generations their necklaces have been highly-desired and purchased and traded for far and wide across the region.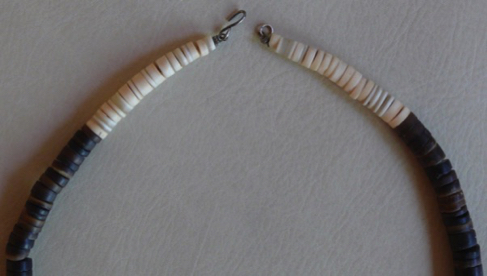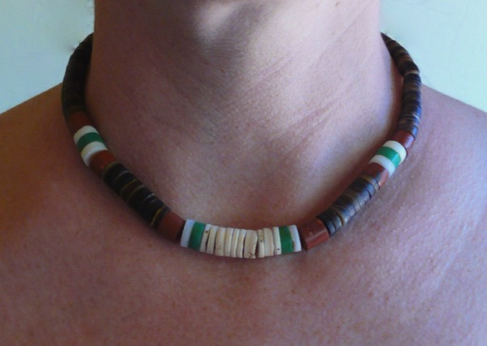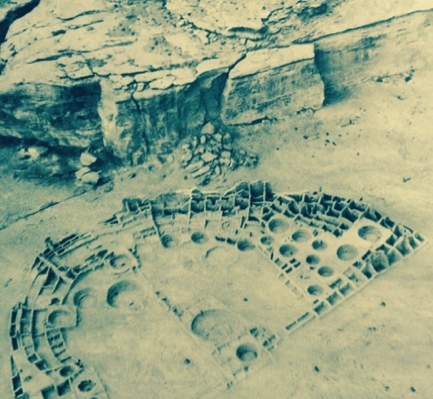 At left, aerial view of Pueblo Bonito ruin at Chaco Canyon, New Mexico.
At right, a selection of prehistoric shell and stone jewelry items excavated at Pueblo Bonito.
Right photo source and © The American Museum of Natural History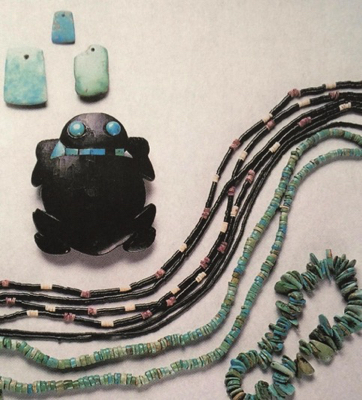 We do not know the name of the artist who created this marvelous piece, but he or she was a true master of the craft; the beads are beautifully and painstakingly hand cut and rolled to a marvelous smoothness and evenness. The variously-colored beads are made of two types of white shell, dark brown shell, pipestone, turquoise and serpentine. The beads are slightly graduated in size from 1/2" or so in diameter in the center of necklace down
to about 3/16"" in diameter at the ends. The necklace measures 7 3/4" top to bottom while lying flat on a table. The overall circumference is a choker-length 16 1/2" end-to-end measured while completely opened up. The necklace is finished with a simple old-style silver metal hook and eye closure. The necklace weighs a satisfying and very comfortable 54 grams or 1 7/8 ounces and it is in excellent original condition.
This elegant, very wearable piece is a perfect synthesis of ancient and modern; a true connection between
the Southwest's ancient Puebloan past to its vibrant Pueblo culture today as well as one mighty beautiful, well-made piece of jewelry that's every bit as striking and classic today as its predecessors were back a millennium ago in 1075 A.D.
Price $875