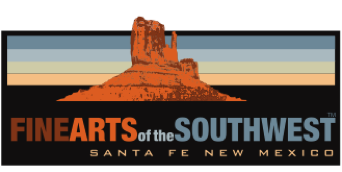 © 2010-2022 by Fine Arts of the Southwest, Inc. All rights reserved.
Unauthorized reproduction or use is strictly prohibited by law.

An extremely elegant old-school Navajo ingot-silver
and Arizona Rainbow petrified wood bracelet, c. 1930's
This one is a real old-style beauty. The anonymous Navajo silversmith who made this piece really knew his business.
He was very likely a long-experienced older man steeped in the turn of the century traditions of classic Navajo silversmithing. This is the kind of piece that in some ways looks so simple and refined that upon first glance one doesn't necessarily see how great it is, but then comes the instant double take and the "WOW, That's really great" when the realization actually hits you.
The bracelet's sleek cast ingot silver shank is decorated on both sides with very refined crescent-shaped stampwork designs and of course this is all teed up to feature and accentuate the gorgeous large oval-shaped "picture" Arizona Rainbow petrified wood stone which beautifully captures the marvelous rich colors of the Southwestern desert landscape. Most of this stone is found in the area of The Petrified Forest near Holbrook, Arizona. This piece of stone is approximately 225 million years old from the Triassic Period which is known as the "Dawn of the Dinosaurs" as it predates the Jurassic Period when dinosaurs ruled the earth.
The stone itself measures 1 3/4" in length and is 1 1/4" in width. The stone is finely set in an old-style "foldover"
type silver bezel which is perfectly accentuated by a superbly-made, very finely hand-twisted silver wire surround.
It's a superbly done and absolutely stunning overall presentation. We are knowledgably guesstimating the bracelet's
age at circa the 1930's from the old-style craftsmansheip and technique, but it could be ten years older or ten years younger, 1920's to 1940's.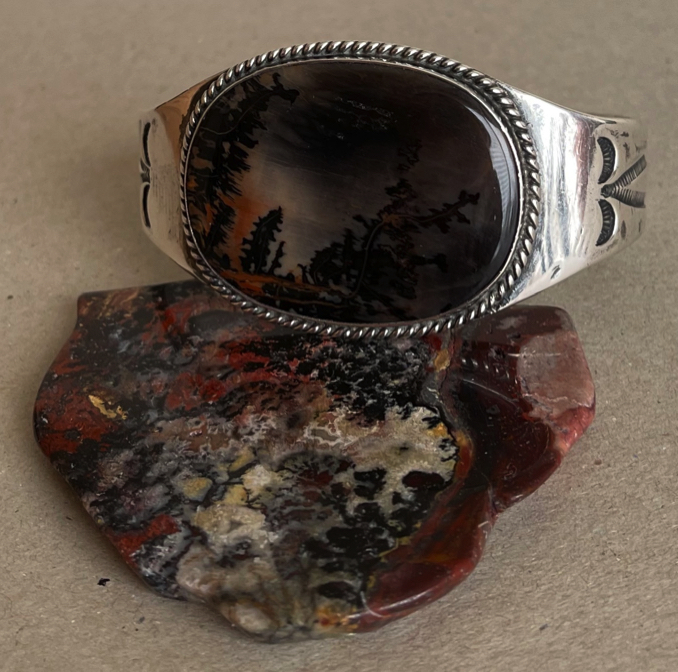 The bracelet measures 1 1/2" in width at its widest point and tapers down to just under 1/2" in width at the terminal ends. The inner circumference end-to-end is 5 3/4" and the gap between the terminals is 11/4" for a total interior circumference of 7". It has a very nice and satisfying weight of 76 grams or 2 5/8 ounces and a delightful smooth feel on the wrist. The bracelet is in excellent original condition overall with some age-appropriate nicks and wear and a beautiful, just-right surface patina and a wonderful, bright "whitish" color to the silver which almost appears to glow. There is some very slight, barely noticeable abrasion to a small area of the stone.
We'll keep this discussion fairly brief and just let this piece speak mainly for itself. What we will add as a final thought
is our opinion that this one is "the kind". You don't see precious pieces like this very much anymore and truth be told you probably won't be seeing this one for very long at all unless you do the right thing.
Price $3,250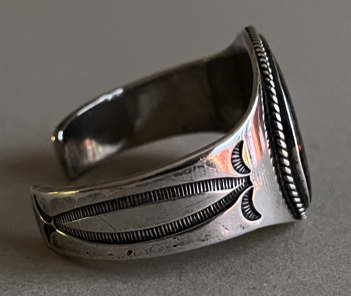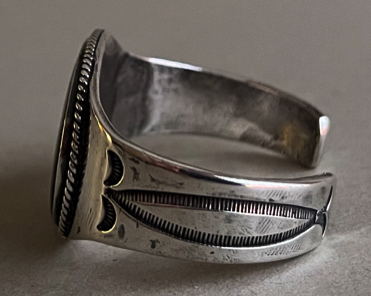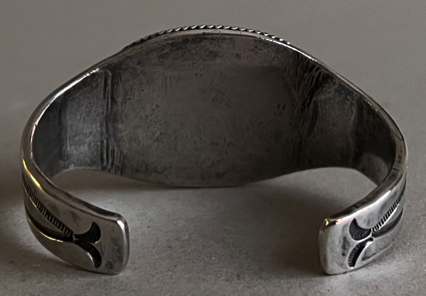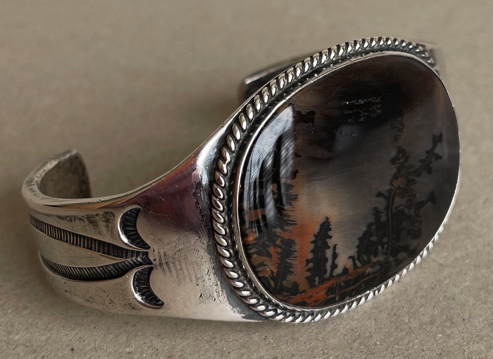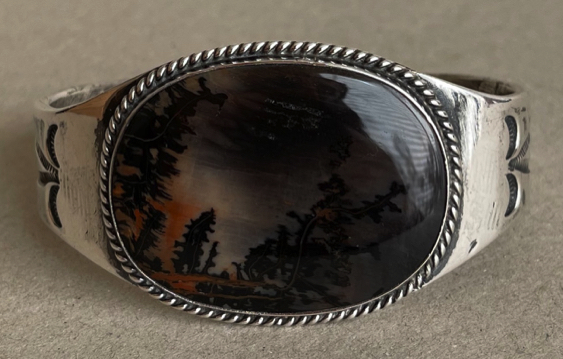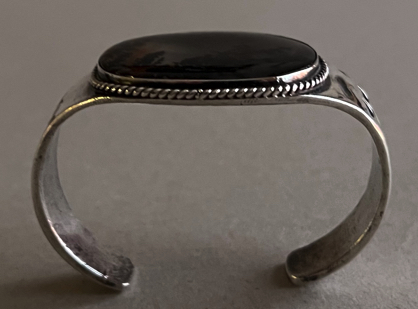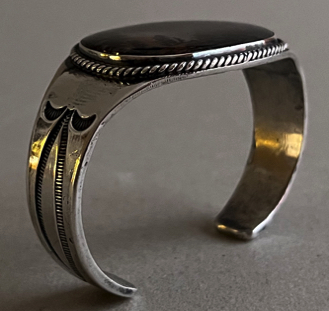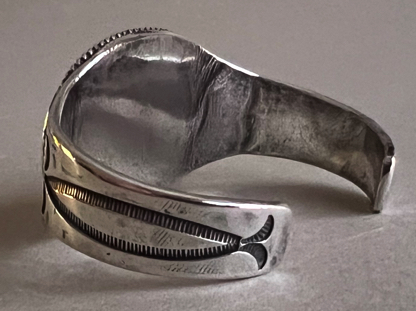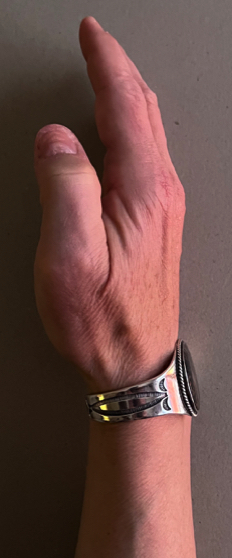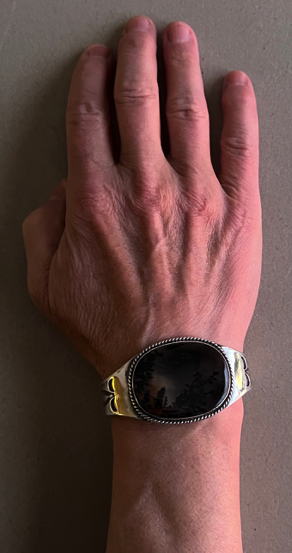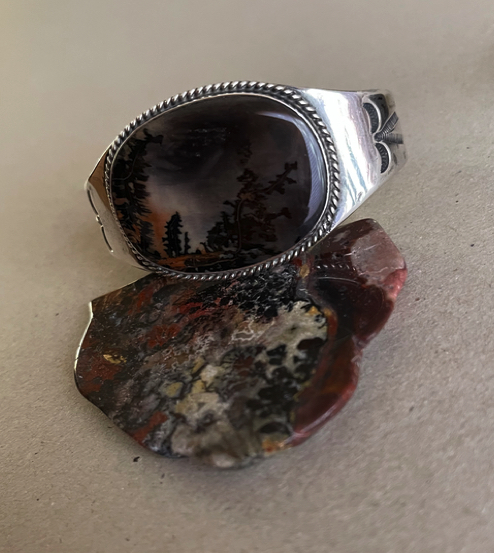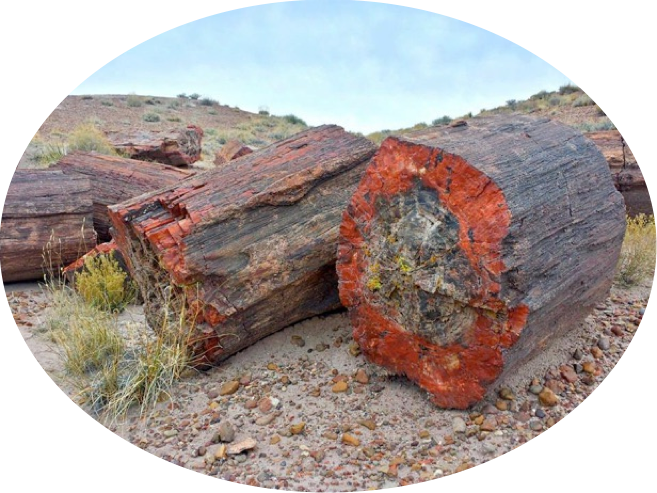 View of ancient trees in The Petrified Forest near Holbrook, Arizona
Photo source and © Arizona Highways Magazine
The bracelet pictured with a specimen piece of Arizona
Rainbow Petrified wood, circa 225 million years ago.