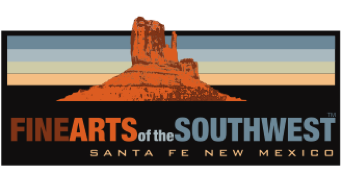 © 2010-2023 by Fine Arts of the Southwest, Inc. All rights reserved.
Unauthorized reproduction or use is strictly prohibited by law.
A beautiful vintage Navajo or Pueblo silver, turquoise and shell "Jacla"-style necklace, c. 1960's
This is an unusual and unusually attractive necklace made in the general form of a Pueblo or Navajo "Jacla" bead pendant but obviously much larger. The necklace is composed of approximately 90 large thin hand-cut turquoise beads, around
45 on either side of the four central very nicely hand-carved white shell pendants which each measure around 1" in length or just slightly larger. The 90 or so circular turquoise beads are very nicely graduated in size from slightly over 3/4" down to 3/8" in diameter. At the top of the turquoise beads, the necklace is finished with long beautifully hand-wrought gracefully curving and tapered silver cones which are each about 5 3/4-6" in length. It's a fascinating and completely beautiful construction.
The necklace measures 11 1/2" from the silver clasp at the top of the silver cones to the bottom of the white shell pendants measured while lying flat. The necklace's circumference end-to-end all the way around is 23". The necklace weighs a substantial yet very comfortable on the body 117 grams or 4 1/8 ounces. The necklace is in excellent original vintage condition. There are a few tarnish marks on the silver cones and some small areas of slight discoloration, likely from age. There is an unknown arrowhead or stylized letter "A" hallmark stamped on a small silver plate attached to the clasp.
This might possibly be an artist's hallmark but we cannot identify who it might be. One of our very knowledgeable and experienced colleagues suggested the possibility that this necklace might be the work of the renowned late Santo Domingo Pueblo, New Mexico jeweler, Tony Aguilar (1919-2002), albeit with a slightly different hallmark. The necklace does look and feel Santo Domingo in origin and the artistic sensibility and timeframe are consistent with Aguilar so it is certianly a good thought, but there is no way to be certian. Whoever this artist was, they clearly had considerable artistic imagination and technical ability.
So there we have it, a striking and uniquely beautiful, very wearable piece by an unknown and extremely talented Pueblo
or Navajo artist. There's clearly a considerable amount of creative ability and skillfully applied craftsmanship on display here. If you like to make a beautiful and dramatic statement, this is a piece for you.
Price $1,850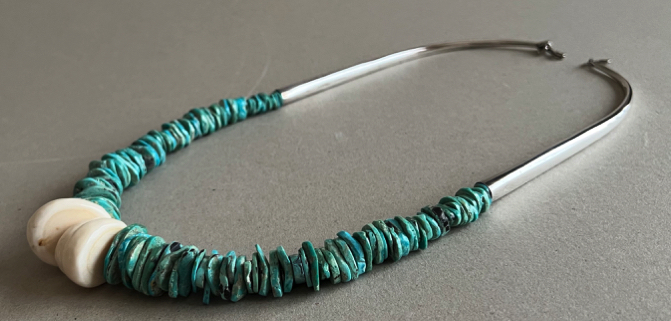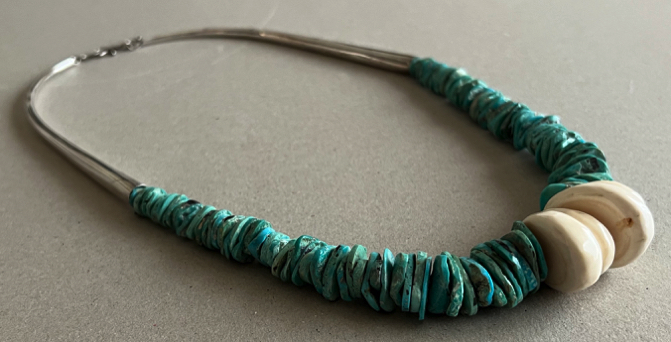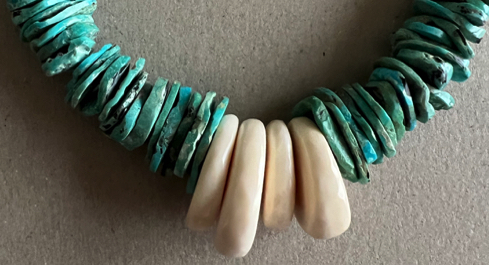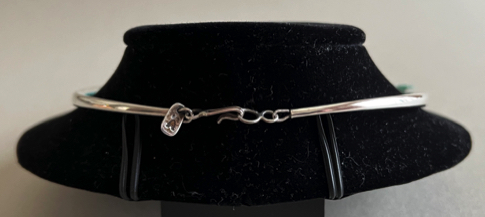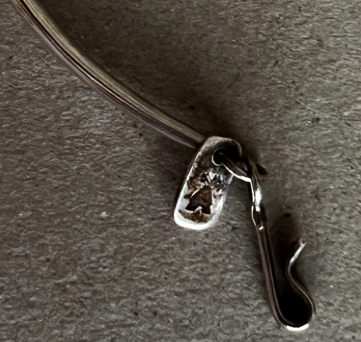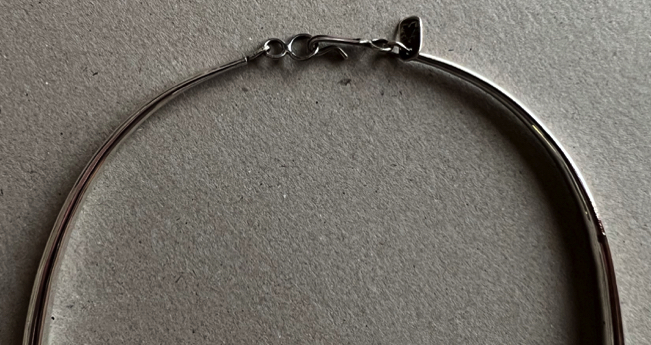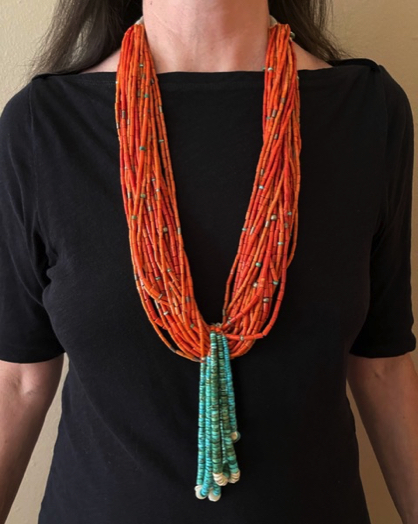 At left, turquoise and white shell bead jacla pendants hanging from a coral bead necklace. This is the usual style
of jacla pendants. In this necklace at right the jacla pendant form has been expanded to become the necklace itself.