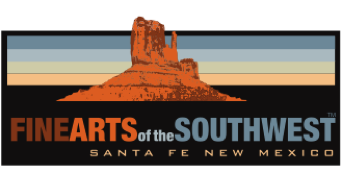 © 2010-2023 by Fine Arts of the Southwest, Inc. All rights reserved.
Unauthorized reproduction or use is strictly prohibited by law.
A very beautiful vintage Navajo silver and Morenci, AZ turquoise "Row-style" cuff bracelet, c. 1960
The first thing one notices here and it's no accident, are the absolutely knock-down gorgeous large turquoise stones, five perfectly-matched mouthwateringly luscious blue beauties all lined up in a row around the top of the bracelet. The stones have that penetrating deep blue color with slight pyrite or Fool's Gold inclusions which characterize fine Morenci, Arizona turquoise which is one of the world's most desirable and increasingly expensive turquoise varieties.
The bracelet's fairly minimal silver setting is intended to maximize and showcase all the attention on these incredible stones and it serves that purpose admirably and well. The bracelet's shank consists of a pair of half round hand-drawn silver wires soldered together to form a framework atop which the five turquoise stones in their old-style "foldover" type silver bezels rest. The stones are very slightly graduated in size from 7/8" in height at the center down to 3/4" in height at the outside edges. The stones set in their bezels are all around 3/8" in depth.
The bracelet measures 1 1/8" in width at its widest center point and tapers down to 1/4" at the nicely-capped silver terminals. The inner circumference end-to-end is 5 3/8" and the gap between the terminals is 1 1/4" for a total interior circumference of 6 5/8". The bracelet weighs an extremely comfortable and very easily wearable 46 grams or 1 5/8 ounces. The bracelet is in excellent original condition with some age-appropriate wear and a very fine soft patina from age and use. It is unmarked for the maker, but this was clearly a Navajo silversmith who knew his business, the work
is very cleanly and beautifully done.
You can be sure you will light up any room you enter wearing this turquoise extravaganza, envious
glances will flow your way like water down a hill. This bracelet is a true turquoise lover's dream!
Price $1,650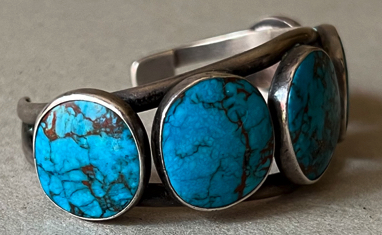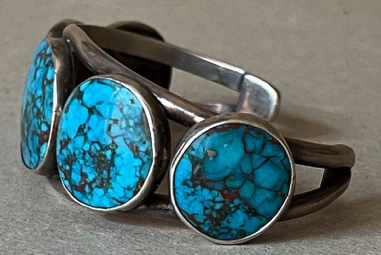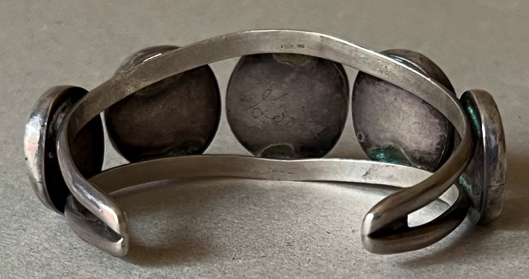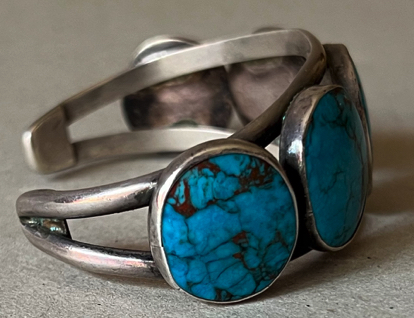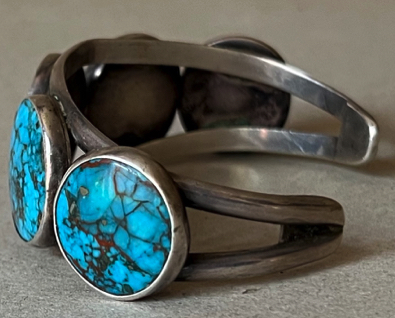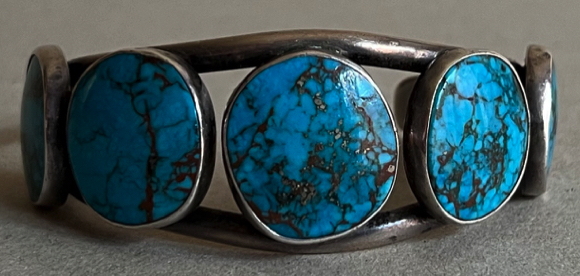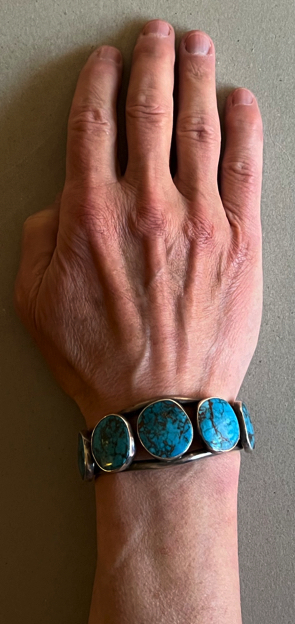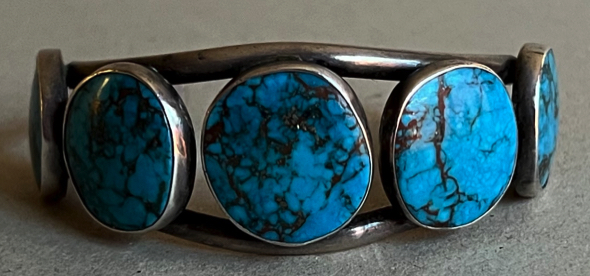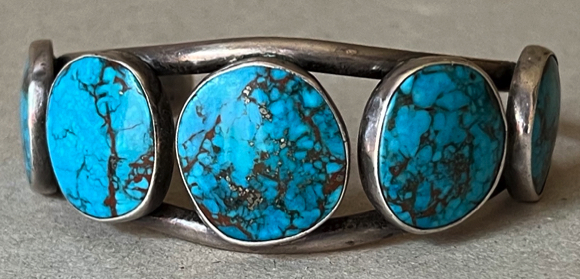 Morenci Turquoise
Morenci turquoise was mined in Greenlee County in southeastern Arizona. This turquoise is highly sought after for its blue colors and iron pyrite, or "fools gold," matrix. From 1956 to 1984, the turquoise rights were granted to William "Lucky" Brown. Lucky retired in 1982 and his sons continued to mine the turquoise until the lease ended. The Browns still have quite a stash of rough stone, enough to release a small amount every year to keep it available. Morenci is highly valued and difficult to obtain.
-Morenci turquoise text and photo source and © Waddell Gallery, Scottsdale, AZ